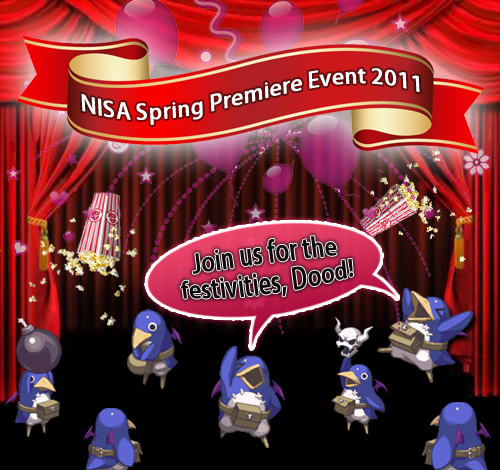 NIS America's Spring press event attendance contest is now up!
Attention all NIS America fans located in the San Francisco area: We are happy to announce a contest this weekend for a chance to attend our Press Event! The event is next Friday, May 13th, at the AMC Metreon Theater #8 in downtown San Francisco!

We plan on announcing some really surprising new titles, and along with them we'll have playable demos for a bunch of our games that have yet to be released! Want to get a sneak peek of our titles before everyone else, like Cave Story 3D? Come on over to the Metreon theater in San Francisco and try out our new titles! The contest is this weekend only, so make sure you enter before May 9th! Winners will be notified soon after on Tuesday, May 10th.

How do you enter? Simply follow the link below to enter yourself in the contest using our online form! Ten lucky winners from the San Francisco area along with a party of up to three of their friends will win their entry into our event! The only stipulation for attendance is that the winning fans must provide their own transportation to and from the event, along with their own lodging.

Good luck to all you fans out there! We hope to see you next week!
So I guess new announcements next week. Hopefully Totori. Not sure I'm really excited about the "surprising new titles" part, but we'll see. There's also a contest to enter to win a chance to attend here:
http://nisamerica.com/pra/presseventform2011_x.php
The page for the contest also says:
Our soul-ripping, exciting, new titles will be announced for the first time, which will have you sitting at the edge of your seat! Sit tight, enjoy some popcorn, play some surprising new demos, and say hello!
Also, we are extra excited by our special guest, Mr.Yamamoto, Chief Programmer of Disgaea 4, who will be in attendance. Come meet him, and have a good time with us!
I don't know if soul-ripping is supposed to be a hint. Seem like an odd thing to say if it's not.