https://www.washingtonexaminer.com/opinion/new-york-times-newest-editorial-member-is-unfit-to-work-for-the-times-according-to-the-times
Sarah Jeong, the latest addition to the New York Times' editorial board, has some strong opinions about white people.
She said later in
November of that year
, "Dumbass fucking white people marking up the internet with their opinions like dogs pissing on fire hydrants."
"Are white people genetically predisposed to burn faster in the sun, thus logically being only fit to live underground like groveling goblins," she tweeted on
Dec. 23, 2014
.
"White people! You were already running a karmic deficit but now we're sending it to collections," she said on
Nov. 9, 2016,
as election results started to show Donald Trump would win the election.
There's
a lot more where this comes
from. So much so, in fact, that it gives the distinct impression that her "white people" routine is a bit of an obsession, as opposed to a simple running gag.
On Wednesday, the Times announced
in a blog post
that it had just added Jeong to its editorial board.
The interesting thing here isn't Jeong's social media history. Everyone has stupid old tweets, most of which are just inside jokes with friends. That someone on the Internet has written dumb things isn't exactly a stop-the-presses moment.
The really interesting thing here is that the Times has put itself in a corner. Remember: The paper set the bar for how it handles new hires with bad tweets.
In Feb. 2018, the Times "parted ways" with Quinn Norton, who it had just hired as its editorial board's lead opinion writer on technology, following the discovery of
problematic
tweets, including one where she said something nice about a bad person.
Norton tweeted on Oct. 28, 2017, in reference to neo-Nazi
Andrew Auernheimer
(aka "weev"), "Weev is a terrible person, & an old friend of mine. I've been very clear on this. Some of my friend are terrible people, & also my friends."
Online sleuths also uncovered old tweets wherein Norton used racial and gay slurs. The Times' response was to can her immediately.
"Despite our review of Quinn Norton's work and our conversations with her previous employers, this was new information to us. Based on it, we've decided to go our separate ways," Times editorial page editor
James Bennet
said.
The question now is: Will the Times take similar action against Jeong?
The paper may not want to "part ways" with its new hire, but a failure to do so will render its earlier explanation for taking action against Norton look deeply disingenuous.
Jeong can defend herself by claiming she was just kidding, and that her old tweets are a permissible form of comedy because it's punching
up
(white people, privilege, etc., etc.). Fine. Whatever. The Times, on the other hand, can't reasonably ignore the standard it set for itself with Norton by downplaying or forgiving Jeong's long-running "white people" gripe. That is, the Times will only crown itself in shame if it takes the route arguing that some bad tweets are better than others.
The Times did not respond to the
Washington Examiner's
request for comment.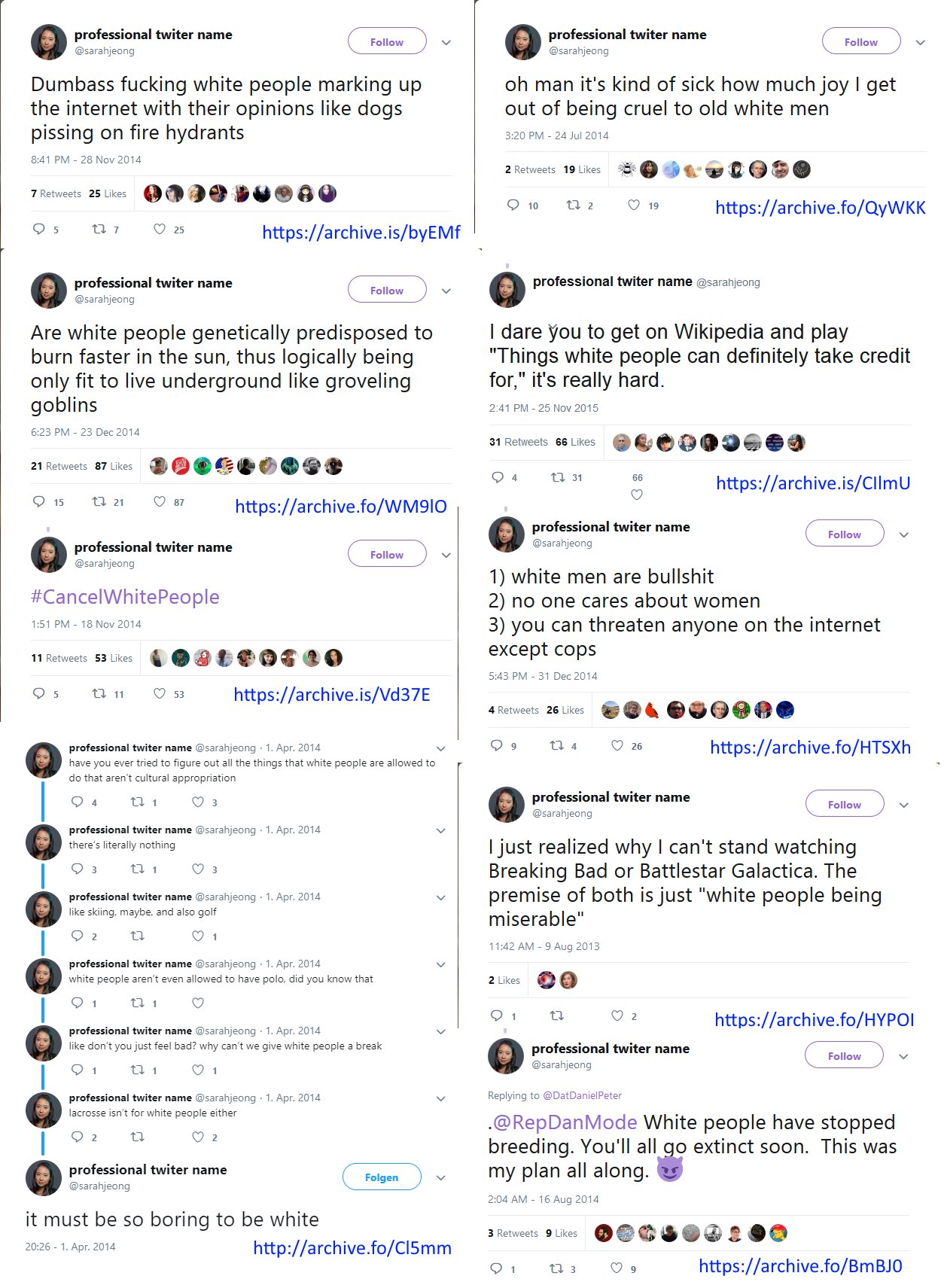 **Mod Edit**
edited statement to remove mentions of another site.
Last edited by a moderator: