Brave Story: New Traveler
Developer
: Game Republic / Sony Japan
Stateside Publisher
: XSeed Games
Stateside ship date
: July 31, 2007.
Official website
:
http://www.bravestorynewtraveler.com/
Features...
(Partially taken from XSeed's info sheet, partly just me rambling)
*Traditional turn-based RPG combat system enhanced with other additions, such as:
-Unity skills. Form bonds with party members to create new, cooperative special moves.
-Courage. Use "Brave Points" to unleash special abilities. (Think "MP," but regenerating through doing damage.)
-Growth. The hero's weapon evolves when more gemstones are collected. New accessories can be forged out of collected materials, and each character can unlock a one-of-a-kind innate ability.
->For example, the Hero's is that he has a chance of being auto-resurrected if KO'd in battle. Meladee's is a chance of counter attack; Yuno eventually learns to attack two targets in one turn, and so on. You get each character's through different ways.
*Like no load times and no lag! Yay!
*Nicely done character design and fluid movement. Very colorful world.
*Awesome XSeed translation. They really did amazing with this project.
*Collect special birds which can be used in group cockfights or traded for items. Trading and cockfighting can also be done with friends wirelessly.
Reviews
:
RPG Land:
http://rpgland.com/games/bravestorynewtraveler/review.html
Me all up in that reviewz said:
It's a tale that is quite laden with cliché and predictability, but has such an enjoyable cast of characters and a wonderfully written script that it doesn't matter. Everything seems to say, as a reviewer, one should mark this part of Brave Story: New Traveler somewhat low...but it just doesn't deserve it. It uses old tricks, but uses them in the way that made them so popular to begin with; it simply gets the formula right. This is no doubt helped along by XSeed's excellent localization. The team really went above and beyond what would have been considered passable and pushed to make a quality product here.
Me all up in that reviewz said:
It's got a solid battle system, entertaining story, good characters, and other RPG ingredients done very well--thoroughly enjoyable.
RPGamer:
http://www.rpgamer.com/games/bravestory/bravestorypsp/reviews/bravestorypspstrev1.html
Billy said:
Also in the audio department, players will notice that one of the high notes in the game is that the music is quite enthralling.

...

Though the game doesn't try to differentiate itself from most titles, the game's music and story will keep players interested the entire way through. To sum things up, players who are fans of turn-based RPGs will thoroughly enjoy this title.
http://www.rpgamer.com/games/bravestory/bravestorypsp/reviews/bravestorypspstrev2.html
Mikel said:
Brave Story: New Traveler is just what the doctor ordered--a well-developed, story-driven RPG. With lovable characters, and a story that just won't quit, the game is an enjoyable experience. The abundance of quests, the bird mini-game, and the vastness of the world never leaves the hero having to mindlessly level up to progress.
IGN:
http://psp.ign.com/articles/808/808027p1.html
Terribly written review. I mean I wrote like this when I was in junior high said:
What is a BP meter? Well, I'm glad you asked, friend.
Siliconera:
http://www.siliconera.com/2007/07/26/foreign-traveler-brave-story-new-traveler/
Katie said:
Their effort to bring the story of a New Traveler to North America may not be totally in vain, but XSeed Games, Game Republic, and Sony itself could have created a far more captivating introduction to this classic tale for our audiences.
1up:
http://www.1up.com/do/reviewPage?cId=3161669
James said:
But what really makes Brave Story sing is the pacing. While the loading times certainly help, it should be noted that battles are fast, the menu options aren't overburdened with unnecessary choices, and the combat system's got enough special attacks (Bravura) and cooperative attacks (Unity) to make the game both visually appealing and strategically pliable.
Screens: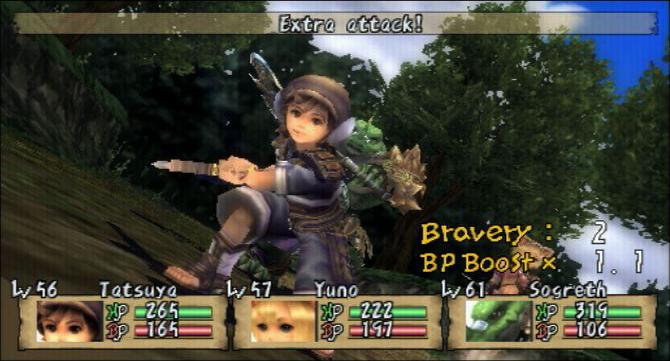 I recommend this one to PSP owners who are into RPGs. And those on the fence about buying a PSP perhaps ought to add this to the list of things to consider if they end up getting one.