Jealous of the Glory that is Johnny Depp
Jun 9, 2005
34,533
1
0
35

---------------
Boxart
---------------
----------------
Release Date
----------------
August 14, 2007
------------------------------
Persona 3 Special Edition
------------------------------
Includes: Game Soundtrack and Artbook
pics -
http://playmagazine.com/index.php?fuseaction=SiteMain.showGamePage&Game_ID=611
-------------------------
So what's Persona 3?
-------------------------
Persona 3 is the third entry (4th if you count the two Persona 2 games) in the Persona spin off series of the Shin Megami Tensei franchise. Completely different from the past 4 Persona games, in Persona 3 you play as a nameless high school kid who just got tranfered to Gekkokan High School. here he gets attacked by shadows -- creatures that feed on the minds of their victims -- this assault awakens his long dormant persona Orpheous his only way to battle the Shadows.
He soon learns that in his in fact not the only guy with this ability. he meets others in high school who can also summon Personas, he joins a group called SEES in order to learn more and confront the shadows.
---------------------------------------------------------------------
What Makes Persona 3 different from your average jRPG?
---------------------------------------------------------------------
Calendar System
Persona 3 is divided by months and each day is divided by day/night/dark hour. At daytimes you go to school, take your exams and join clubs just like a normal school kid would do. nightime you can play games (there is a MMORPG called Devil Buster, but no you cant play it ;p), study, go to dance clubs, go on a date with a chick or you can wait for the dark hour. so what's the dark hour? at midnight time stops and a huge tower called Tartarus rises in the school you attend to.
daytime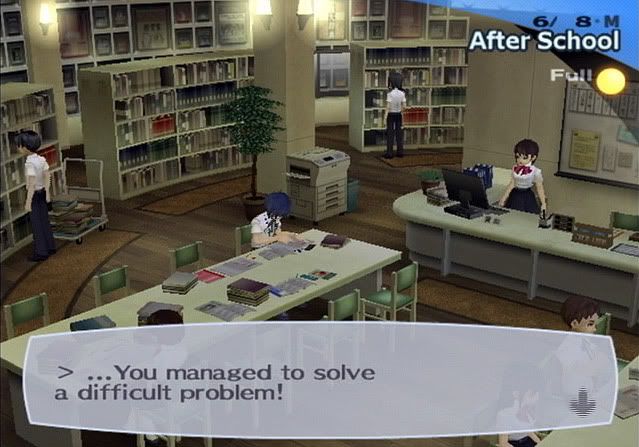 nightime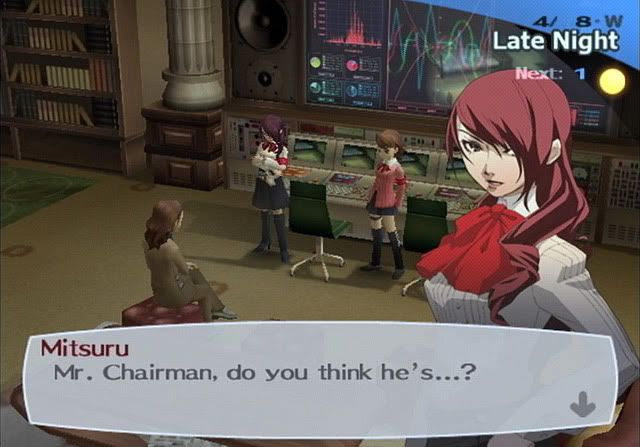 dark hour
Tartarus:
it's huge tower that consist of 256 floors, the floors are randomly generated and the enemies are visible on the field so you can choose to avoid them if you want or head in and attack them to start a battle. it's in this tower where you train your characters and gain new Personae to use in the Velvet Room. you can also split up your party so they can explore the whole floor faster.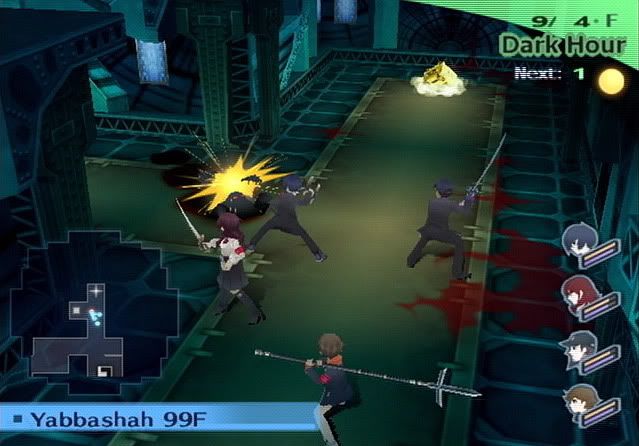 Battle System:
Persona 3 features a turn based battle system in which you only control the main character directly, the other party members are controlled by the AI. you can still give orders to the AI but you dont have direct control over their actions. Persona 3 also features the 'One More!!' system, how does this works? if you played SMT3/DDS you know that hitting an enemy weakness is rewarded with an extra turn, One More!! system works similar but you dont lose a turn if you screw up another thing is that if all the enemies in the battle field are in 'Down' status your party can unleash a combination attack for greater damage... to put the enemy in 'down' status you simply hit it with something that the enemy is weak against.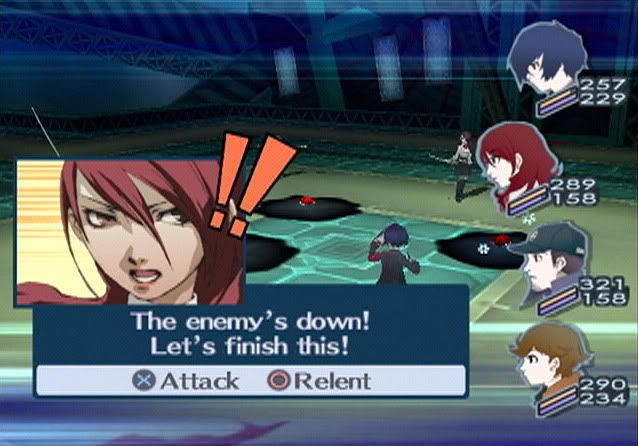 Community System (or Social Link)
depending on how well or how badly you did with an NPC, the commu rank that NPC represents will either go up or down. as your commu ranks start going up you gain access to new Personae to fuse and create. think of it as chatting with demons in the old Persona, this time instead of speaking with demons you speak with and interact with Humans in the game.
Velvet Room:
old time Persona fans know what this place is all about, here you can fuse and create new personas. Igor is back and he has a new assistant called Elizabeth, who will give you various quest and errands to do while you explore Tartaros
----------
Trailers
----------
http://www.youtube.com/watch?v=7GS8DqFevV0
-------------
Reviews
-------------
RPGamer - 4.5/5
Game Informer - 8.5/10
Play Magazine - 9.5/10 (gotm)
Gamespy - 4.5/5
IGN - 8.3/10
Gamespot - 8.5/10
PSM - 9/10
EGM - 8.5/9.5/9.5 (gotm)
PSM - 9/10 (gotm)
-----------
Notes
----------
1) spoiler tags, use them.
2) zomg Persona 3 finally!
3) free Himuro (credit to him for the banner)
4) enjoy the game
5) credit to Shidoshi for the pics.
----------------------------
old Persona 3 threads
---------------------------
SMT appreciation thread -
http://www.neogaf.com/forum/showthread.php?t=89648&highlight=Persona
Persona 3 pre-release discussion thread -
http://www.neogaf.com/forum/showthread.php?t=134161&highlight=Persona
Shouta's P3+Fes thread -
http://www.neogaf.com/forum/showthread.php?t=118851&highlight=Persona
Official Persona 3 JP thread -
http://www.neogaf.com/forum/showthread.php?t=109703