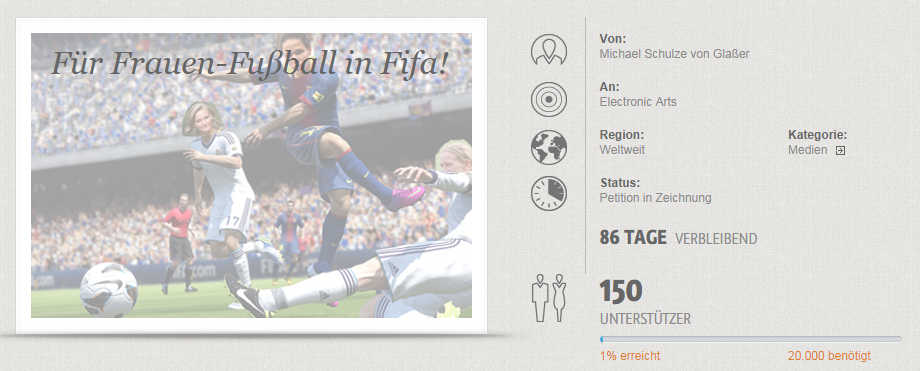 There's an online petition to bring women's football to FIFA on openPetition
. As of right now there are 150 signatures and 86 days left. In the description the initiator links two articles in which EA states that:
A: "Fans just need to be vocal." (20/08/2013 -
Polygon
) and
B: "We always need to make sure that what we can build and what we include ends up being the right package and so far women's football hasn't made the cut". (11/9/2014 -
Play
)
He also links to one of his
YouTube videos
in which he talks to a spokesperson of EA Germany. There are some interesting facts here.
- Over 90% of FIFA players in Germany are male (99% of EA Sport's Facebook followers are male as well).
- EA is a US-American company that develops games for a brought audience around the world. That's why there's no
Handball
game by EA for instance. Very popular in Germany and some parts of Europe but not the US.
- In his (the spokesperson's) experience, female football players don't play that much FIFA. (I'm not making this up.) Host asks him if female players in FIFA would change that but doesn't really get an answer.
- Stats and attributes of Women's football are different from Men's football. A Women's team would feel very different compared to a Men's team. Spokesperson points out he doesn't mean this in a condescending way.
- Putting a woman's head on a man's body is easy, technically speaking, but it wouldn't make much sense playing a female player with the stats and attributes of a player like Ronaldo. It would feel wrong.
- Hence motion capturing would be necessary. That would take several years. Too big of an investment for the current demand.
- Hosts points out that Women's football could be an advantage over Konami's PES series, EA guy acknowledges that argument but says they put their effort in other things, like a bunch of licenses and modes. They are more important than Women's Football when it gets to beating Konami in sales.
- EA would have to negotiate for the Women's football licenses.
- All those things could change, EA mentions MMA as an example.
- People should tell EA they want Women's football if they want it in FIFA.
All in all the EA spokesperson sounds genuine.
So what do you think about this idea? Should EA implement Women's football? Do you care?