One of the most noteworthy disruption points of the modern video games era is the rise of multi-game subscriptions. The concept of leasing access to players for a reduced fee is attractive to platform-holders, who make long-term revenues, and players, who pay less to play games. A new way to monetize consumers was born and the industry hasn't looked back.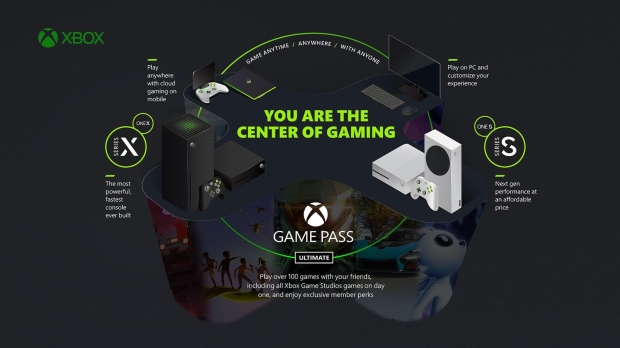 Game Pass isn't just disruptive. It's one of the biggest disruptions that has shaken the video games industry. Microsoft's aggressive push towards value-oriented subscriptions has inspired Sony and even Nintendo to step up their game in order to better compete with the immense value proposition offered by Game Pass.
Make no mistake: Disruption isn't always a bad thing. In this case, Game Pass has become one of the best disruptions that the gaming market has ever seen. The Xbox business needed some disruption to help the brand break outside of its console garden.
That brings us to recent comments made by ID@Xbox director Chris Charla, who told GamesIndustry.biz that the Game Pass service isn't disruptive to Microsoft's gaming business. The comments were made in the context of whether or not
"I wouldn't describe it as disruptive, because I don't think it is in the way that like Uber came in and got rid of all the taxis in that industry.

"[Game Pass] is additive. People still buy a lot of games and they still buy a lot of games on Xbox. They buy games through Game Pass at a discount, which is what they get as members. And so I don't think Game Pass has been a disruptive business model, it's been additive in a really positive way.

"And we as an industry needs to look at more of those additive business models. A bit like digital distribution, that may have been somewhat disruptive to the retail space, but it was ultimately additive because not every game needed to be of the size to justify being on a disc."
We would argue that Game Pass is indeed disruptive by virtue of its value-oriented business model. There's a reason many people wonder if Game Pass is profitable--it seems too good to be true to offer 400 games on any given service, especially first-party titles like Halo Infinite, Forza, and others.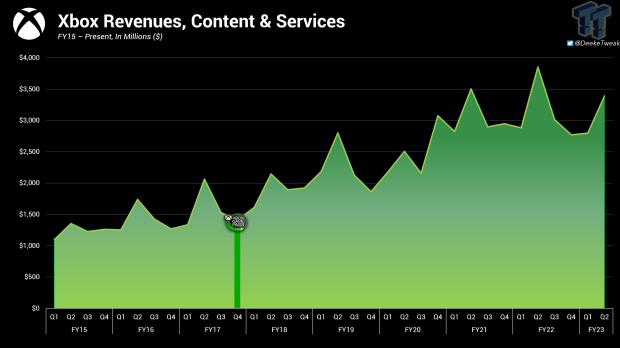 Game Pass transformed the games industry and inspired everyone to get involved in the subscription market in some form, whether it be Ubisoft+, EA Play, or the new 3-tiered PS Plus and the growing Nintendo Switch Online service.
The service massively disrupted Microsoft's core gaming ecosystem and helped offer more choice, access, and discovery to consumers and developers alike. Game Pass has also had a material impact on Xbox platform revenues; since the service released in 2017, Xbox revenues have steadily risen as Game Pass amassed around 29 million subscribers as of late.
In fact, the only multi-game subscription service that would truly be additive is something like Nintendo Switch Online. Both PlayStation Plus and Xbox Game Pass offer games that are sold on each platform's storefront, so the service can actually cannibalize full game sales.
The games offered on Switch Online can't be bought separately. Nintendo does not sell its classic retro games on the Switch, so these games are truly additive to the core platform library.
That's not to say Game Pass isn't synergistic or mutually beneficial to the Xbox ecosystem. That's really the point; Game Pass is being used as a mechanism that allows more people to become involved, engaged, and monetized into the Xbox ecosystem in a way that really does promote more play time, and thus more investment, into the games.
Read more:
https://www.tweaktown.com/news/9091...disruptive-and-thats-not-bad-thing/index.html