Probable Replicant & GIF PIMP
Oct 10, 2012
10,643
11,980
1,195
Figured New Year/New Decade Time for a dedicated Community TV thread.
What have you been watching? What did you think of it? Was it any good? Let GAF know.
If it's a new show or one that people might not have heard of post an IMDB Link & Maybe a trailer as well
Also
Keep spoilers under wraps
especially for new shows
Anyway, I'll kick off with what I've been recently watching: -
The Last Kingdom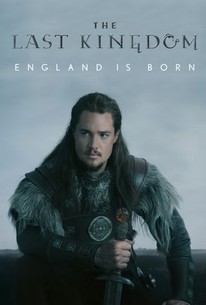 Synopsis:Anglo-Saxons are attacked by Viking forces. Uhtred, born a Saxon but raised by Vikings, finds his loyalties tested as he tries to claim his birthright and help create a new nation.
www.rottentomatoes.com
Post NYE and suffering from a bit of illness I found myself bedridden so for a few days so occupied my time with rewatching Seasons 1 - 3 of
The Last Kingdom
via the Netflix.
Not quite as showy as The History Channels
'Vikings'
TLK
is still a pretty entertaining watch as far as quasi-historical dramas go Originally a BBC funded show, Netflix came in with them on Season 2 and the bigger budget that brought has certainly helped it through its retained the rustic charm of Season 1 with everyone wandering around in shit most of the time (Monty Python approved). Written by Historical Author Bernard Cornwell (just releasing book 12 this year..take note GRRM) the story ostensively revolves around the adventures and travails of Uhtred of Bebbanburg the second son of Saxon noble who finds himself being brought up by Danish Vikings and straddles the uneasy divide between their Pagan ways and the Christian English around the period of Alfreds ascent to the Throne as the King of Wessex and the nullifying of the Danish Expansion into England.
The supporting characters can be a little broad-brush at times, though not without their charms (it's clear the cast have a good rapport that translates to the screen) and the show isn't afraid to throw the odd curveball in now and then in terms of plot twists here and there. What I particularly like is the fact that Utred is oftentimes both a complete dick and his worst enemy without necessarily straying into pure antihero territory, which is kind of refreshing.
If you're hankering for a bit of Sword fighting Post Witcher then you can't go far wrong with some Viking/Saxon fisticuffs. Season 4 should hopefully be landing sometime later this year and I fully expect it to get renewed for a 5th as it's pretty popular and highly regarded.
Destiny is all.
Last edited: