Jul 4, 2020
4,850
5,369
750
I wanna try an experiment. I've tried this in the past on other forums tracking other things, but i wanted to try it out just to see what kind of results we get.
I'd like you to give your top 4 movies from/made in the 90s - in order.
I'll leave the thread for a day or two or something then tally up all the movies and see which one gets the most mentions/tallies. Probably don't wanna leave it too long because, if I'm lucky and i get a bunch of posts, it might be a fair bit of work tallying it all up.
It won't tell us much, i know,
it's certainly nothing like the game tournament Karma did a few weeks ago, but if things go well then it should give us a chance to
bond over shared interests
and maybe accidentally pick an unexpected result.
That's the real objective of this thread.


note: if you wanna revise your list, or if a buddy reminds you of something, feel free to edit your post. Make as many revisions as you want, I'll just take what you're settled on at the time i make my tally.
Please pick your favourites - not necessarily the highest rated, most viewed, or best regarded flicks you can think of.
Your 1st choice will get 4 points
2nd - 3pts
3rd - 2
4th - 1
When i pick a time to tally it up, I'll do so and stop tracking any new results, but i won't do that for a while if i can. Looking forward to learning about some cool movies.
Why the 90s? Why not? Plenty of great films in the 90s. We can do it for another decade , or another thing entirely, some other time~
Well,
teezzy
was half right, he picked the winner but misplaced the neck-and-neck!
TOP 5 RESULTS:
WINNER - TERMINTOR 2 (44 VOTES)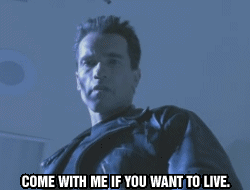 2ND - GOODFELLAHS (26 VOTES)

3RD - PULP FICTION | FIGHT CLUB (TIED ON 19 VOTES)

5[-7]TH - SHAWSHANK REDEMPTION | THE BIG LEBOWSKI | THE MATRIX (TIED ON 14 VOTES)

FUN FACTS:
> The highest scoring film to be mentioned late in the thread was The Matrix, which was not mentioned until post #31, by
Hudo . Represent.
> The widest vote gaps between mentions for one movie was for "Office Space", which was awarded 1 point in Post #4 by
eddie4 , a point in post #19 by
SpiceRacz , and wayy later a few more in post #53 by @Threeshotgamer
> The movie which got the most mentions but finished with the lowest collective votes was Starship Troopers, which was mentioned 7 times but only gathered 11 points - averaging 3rd or 4th place per pick.
> The only voters who mentioned movies that nobody else mentioned were
kunonabi and hacker badass

A

Alter_Fridge
Well, that's that, and thanks to everyone who participated. This is more fun when you get a good few pages of voting, and neat little statistical trends show up, little factoids~ Anyway, it looks like GAFers tend to
love
Terminator 2. I for one am
shock and dismayed
that The Fifth Element only got one vote - my own.
pulp fiction - 19
fight club - 19
goodfellas - 26
office space - 5
silence of the lambs - 4
braveheart - 9
scream - 2
starship troopers - 11
good will hunting - 5
american beauty - 3
T2 - 44
schindler's list - 2
saving private ryan - 3
blade - 3
the english patient - 1
robocop 2 - 2
natural born killers - 1
kingpin - 4
casino - 4
the big lebowski - 14
jawbreaker - 4
my girl - 3
gorgeous - 2
sleepy hollow - 1
fear and loathing - 1
shawshank redemption - 14
talented mr ripley - 1
cemetary man - 4
seven - 2
unforgiven - 5
dunmb and dumber - 2
jurassic park - 9
demolition man - 1
apollo 13 - 3
before sunrise - 1
boogie nights - 2
white men can't jump - 1
hard boiled - 4
the matrix - 14
mononoke - 5
forest gump - 1
groundhog day - 2
high fidelity - 1
the fugitive - 1
la confidential - 4
fargo - 3
truman show - 1
12 monkeys - 4
point break - 4
the crow - 3
heat - 1
Fortress - 4
The Net - 3
To The Limit - 2
Hackers - 1
the fifth element - 3
leon the professional - 2
rushmore - 1
the rock - 4
die hard 1 - 2
trainspotting - 3
clerks - 4
american history x - 2
major payne - 1
independence day - 4
hard boiled - 1
Last edited by a moderator: