Mod Abuse:
https://playoverwatch.com/en-gb/blog/20216482
Crack your knuckles, stretch those hamstrings, and turn up the volume—the Summer Games have begun.

For the next three weeks, we're celebrating the spirit of competition in true Overwatch fashion. Earn special seasonal Loot Boxes, collect over 100 new cosmetic items, and hit the field with your friends in our latest brawl: Lúcioball!

GO FOR THE GOLD

Starting today (and for the duration of the event), any new Loot Boxes you earn or purchase will be sporting an updated look, but the packaging isn't the only thing that's changed!

Inside, players will have a chance to find a variety of new cosmetic items commemorating the Summer Games—including themed sprays, emotes, victory poses, highlight intros, player icons, and some very special skins. Though they can't be purchased with credits, each seasonal Loot Box you receive is guaranteed to contain at least one item from our Summer Games 2016 collection.

SummerGames2016-Skins-Animated_OW_JP_700x394.gif

While any Summer Games item you unlock will be yours forever, the collection will be heading back into the vault on August 22 when the event concludes. So, if you've got your eye on something specific, there's no time to lose!

PITCH PERFECT

Our Summer Games event wouldn't be complete without a display of athletic expertise, which is why we're unveiling a brand new brawl: Lúcioball! This futuristic spin on soccer places you in a fast-paced, 3v3 match featuring everyone's favorite beat-dropping Brazilian.

Teams will face-off in the beautiful Estádio das Rãs, located in the heart of Rio de Janeiro. Equipped with jump pads and speed-boosting walls, this unique arena amplifies Lúcio's abilities, allowing players to punch, glide, block, bounce, and boop and their way to victory.

Each game of Lúcioball lasts four minutes, and the team that scores the most goals in that time...wins!

SummerGames2016-LucioBall-Ulti-Animated_OW_JP_350x350.gifSummerGames2016-LucioBall-WallRide-Animated_OW_JP_350x350.gifSummerGames2016-LucioBall-JumpPad-Animated_OW_JP_350x350.gifSummerGames2016-LucioBall-AltFire-Animated_OW_JP_350x350.gif

Speaking of abilities…understanding how Lúcio interacts with the ball is the key to mastering Lúcioball. For this brawl, his primary fire has been replaced with a melee attack, allowing Lúcio to punch the ball—perfect for dribbling, passing, and shooting from short range. When you need to launch the ball across the map, Lúcio's alternate fire emits a blast of sound that gets the job done nicely.

Unlike other game modes, the speed boost from Lúcio's Crossfade only affects himself in Lúcioball (Amp It Up will still increase that boost, as normal), and his ultimate ability, Sound Barrier, now pulls the ball toward him from anywhere on the field.

LET THE GAMES BEGIN

This is our very first seasonal event in Overwatch, but there are more on the horizon. We're not quite ready to reveal our plans, but you can expect to see more festive Loot Box items, maps, and modes in the future. So, keep your eyes trained on playoverwatch.com for more information, and don't forget to follow our Facebook, Twitter, and YouTube channels for all the latest updates.
----
*Edit* seems a decent chance that only Lucio Zarya and Tracer get new skins and the rest are sprays.

A twitch streamer got her hands on what appears to be some new skins coming to Overwatch.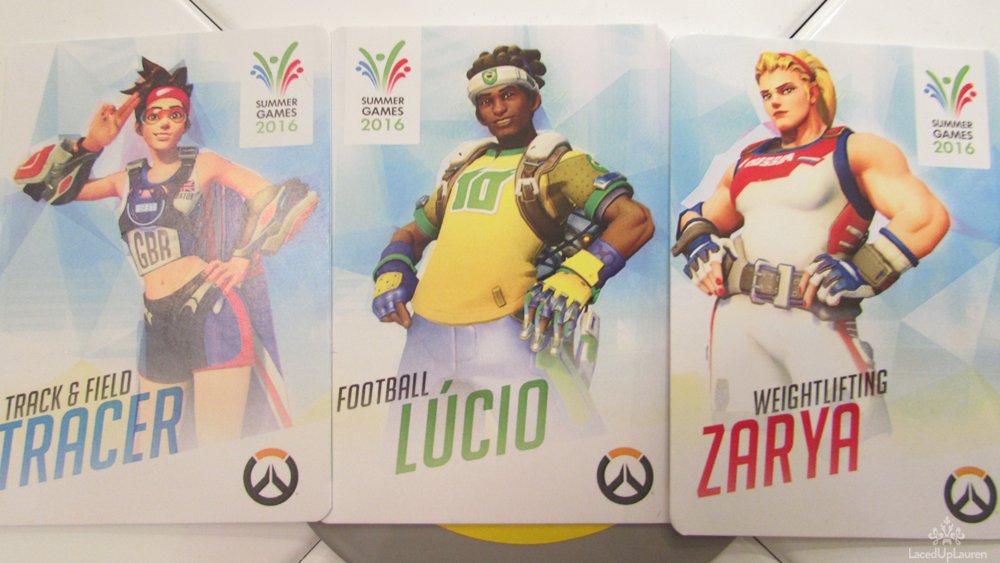 Weightlifting Zarya
Track and Field Tracer
and some kind of sport Lucio
Also looks like a potential new map (with a new game mode?)
Noteworthy:
Golf 76
Speedo Roadhog
No coat Mei
Basketball Pharah
Singlet Reinhardt
So what do you think? Pretty hit and miss for me personally. Also worth noting they the developers have said that we will be getting new Legendary and epic skins this summer. So while this is likely the first batch. I'd expect some more within a month or two if you don't care for these.
*Edit 2* definitely looks like a new map + game mode: