Edit 2: now out!
500 Yen / 4.99€ / 4.99$ for both 3D and HD versions
***
Edit: also coming to Wii U!
 少しPRさせていただきますと、10月25日に東京国際映画祭で(「ピクミン ショートムービー」という)映画を公開しました。ご存知でない方は、またネットでチェックしてみてください。20分程度の映画ですが、初めてのアニメーションを『ピクミン』を題材につくりました。近々この『ピクミン』の3D映画をニンテンドー3DSで、高品質のHD版をWii U上で提供する予定です
Source
***
Remember those
Pikmin shorts
announced a while ago? They were showcased today at the
International Tokyo Film Festival
. Shortly after, Miyamoto and Nobuo Kawakami (chairman of Dwango) had some sort of press conference.
There, it was announced that the three Pikmin shorts ("The Night Juicer," "Treasures in a Bottle," "Occupational Hazards.&#8221
would be coming soon to Nintendo 3DS. Miyamoto didn't say when, or if it'd be free, though we can expect those to be available via the Nintendo eShop (they did end the Nintendo Video services earlier this year).
Apparently, Miyamoto did the storyboard using Flipnote Studio 3D, and actually sent those to the production company who made the shorts.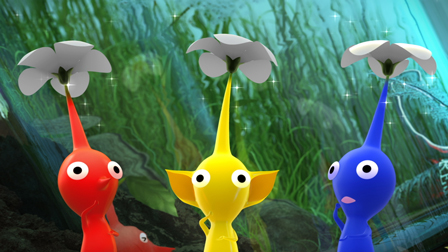 Trailer :
http://www.destructoid.com/pikmin-short-films-look-amazing-coming-soon-to-3ds-283033.phtml
Some more info:
In the article, Miyamoto says

-They'd considered doing something like this, but avoided it because of the difference between games and films.
-Another reason is that a film requires much more 'setting in stone' about the characters and world that could be limiting for the company when it comes to future games.
-However, with Pikmin they're very small in game and you can't see them well without zooming in. So he thought it'd be a good idea with this series, as it'd give more focus to the actual Pikmin.
-Storyboards for the shorts were made by Miyamoto using Flipnote 3DS.
-Made by an external CGI company. They also produced the opening of the 2012 E3 Presentation, where Miyamoto was followed by CGI Pikmin.
-They originally intended to make 10 3-minute short films, but after making the first one they decided on making longer ones. The 2nd is 8 minutes and the 3rd is 13 minutes long.
-The 3rd film features 500 Pikmin on screen at once and Pikmin covered in mud. Things they can't do in-game.
-The models are based on the game's models, but the CGI required about 10 times the fidelity of that in the latest game, so the 3D models themselves are mostly new.
-Miyamoto says the live-action Super Mario Brothers film was an interesting interpretation of the universe. When he first read the script, it was a heart-warming tale, like a Disney movie from his childhood, but it gradually evolved into the movie we know today. He thinks it's interesting what a different interpretation can bring.
-Release timing for the Pikmin shorts unannounced; may be compiled together with the logo-movie for Toho Cinemas (which features Pikmin, too) when released on 3DS.
-Plans on releasing world-wide; no language to localize.
-Pikmin 3 demo is in the works.
-Miyamoto wants the short films to be a gateway for some to play the Pikmin games.
Source
***
Edit: some more info!
Famitsu just posted about the event.

http://www.famitsu.com/news/201410/28064499.html

(When the link fails, hit enter to load the page)

-The films were screened in 3D at the event.

-The films are '

Late-Night Juice

' (2 mins), '

The Treasure Inside The Bottle

' (8 mins), and '

The Rough Day

' (13 mins).

-Miyamoto showed off some of the storyboards he made in Flipnote 3D at the event.

-He joked that with the time he put in making these short films he probably could have made about 2 games.

-He was reticent to use the Rock Pikmin idea at first, but with the mechanic involing breaking glass/crystal in the game came to the conclusion that rocks breaking it would be easiest to convey.

-Rock (and probably Flying) Pikmin don't appear in the films since they were made at the same time as Pikmin 3 and they hadn't finalized everything about those types yet.

-He mentioned that he's working on the Star Fox game for Wii U.

-They'd like to release the Pikmin 3 demo on Wii U and the films on the 3DS at the same time.
Thanks StreetsAhead for the translation!