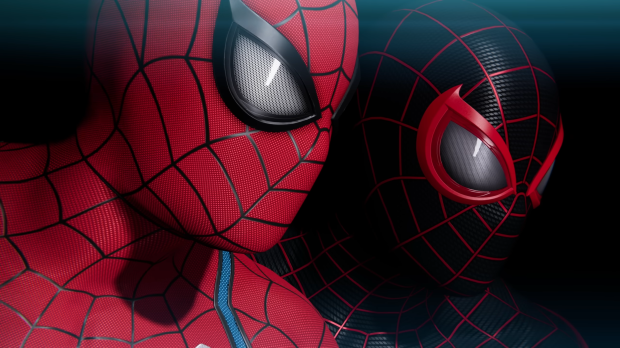 Sony's video games division is set to break a staggering milestone in 2023. The company is expected to pass the 6 billion cumulative game sales mark by the end of Q1 FY23, or June 30, 2023. Sony data shows that historical PlayStation game sales are currently at 5.913 billion as of the Q3 holiday period.
This figure combines all PlayStation platform software sales data that Sony has provided. Interestingly enough, the PlayStation Vita's software sales are not published. It's possible that PlayStation has already sold more than 6 billion games depending on the Vita's performance.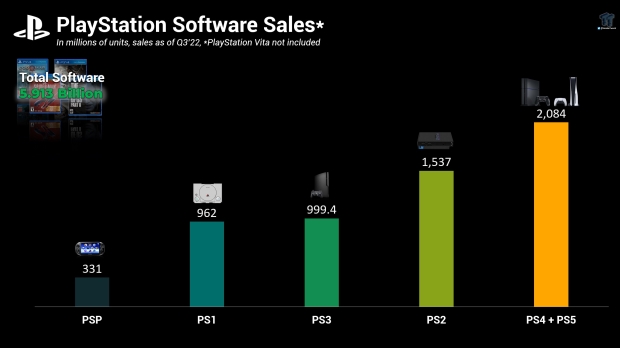 A quick bit of math shows that Sony still has to sell 87 million games before it can break the 6 billion software sales mark based on the platforms that it has provided numbers for. These kinds of sales only happen during the holiday quarter; for example, Sony sold 86.5 million PlayStation games in Q3'22.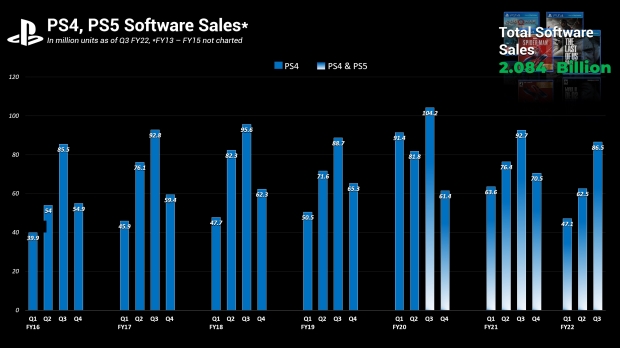 The Q4 periods from January - March typically achieve around 60-65 million software sales, except in Sony's record FY21 where it sold 70.5 million.
So that means Sony may require two quarters in order to rack up that 87 million sales target. Sony could break the milestone sometime in Q1 Fiscal Year 2023, which would be from April - June 2023.
Read more:
https://www.tweaktown.com/news/9032...k-6-billion-game-sales-by-mid-2023/index.html
Last edited: