The last Coro Coro of the X and Y buildup has just started leaking. We have the cover so far, and a second MegaMewtwo and a MegaGarchomp can be seen.
Starter evos:
Chespin -> Hariboogu. Thorn Armour Pokémon. Grass, knows Mud Shot. Ability is Overgrow.
Fennekin -> Teerunaa. Fox Pokémon. Fire, bipedal, has a split tail, knows Psycho Cut. Ability is Blaze.
Froakie -> Gerogashira. Bubble Frog Pokémon. Water, slender, knows Bounce. Ability is Torrent.
Torimian. Normal. Has Fur Coat ability that reduces damage. Coat can be trimmed in various styles visible in battle.
Nyaonikusu. Psychic. Cat Pokémon that differs significantly by gender in design, movepool and purpose. Female is a white-coloured attacker that knows Extrasensory, male is a purple support Pokémon that knows Miracle Eye.
Pyroar
. Litleo's evolution. Fire/ Normal. Abilities are Rivalry and Unnerve. It's the Royal Pokémon.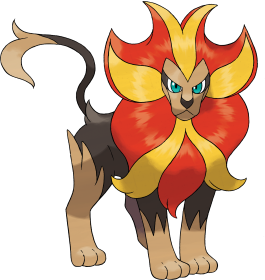 Amarusu. Rock/Ice Fossil Pokémon. Has the ability Freeze Skin, which changes Normal moves to Ice type and boosts their power.
Chigorasu. Rock/Dragon Fossil Pokémon. Has the ability Hard Jaw, which boosts the power of biting moves.
Mega Mewtwo X is Psychic/Fighting, with a boosted Attack stat and Steadfast for an ability. It Mega Evolves using Mewtwonite X, which is exclusive to Pokémon X. The previous Mega Mewtwo is exclusive to Pokémon Y.
Mega Garchomp remains Ground/Dragon. It's ability is Sand Force.
Fairy types are strong against Dragon, Dark and Fighting Pokémon, not very effective against Steel, Poison and Fire Pokémon, weak to Steel and Poison attacks, resistant to Bug, Dark and Fighting attacks and immune to Dragon-type attacks.
Steel has lost its resistances to Dark and Ghost moves.
The player's outfit and haircut can be changed at a Boutique and Salon ingame, run by an actress named Karune.
Team Flare is represented by five scientists. Kuseroshiki, Momiji, Bara, Akebi, and Corea.
In the anime, Ash will be accompanied by Clemont, the Electric gym leader. Mega Blaziken is shown in the XY poster.