Sep 25, 2015
8,139
7,421
755
WARNING: This OT contains flashing colours and images.
Gareth Noyce - Brace Position
PS4, PSVR
PC, Oculus Rift
​
PS4
May 9, 2017
Steam
Dec 21, 2018
$ 17.99
£ 13.99
€ 14.99
​
ESRB - E10+
PEGI - 7
PS4
Steam
Polybius is like skiing.
Polybius is like falling forwards really fast down a neverending well.
Polybius is a recreational program with lightsynth elements.
Polybius is a secret government conspiracy to brainwash you into going fast and getting high... Scores! High scores.
Listen.
POLYBIUS is a fast, trippy tunnel shooter playable on a normal screen or in VR.
50 levels of blissful trance shooting action are set to a blistering soundtrack.
So sayeth the steam store description, at any rate.
Polybius is the brainchild of Jeff 'Yak' Minter, British independent game designer, veteran of the industry, lover of ruminants, and creator of Gridrunner, Attack of the Mutant Camels, and Tempest 2000 among many other things.
Pictured: Jeff w/fluffy sheepie
Based on an urban legend about a mysterious arcade game that would leave its players a coma, Polybius intends to reinterpret the myth and create an entrancing yet harmless experience that evokes a sense of speed and euphoria through ludic psychadelia.
​
Horns and Bulls in the tubehole
The inside of a Toblerone
Polybius makes FULL use of your personal computer's colour palette. Scream if you want to go faster!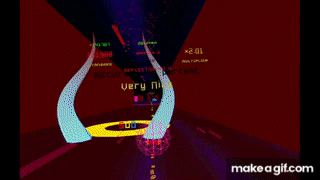 Fast Fast Fast Fast Fast Fast Very Nice Fast Fast Fast Fast

I CAN FEEL THE COSMOS (Naw, that's just the DMT kicking in.)
You do what feels natural, of course.
A level in Polybius is much like one you would find in Tempest 2000 or the like- a linear field of a specific shape that may or may not loop around on itself at the edges.
You strafe your ship left and right as you fly deeper into the level, firing at the enemies ahead of you in order to dispatch them.
Your ship has several shields, one of which is lost each time you crash or take a hit. If you have no shields upon impact, it's game over.
There are boost gates shaped like bull horns that will accelerate you upon passing through, as well as adding a short period of invincibility to your ship's Deflector - the ball-like cage you see around it in the footage.
Occasionally a large medicinal-looking pill will drop.
This is a power up, the effects of which can range from various types of enhanced bullets, to freaky hallucinogenic time dilation, to a super boost effect that will see you rocketing through the visible spectrum at Ludicrous Speed.
There are some notably less pleasant things should you take the Wrong Pill, however, so try not to do that.
And then there's the Fried Eggs, Space Invaders, Deflector Chaining, Lift Gates...
You know what? Here's a video of the first seven levels commentated by Yak himself to give you an idea of exactly what goes on:
What can I expect for my money?
The game features:
Trippy, colourful visuals
50 varied levels
Fast, fluid tube shooter gameplay from the master of the genre
A full OST packed with excellent electronic tracks from all sorts of different artists
Llamasoft's signature Restart Best system
VR Support
1000+ cattle guaranteed
Absolutely no subliminal messaging whatsoever
I Will Buy Jeff A Nice Soft Drink
I Will Buy Jeff A Nice Soft Drink
I Will Buy Jeff A Nice Soft Drink
Tell me more about this excellent original soundtrack
Brace Position up at the top of the OT is one of the finest tracks in the game- if you like the sound of it, you can sample the rest of the OST for free over at the game's bandcamp page:
Polybius OST - Bandcamp
What was that about an urban legend?
This documentary from Ahoy covers the original Polybius myth in great detail, with lovely production to boot:
In addition, Jeff wrote an account of how he came across an original Polybius cabinet in the course of a journey to darkest Basingstoke:
It was this chap and he wouldn't really tell me what exactly he wanted, only that he reckoned he had something "extraordinary" to show me, since he thought I was somehow uniquely qualified to analyse it, or something like that.
At first I thought he was just being a loony but he promised me it'd be something worth seeing, something related to the history of arcade games. In the end I said I'd come and see, hoping the while that he wouldn't turn out to be an axe murderer or anything.
I had to swear on Flossie's name that I wouldn't reveal the exact nature of what I was to see, and video or pics were strictly out of the question.
Playstation EU Blog - A story of darkest Basingstoke and the wondrous secret hidden there that'd give birth to Minter's latest creation
Whether you believe a single word of it is up to you, but it's a fun little bit of backstory.
Can I get a first impressions video ovah here?
The extremely New Yorkish PSVR Frank has a solid first impressions video review stream thing here:
Why yes, Polybius was featured in the music video for the Nine Inch Nails song 'Less Than':
Surely this 'ludic psychedelia' stuff is nonsense. Videogames can't get you high.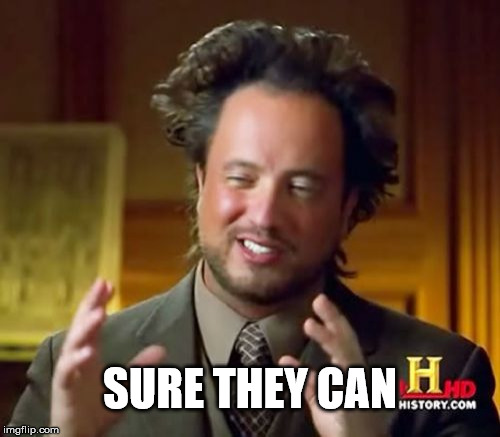 I don't have anything past anecdotal evidence to offer here, but the game seems to use a combination of visual colour patterns and ASMR-like audio cues to trigger certain responses in your brain, leading to a notable feeling of elation and clarity both during and after play.
Perhaps I'm just crazy, but you should try playing the game in a dark room with headphones on (or VR, if available) and see for yourself. It's quite remarkable as someone who's never been susceptible to hypnotism or other such things.
I'm gradually figuring the game out piece by piece, and will post my findings here. Spoilered in case people want to figure things out on their own.​
Tips
Try to slalom smoothly left and right whenever possible, and also in between gates. This will greatly boost your shot down rate and point gain when combined with Divergent Shooting.
Horn gates will turn red when you're lined up with them correctly
Your fire rate and score multiplier are based on your speed. Keep it high to avoid being mired in unwanted business!
The line on the ground that stretches out ahead of you indicates where certain fixed gates will spawn, so you can use it to infer your trajectory
Not all gates are fixed - some will come in pre-generated patterns such as the common cattle + gate zig-zag
It's handy to follow the line as closely as possible if you're under the effects of super boost and things are getting hectic- a lot of the time everything will die from the gate waves and you'll come out safe.
Gates will recharge your deflector by 0.3 seconds
The legally distinct space invaders will fire revenge bullets on death that can be destroyed to yield a shield ring that will power up your deflector slightly
The trick is to avoid gates when going after shield rings, because they'll be blown away by the gate wave
If you prioritize shield rings when they're available, you'll effectively be invincible and still able to fit a gate or two in here and there between waves
Smashing a bouncing yellow cube or fake pill with the deflector will instantly recharge it to full
Areas with a lot of these enemies often have an alternate strategy whereby you can chain smash them repeatedly to maintain invilnerability
You can press forward or back on the left analog stick while flying to reduce or prolong your flight time
Try to exit the level under the effects of Super Boost whenever possible - this will apply the increased muliplier to all post-level bonus points​
Pill Types
Purple & Yellow / Divergent Shooting
Causes your bullets to inherit your velocity
Every even bullet will have positive velocity
Every odd bullet will have negative velocity
Allows your firing arc to cover more of the stage with less movement​
Purple / Super Divergent Shooting
Causes your bullets to inherit your velocity
Every even bullet will have negative velocity
Every odd bullet will have double negative velocity
Allows you to cover even more firing space than regular Divergent Shooting
Purple & Red / Super Penetrators
Causes bullets to pierce through enemies​
Red / Super Boost
~2x speed increase for the duration
+2x multiplier increase for the duration
Rainbow distortion effect
Blue / Time Warp
Time slows down to ~0.5x speed and gradually speeds back up
Additional 10x multiplier for the duration
Very cool effect with certain music tracks (ex. Brace Position)
Green & Orange / Bonus 1000
1000 Bonus Points
Green & Yellow/ Bonus 2000
2000 Bonus Points
Green / Bonus 4000
4000 Bonus Points
Green & Purple / Bonus 10000
10000 Bonus Points​
White & Magenta / Fake Pill
Causes damage on contact
Blowing it away with the deflector will grant a full 5 second recharge​
??? / Wrong Pill
Causes you to lose 1 shield
Heavy visual distortion for a few seconds​
??? / Sequencer Reset
Causes the level sequencer to reset
Only appears in one specific state​
White? / Shield Recharge
Fully recharges your shields to 9
Only appears in final few stages​
Accuracy Checks
Certain enemy waves will make a beep noise upon death that gradually increases in pitch as more are destroyed
During these waves, you will be judged on your accuracy and rewarded based on your shot down rate
80-100% - Super Boost
70-79% - Bonus 10000
50-79% - ???
0-49% - Nothing​
Traveler's guide for things to see and do in the tubehole
Take in the vintage atmosphere and classical styling
Admire the local wildlife as it flies past at incredible speed
Sample boost pills, a local delicacy
Have your head encased in a fractal snowflake
Admit to yourself that the Commodore really was was better than the Spectrum
Avoid accidentally taking the wrong pill
Make the journey to Basingstoke
Ascend to a higher plane of existence as your mind becomes a receptacle for enlightenment​
Thank you for reading! Now if you'll excuse me, I'm going back in.
[ENGAGING PROJECT MKULTRA, PLEASE STAND BY...]
​
Last edited: