So back in the day as a wee lad, I had a 3.5" floppy demo disk with a purple eye on it. It was from a PC Gamer mag. Upon playing the demo for this game, I was instantly hooked. At first glance it looks like a fantasy themed Civilization, but upon playing you find there are satisfying RPG elements packed in as well. I'll try to describe the basics of the gameplay.
To start, you pick a wizard/leader to lead your faction. You can chose from presets or create your own.
You can spec your wizard using a fixed amount of points that are split between power in schools of magic, character attributes, or faction bonuses. An example would be choosing Famous, which raises the Fame you start with to increase the opportunies to hire Heroes, mercenaries, and buy magical items. You could also choose to start in the "Myrror" realm, which is the alternate plane, reachable through magical towers in the normal realm.
Starting out, you have a town and a couple of military units to defend it. You assign workers to farm or produce and the terrain gives various bonuses to your city. The two resources are Gold and Magic Points. You also have to produce enough food to sustain your army, but you just need to break even as you don't store extra food. Instead of a tech tree you research spells. You have one building project at a time and you can also summon magical units with spells.
Once you've rounded up a decent army, you can start conquering the neutral camps littered around the map. They have a chance to drop items, gold, magic points, and even spells. If you're feeling even stronger you can start conquering the enemy towns (you can play against up to 4 AI). There is a diplomacy element, but I think generally you just want to wipe the AI out. You defeat the enemy by conquering the town with that Wizard's tower.
Combat is similar to a turn-based tactical RPG and leading an army around led by your heroes has a meta-game feel to it as you level up, defeat monsters, acquire items, and crush the enemy. There are quite a few levels to gain, so you generally want to concentrate on keeping your troops alive instead of going berserk and then rebuilding.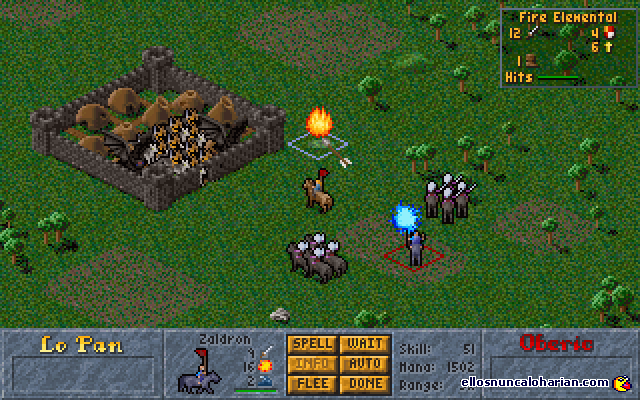 Once you have defeated every enemy, you become the "Master of Magic." Congratulations.
So nearly 20 years after playing the demo, I bought the game from gog (
$3 atm
). It's still a blast to play and has left me wondering if there is a modern series that aspires to capture the "Magic" in this game. I would assume tablets would be an obvious market for this, but I'm looking mainly for a series on PC.