Jul 1, 2009
10,222
12
930
I've always been a fan of the Samurai Shodown series, and I had spent a decent amount of time with the first four games both in arcades and via console ports and emulation over the years. Samurai Shodown II and IV were always the standouts to me, and for whatever reason whenever I'd dabbled with SS V Special via emulation it didn't grab me in the same way that the others did. Being developed by Yuki Enterprise and having come so late into the Neo-Geo's lifecycle after the Playmore years where quality started to dip a bit, the game seemed to be sort of cobbled together with lower production values at first glance for me. The backgrounds didn't seem as detailed or lively as before, and the music seemed to be a step down from what we had in SSIV as well.
Well, my opinion completely changed after picking up the
PS4/Vita release
about a week ago. SSVS is now my favorite Samurai Shodown game, and it might even make its way into my Top 10 fighting games of all time.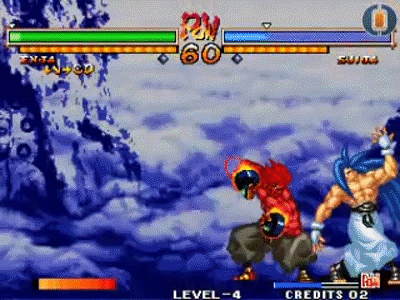 I think it has been having the ability to play this entry online for the first time (since I never dabbled in Fightcade all that much on PC) that awakened me to the greatness of SSVS. While the netcode is admittedly poor (<100ms connections are an absolute requirement for playability), matches with solid connectivity are so tense, fun, and strategic. This game really strikes a balance in weapon-based fighting game design that the series seemed to always be striving for. From the beginning SNK wanted people to feel the danger that lethal weapons pose in 1v1 combat with the Samurai Shodown games. At times they took that too far (e.g. SS3) with matches ending in mere seconds due to obscenely high damage output. At other times they went the other direction and dialed back the damage of stronger strikes to make the game more combo-centric (e.g. SS4). SSVS feels like it blends both approaches in optimal proportions.
A well-timed strong slash will still take off nearly half of your lifebar, but there is also plenty of room for making use of the game's many new mechanics as well. You won't be seeing any long combo strings in this game, but what you will be treated to is some of the most satisfying footsie/fundamentals-based fighting gameplay you'll ever see. It really feels like playing a tense fight to the death between two armed warriors, and the best part is nearly the entire cast feels competitively viable.
The game also has some really satisfying comeback mechanics that don't feel cheap at all, and landing one of the game's many fatalities on an opponent in a live match feels earned and extremely rewarding.
There's just so much I want to say about this game, but I don't want this OP to drag on for too long. I'll open up the floor for discussion and then add more details in future posts.
Here are some links for those of you who want to learn about the game: