An important distinction - I am NOT talking about Evil West, a third person shooter about a cowboy dude fighting weird monsters in a fictionalized version of wild west, that came out in November.
No, I'm talking about
Weird West
, and isometric immersive sim/role-playing game about a cowboy dudette fighting weird monsters in a fictionalized version of wild west, which came out in March.
This one: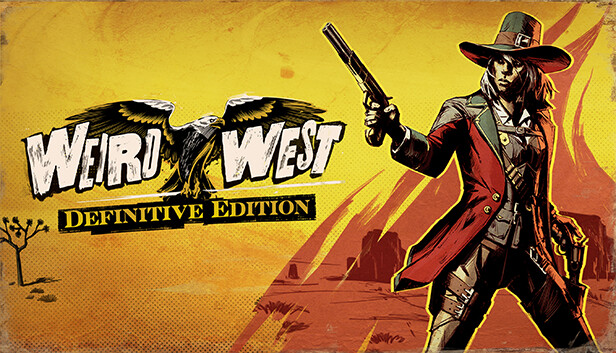 I've scrolled through most recent Steam reviews and despite the game having an overall positive rating, many of these opinions seem to be criticizing certain aspects of the gameplay quite heavily, and the game itself seemed to be getting little to no buzz throughout the year. But I think that it absolutely deserves far more attention and appreciation. Especially if you're a fan of both immersive sims such as Dishonored, Deus Ex, or Prey, as well as early computer RPGs such as Fallout. This game seems to be taking a lot of cues and design ideas from those games, and it shouldn't be a surprise, considering that the mastermind behind it is Raphaël Colantonio who previously worked at Arkane Studios as lead designer on many of their flagship titles.
Honestly, I've been having a blast with this thing so far. I'm a big fan of immersive sims and it's probably my favorite genre of video games ever, and Weird West ticks off all the right boxes for me. It has a unique style that hooked me in immediately, simple but effective premise, and a fun, reactive world for you to immerse yourself in. During my first session, it didn't even take me an hour to stumble upon a number of emergent situations that felt completely unscripted, and it's just awesome.
The only minor complaint that I have about it so far are the combat and a bit finicky camera controls during said combat. In general, shooting dudes and monsters feels fairly satisfying but if you're not careful then things can get out of hand fairly quickly and it just feels cheap when you suddenly die and you don't even have time to process what just happened. Sneaking around can also be a bit random. Like, for example, if I hide the body in the bushes (which are supposed to be a hiding spot) and crouch next to it to wait for another guy to pass, it's kinda logical to assume that he would walk by without noticing anything but in the actual game sometimes they will notice things, other times they won't, and it's a bit frustrating.
These are just minor gripes, though. Definitely not something that would completely ruin an otherwise excellent game.
GO PLAY IT