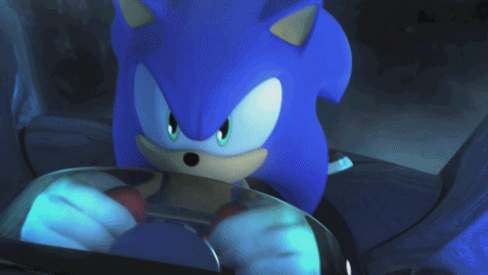 This thread is unique, as unlike my other
Sonic Retrospectives
, I'm not covering one or two games, but FOUR games at once XD! This series is important to Sonic as these are some of the best games with Sonic's name on them, in addition to SEGA really showing off the IP they made over the years using these titles.
Sonic Team & Sumo Digital did amazing work with the following four games: SEGA Superstars, SEGA Superstars Tennis, Sonic & SEGA All Stars Racing, and Sonic & All Stars Racing Transformed. Can't wait to dive into these four games, but I'm not alone in covering these games,
NeoGaf Member Village
is helping out too
! It was a blast working with him for the
Shadow the Hedgehog Thread
, so lets have a sumo slam down with some SEGA stars!
- - - - - - - - - - - - -
SEGA Superstars - PlayStation 2; 2004
This is a game I never played, so sadly, this section will be very short and might not fairly describe how the games plays. SEGA Superstars was developed by Sonic Team, and they used SEGA IP to help show what the Eye Toy can do. What is an Eye Toy? The Xbox Kinect before that even came out
. It only got a handful of games though.
Anyway, this collection has mini games across the Sonic Series, Billy Hatcher, NIGHTS into Dreams, Samba De Amigo, Space Channel 5 and more!
Sonic's Mini game is the specials stages from Sonic Heroes but controlled with your hands......doesn't sound very fun :l. Billy Hatcher has you rolling the egg around using your hands and again, doesn't look right as the camera's tracking isn't good enough to ensure proper movements. The Samba De Amigo, Space Channel 5 and Pyuo Pop mini games are the strongest, as they mirror the original games (the former two anyway) while the later uses the Eye Toy well (it knows its limited, so they just had you try to use your hands to steer the beans into different spots).
Overall, interesting collection of mini games and if you still have a working PS2 & Eye Toy, seems to not be the worst way to kill a few hours
.
The Great Clement
did a 'Let's Look' for the game and I highly recommend watching that. Goes into each game in far more detail than I ever could.
- - - - - - - - - - - - -
SEGA Superstars Tennis - 2007; Nintendo Wii, Nintendo DS, PlayStation 2, PlayStation 3, Xbox 360, PC/Mac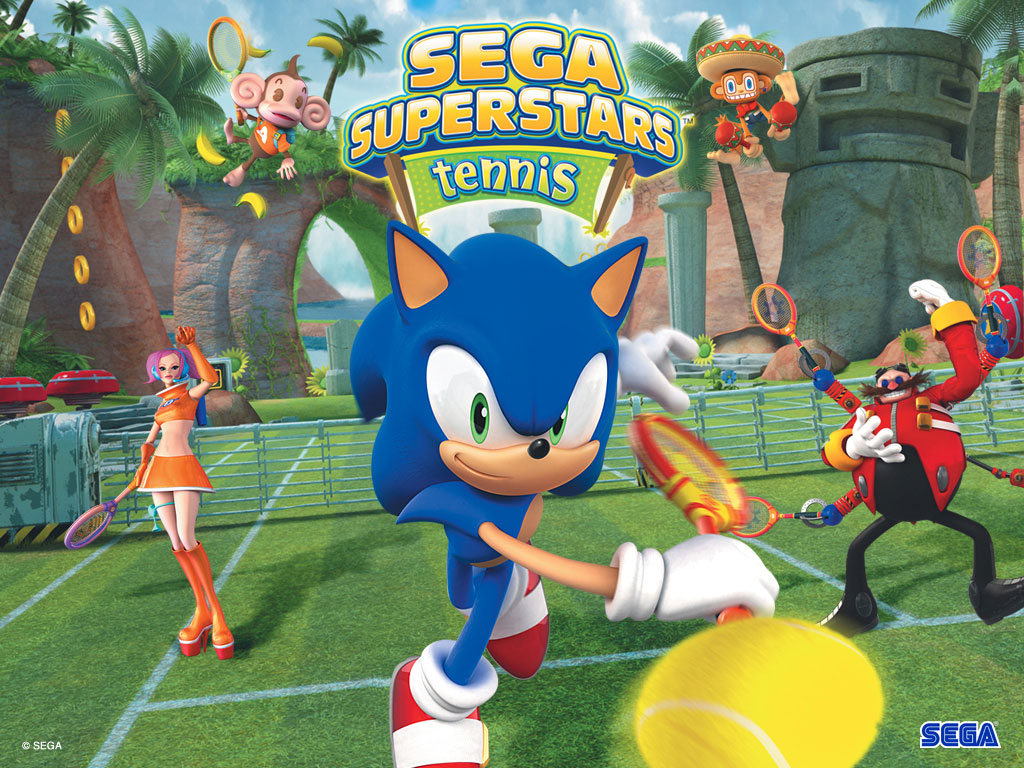 This is something that was a blast to revisit. I love Mario Power Tennis a lot, as it was one of my early GC games. So, SEGA themed tennis? My younger self LOVED the idea!
The game has a collection of various SEGA IP and Sumo Digital developed this title, not Sonic Team. Sonic and friends (Tails, Eggman, Amy, Shadow) still are in this game though (alongside two Sonic Courts; Green Hill and Eggman Base), alongside a lot of other SEGA characters:
-Amigo (Samba De Amigo)
-Aiai & Mimi (Super Monkey Ball)
-NIGHTS & Realia (NIGHTS into Dreams)
-Beat & Gum (Jet Set Radio)
-Guilus (Golden Axe)
-Alex Kidd
-Ulala & Pudding (Space Channel 5)
The course line up is more open with SEGA IP though, having courts based on House of the Dead, Outrun 2, Afterburner, Chu-Chu Rocket, ect) and the music selection covers a lot of SEGA history for each track.
What makes this game fun though, is the single player? You have various mini games to play, ranging from collecting rings on a Sonic course, fighting zombies using tennis balls, and even playing Space Harrier....using tennis! Even Pyuo Pop gets some love here, with a tennis version of that too!
The game is also very fair, with its version of the Power Shots being optional across all game modes and core gameplay mechanic feeling very tight/responsive. Overall, very great tennis game and one of the better games with Sonic's name on it
.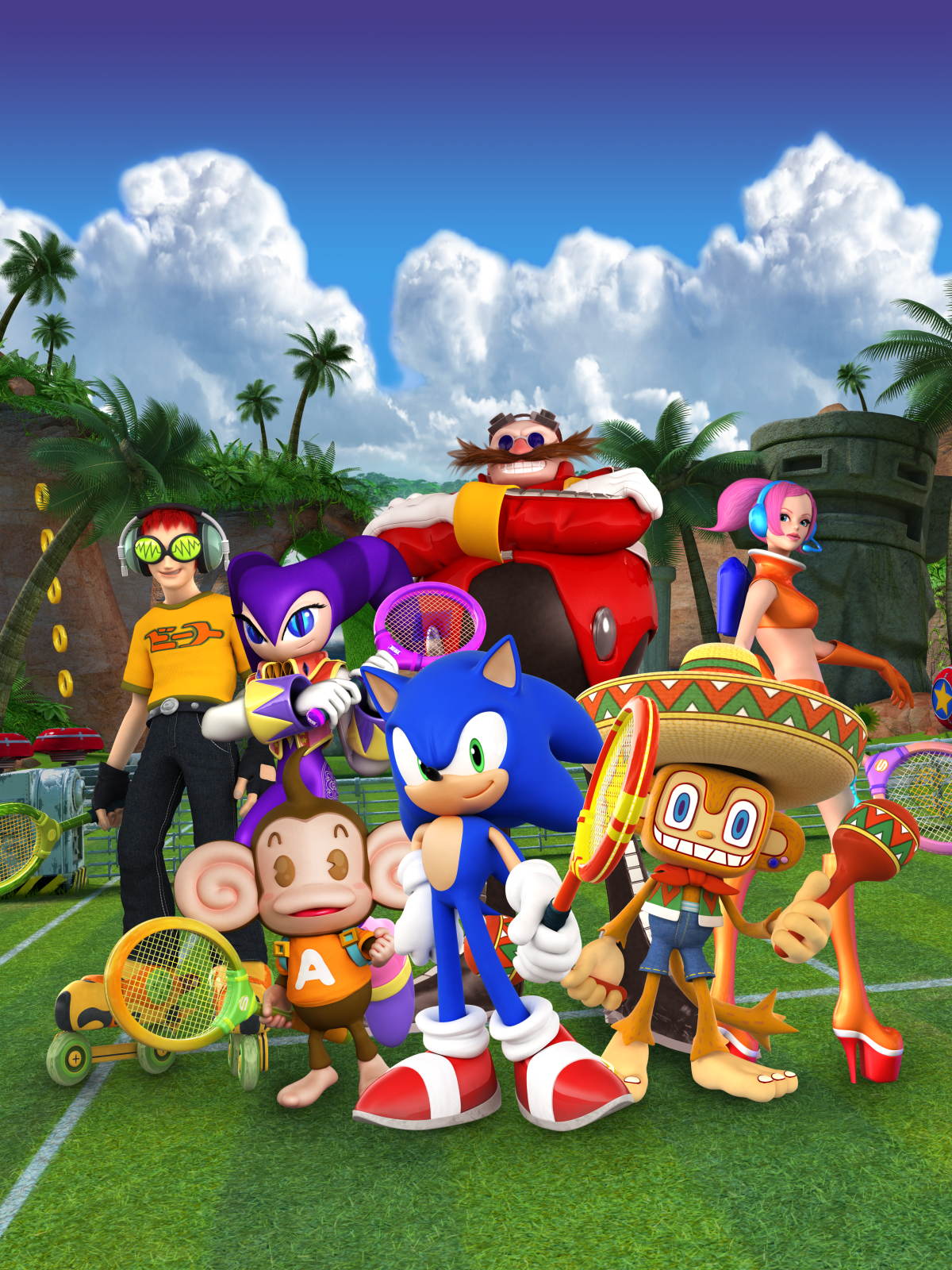 - - - - - - - - - - - - - -
Sonic and SEGA All Stars Racing - 2010; PlayStation 3, Xbox 360, Nintendo Wii, Nintendo DS, (Later On) iOS, PC/Mac
This is the game I really wanted to talk about, as its one of my favorite kart racers on the market! It does so much right and it's a love letter to SEGA Fans.
The core gameplay is what you would expect in any kart racer, with power slides, boosting, items and the like. But the controls are really smart; if you let go of the gas button, you preform tighter drifts and later tracks DEMAND that you master this *cough* Monkey Target *cough*. I don't mind this at all, as it makes the game feel different then Mario Kart or Crash Team Racing.
Going to let Village take the floor with talking about the game more now:
This game, is an interesting one. Because as soon as I got my hands on, I was like "wow this is actually a winner" that's a good feeling. When you touch a game, and it's great, just the tops.
It wasn't perfect, this game, much like many sonic games and Sega games in general suffer from what I like to call "Sega Jank" like i don't know what it is, it's usually some issue with collision. And you see it an go " oh yeah this is a Sega game" If you run into stuff weird, weird stuff happens.
Another issue is the achievements, the achievements, at least when I originally played it on my Xbox 360 were bugged. You couldn't actually get all the achievements, the last achievement for getting all the achievements... prior to that achievement, which would make that achievement a lie, because to get that achievement you need all of them and that being the last one makes that impossible, was for me impossible to obtain. It just wouldn't unlock, I looked it up and apparently is a fairly common bug, you the only suggestion was to get rid of your save and try again. I didn't particularly care that much, and didn't do that. But I think it's worth mentioning.
Back to the game itself, it has some of the most interesting levels I think I have seen in this type of racer, I don't say kart racer, because I don't think it counts, that will be explained in the transformed section. The levels in this game fantastic, I remember the one monkey ball level where you are literally going up gigantic stairs, or the JSRF level where you go through the sewers and subway. While I think the characters are fun, I think the levels themselves are the real winners in these games, these amazing representations of the games they spawned from.
There are other things I really like about this game, but I can only really explain them in context of its sequel, because they took them out, and I think while the sequel on a technical level is an overall better product. Like as a game, thematically it suffers and it pushes it back a bit for me.
- - - - - - - - - - - - -
He brings up a lot of great points regarding the core gameplay and I agree with them. The Tracks represent the games they are based off of really well and the design of them lead to really rewarding racing.
One element I love about this game is the fan service with so many IP being racers. House of the Dead, Shenmue, Billy Hatcher, Chu Chu Rocket, Bonzai Brothers, Alex Kidd, Virtual Fighter; so many more IP are covered with the racing line up then in Superstars Tennis and that is such a great thing to see.
And this contrasts with the stage line up, with it only focusing on the following:
-Sonic Heroes: Seaside Hill
-Sonic Heroes: Casino Park
-Sonic Heroes: Final Fortress/Egg Fleet
-Billy Hatcher - Snow Mountain (2 Tracks)
-Billy Hatcher - Dino Peak (1 Track)
-Jet Set Radio Future
-Super Monkey Ball
-House of the Dead
-Samba De Amigo
This isn't that bad, as each 'theme' has three tracks and they are varied enough to be visually pleasing
. But with the racing line up having such variety, I was hoping that would carry over to the tracks. The opposite is the case for the sequel to this game, so will get to that soon enough.
- - - - - - - - - - -
Sonic & All Stars Racing Transformed - 2012/2013; PlayStation 3, Xbox 360, Nintendo Wii U, PlayStation Vita, (Later On with more content) PC, (Later On) Nintendo 3DS
This game released two years after the first All Stars racing and it left big shoes to fill. With the first one being so good, how do you top it?
With more SEGA love and even stronger gameplay! The core gameplay is similar, with it being a kart racer at heart, but the games core feels different. Where the original game felt like Mario Kart with a SEGA skin, this feels like a classic Arcade Racer but 'acting' like a kart racer.
What I mean, is that the car controls feel like something out of Outrun or Blur (great game that everyone should check out!), which is odd for a kart racer but this game really isn't a kart racer, it's an arcade racing game with style. You can transform into a boat or a plane depending on the track. For example, in Ocean Ruin, you start out racing in Seaside Hill's ruins and it's all fun and stuff......but then you each the third lap. You pass through a blue gate and your car transforms into a motorboat, controlling completely different. But the name of the game is still the same; beat your foes and go in first place.
The boat controls are more loose and focus more on using waves to get tricks (mapped to flicks of the right stick left/right/up/down). You also have levels that mix in flying too, like Dragon Canyon having focus on all three forms: car, boat and plane. Plane is also completely different, with the right stick being used to dodge objects in the air and get risk boosts if you flick in the right direction when you come close to walls or objects.
This mechanic of the three forms may remind you of a iconic Rare racer Diddy Kong Racing, but this takes it to its logical extreme with each form being forced on you in most races. The track designs are great, as they focus on each of those forms and make great use of the IP they use for track ideas. Spring Valley having you face three of the major bosses of the original NiGHTS after completing each lap, racing across lava in the Golden Axe track and flying in the grand skies of Sky Sanctuary from Sonic 3 & Knuckles.
I love these tracks and they feel so original to me. I loved the tracks in All Stars Racing to, but here, I remember far more of them. I also personally love this games soundtrack, as it's mainly remixes of older themes instead.
Tittle Screen:
https://www.youtube.com/watch?v=zwdYj3rretk&list=PLvNp0Boas723XRrqBDcDlEavXl0TB30Da
Ocean View:
https://www.youtube.com/watch?v=zwdYj3rretk&list=PLvNp0Boas723XRrqBDcDlEavXl0TB30Da
Carrier Zone:
https://www.youtube.com/watch?v=Wr_k3Un_vDQ&list=PLvNp0Boas723XRrqBDcDlEavXl0TB30Da&index=9
Temple Trouble:
https://www.youtube.com/watch?v=fO3DG5upBRo&list=PLvNp0Boas723XRrqBDcDlEavXl0TB30Da&index=12
Seasonal Shrine:
https://www.youtube.com/watch?v=rGN10_BJDSM&list=PLvNp0Boas723XRrqBDcDlEavXl0TB30Da&index=16
Sanctuary Falls:
https://www.youtube.com/watch?v=ZXYzGxyrkjA&list=PLvNp0Boas723XRrqBDcDlEavXl0TB30Da&index=26
Graveyard Gig:
https://www.youtube.com/watch?v=evJEEcQdaxk&list=PLvNp0Boas723XRrqBDcDlEavXl0TB30Da&index=28
Adders Lair:
https://www.youtube.com/watch?v=SZSoukNb1Xk&index=30&list=PLvNp0Boas723XRrqBDcDlEavXl0TB30Da
Burning Depths:
https://www.youtube.com/watch?v=ctdUDUgxIqs&index=32&list=PLvNp0Boas723XRrqBDcDlEavXl0TB30Da
Dragon Canyon:
https://www.youtube.com/watch?v=hDgzCshjML4&index=10&list=PLvNp0Boas723XRrqBDcDlEavXl0TB30Da
I am on a different camp regarding Village about the soundtrack, as I love the remixed tunes over the selection of music in the original All Stars Racing, but I understand why he feels the way he does. Lack of options sucks honestly.
I do have issue with the game through, as while the gameplay got so much better, other elements start suffering too. Going to let Village take the floor with this, as I feel he will cover this best:
Ok so this game, technically speaking is a much better game than its predecessor, it does not however come without its flaws, so let's start a big one.
It runs a 30fps on console, I don't remember if the last game did that as well, I haven't played that one on console in a while, but that's not good. It makes the game feel a lot slower than it actually is, and why that's a bad thing I'm going to get to in the end.
Next problem, this game, removed a lot of interesting things, from its formula, and not everything removed works aesthetically or game play wise. The first thing you may notice, is that there are no bikes, and I hate this I know why they did it, the bikes had wheelies, smaller hit boxers and were just better vehicles as Mario kart 8 has proven there are ways to balance around that. So you didn't have to take bikes away, it kind of seems like waste.
The musical choice is gone, in the last game you could unlock music tracks, and stages would go through several songs so it wasn't the same song each time you played it. They took out and went remixing or just playing 1 song per stage... and its worse. It's just worst and JSR comes out the worst because they choose like the two worst songs, for each stage, and the only good JSR song in that game is intro to the new JSR stage. Yeah there are some winners like burning rangers, but if it was in the last game you probably would have had burning rangers and a bunch of other tracks. I dunno who's idea this was or maybe its a legal thing, but the game suffers hardcore, and some of the stage tracks... are kinda bland, being able to choose music would fix that.
Next, character removals. Now while did good things like remove big the cat, they also did bad things like take Jackie and Akira out. Why god why, why god. And the Bonaza bros, and the Chuchu rocket folks, and the zombies from house of the dead. But we got a 2nd space channel 5 character... yup. Also before DLC they took out Ryo, That isn't to say there were cool ones added, I was particularly fond of most of the ones they removed.
Speaking of things they didn't bring back, so they decided to include some stages from the previous game, they chose lame stages. Some of the stages in the previous game were gigantic and imaginative and amazing, but they choose smaller stages I assume to show off their new stages with all the new water air mechanics, but I feel like it suffers. You have a bunch of cool stages, and some lame gimp ones from the last game, they chose the lame version of each one they chose, I wish they would have chosen the bigger more imaginative stages, it would have made the stage selection better overall.
Now it isn't all bad things, let's get to some of the good things.
How the game feels, I believe I mentioned earlier about I can't exactly put in "kart racer Mario kart" land. And this is why because yes it has items and its character focused, on like mechanics and feel level it just feels to me more comparable to say burnout than Mario kart. Maybe it's due to the studio's previous racer, Blur, which was a bunch of real ass cars doing Mario kart shit. So there is a good chance that explains why that feels the way it does. It's great, its fast visceral it's how sonic and crew should be racing. It feels good,
Presentation, it actually a game now. The menus and how the game presents itself is much better than the last game, being able to see gigantic versions of the stages are going to race in the distance. The last game was very a slide show. And while I do miss the announcer from the last game, everything is so slick and pleasing to the eye. And in gameplay the levels, at least the new ones are like the good old levels, gigantic and imitative in many ways, having to accommodate 2 to 3 modes of travel along with capturing like the essence of what is the game that they are themed around, just sucks about some of the music.
The character themselves do amazing jobs at having interesting themed vehicles around who they are and what they do. And general cool designs, while I would much prefer shadow's bike being back. His normal vehicle is a small tank that transforms into a stealth jet that transforms into fed boat. I would much rather the bike, but that's super rad. And Ryo's saga arcade cabinet transformation. And the greatest character in character racer history.
The gawd
So that brings to my next good thing, the single player, so the single player is a series of specialized events you can play at varying difficulties to earn stars, stars let you unlock characters to play as and mods, mods allow for the character to change its stats, varying how they play to how you want them to play. I will say some of the single player requirements get too... much. To get ages, last mod, you need to get all the stars, and it isn't that good. And some of those challenges get very difficult.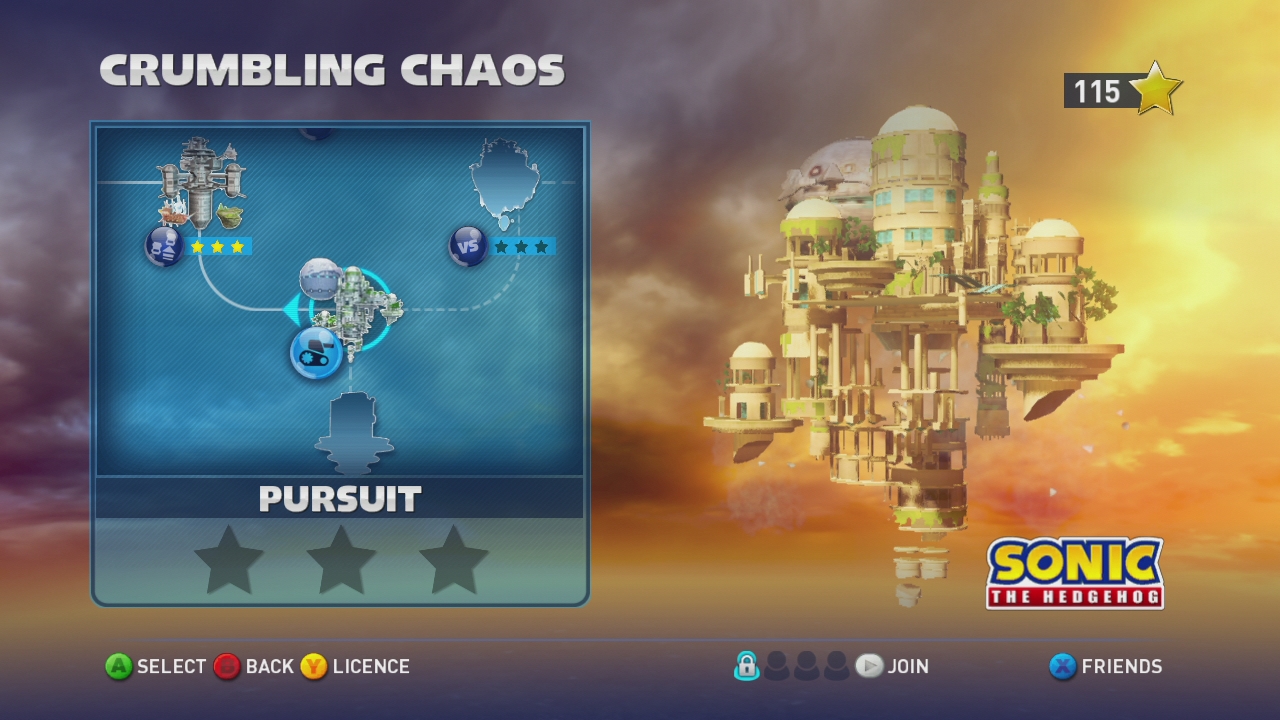 Oh I guess I should remind you, Danica Patrick And Wreck It Ralph are all versions of this game, not going to tell you how to feel about that, just presenting the information.
It's one of the best character racers I have played I personally prefer these games over Mario kart because of the variety of presentation. There are somethings that needed to be added back in, in a hypothetical 3rd game, but as it stands, on PC it's still great. Because it runs at 30 on consoles, not letting you forget that it runs at 30 on consoles, it's weird.
- - - - - - - - - -
So, the games as a whole? Really great series of games. They do a lot right and while they have some issues, they are some of the best Sega games out there. The amount of love that went into all four games really shows and it is great that newer generations can experience some older Sega IP that have been locked away for such a long time.
Lets keep on racing and hope that Sonic & his Sega friends hop behind the wheel in the future
.