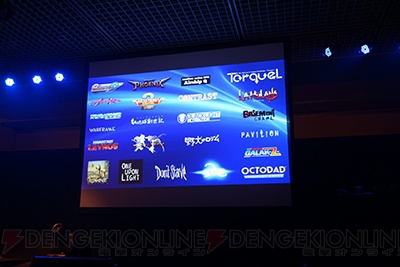 Sony Computer Entertainment Japan Asia showcased a new lineup of PlayStation 4 (and two PS Vita) indie games during its stage event at BitSummit in Kyoto today.
Assault Suit Leynos/Target Earth (PS4, Dracue Software)
Reportedly a full remake of the original
Mega Drive game
.
here's a shot of that Leynos remake:
Infinita Strata (PS Vita, Office 5656)
– No details.
One Upon Light (PS4, SUTD Game Lab)
Immerse yourself in the monochromatic world of One Upon Light.
Over 20 levels of intriguing, hand-crafted puzzles!
Manipulate surroundings to cast shadows and keep yourself safe from the light.
Explore the darkness and uncover mysteries behind the world you are in.
Trailer
Prismatic Solid (PS4, YO1 KOMORI)
A shoot 'em up initially launched as a $1 Xbox LIVE Indie Game in June 2010.
Old Trailer
Revolver360 Re:Actor (PS4, Cross Eaglet)
A "rotary shoot 'em up" first sold for PC at Comiket 85 last year
Old Trailer
Rocketbird 2: Evolution (PS4 and PS Vita, Ratloop Asia)
Releases Fall 2014
Trailer
http://gematsu.com/2014/03/ps4-indies-bitsummit-kyoto-assault-suit-leynos-two-shmups-first-look-rocketbirds-2
Also, is there a bigger version of the first picture listing all the games? I noticed TorqueL, but can't make out if there are other logos that haven't been formally announced.
There isn't. But these are all the logos:

Mighty No. 9
Project Phoenix
Airship Q
Torquel
Prismatic Solid
Rocketbirds 2: Evolution
Contrast
La Mulana Portable
Revolver360 Re:Actor
Warframe
[This is the only one I can't make out]
Blacklight: Retribution
Assault Suit Leynos
Infinita Strata
Yakem Rodem (PSM)
Pavilion
Machinarium
One Upon Light
Don't Starve
Cytus Lambda
Octodad: Dadliest Catch
Here's more on Airship Q. Hearing about this game for the first time.
Creator: Miracle Positive Co., Ltd.
Game Website:
https://www.facebook.com/airshipq
Description:
Airship Q is a sandbox action RPG, where players solve mysteries by controlling an airship in the open sky as a character who has been transformed into a cat. Airship Q is one of the first Japanese sandbox action games delivered by an independent game developer.
Rain falls, water flows, plants grow, and land changes ?
While everything is rapidly changing, the character quickly runs, jumps, controls an airship, digs, builds, fights, and dies. All actions the character takes will create a unique world you could never have imagined.
Trailer