FINALLY!!
PS3 Slim is 32% smaller, 36% lighter, has 34% less power consumption, and will be available in stores from the
first week of September
for
$299 dollars, €299 euros £249 UK pounds, and ¥29,980 yen
.
Press Release
;
Specs said:

Product Code: CECH-2000 (Charcoal Black)
CPU: Cell Broadband Engine
GPU: RSX
Audio output: 7.1CH LPCM, Dolby Digital, Dolby Digital Plus, Dolby TrueHD, DTS, DTS-HD, AAC.
Memory: 256MB XDR Main RAM, 256MB GDDR3 VRAM
Hard Drive: 120GB Serial ATA
Inputs / outputs:
Hi-Speed USB (USB 2.0): 2
Network: Ethernet (10BASE-T, 100BASE-TX, 1000BASE-T) x 1, IEEE 802.11 b / g, Bluetooth 2.0 (EDR)
Controller: Wireless controller (Bluetooth)
AV output HDMI OUT Connection: 1
AV output AV MULTI OUT connector: 1
AV output Digital out (optical) Connection: 1
BD / DVD / CD drive (read only) Maximum read rate: BD × 2 (BD-ROM), DVD × 8 (DVD-ROM), CD × 24 (CD-ROM)
Power Consumption: Approx 250W
Dimensions: approx 290 × 65 × 290 mm (width × height × length)
Weight: approx 3.2kg
From Sony's GamesCom conference
;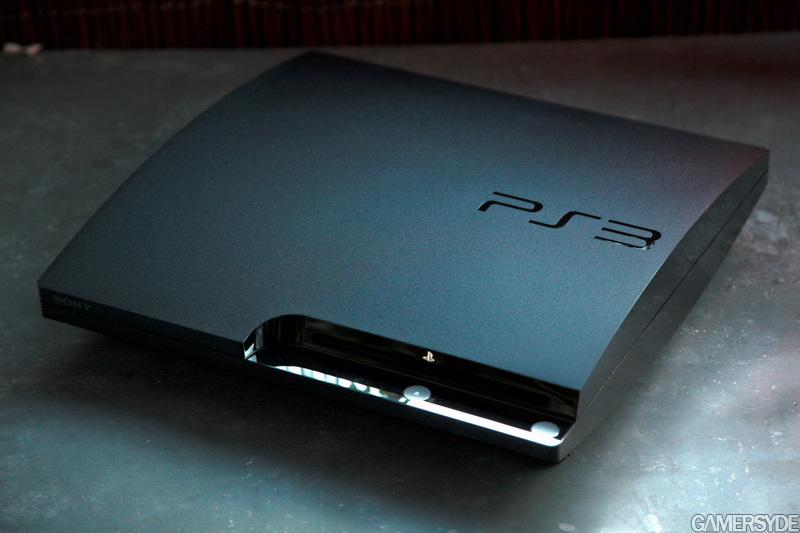 Official PR/Beauty Shots
;
Vertical Stand ($24);
Congrats to cakefoo,
he was right on the money
! (Real Slim vs Mockup comparison) [click for large version];
New PS3 boxart/cover layout & PS3 Box/Packaging [click for large versions];
First Bundle;
First PS3 Slim adverts [click for video counterpart];
[US / North America]
[Japan / Asia]
[UK / Europe / AU]
New logo/branding [click for large versions];
First PS3 Slim dissection (+ instructions on how to do it yourself)
;
PS.
It's out in the wild now
(in most of North America as of August 25th), for all you new PS3 owners
head over to this thread
asap.