Yes, Six Flags.
Apparently when you complete the "Ring Toss" game, you win a free guitar. I watching some of the people fail at ring toss pretty badly. One of the people said "Damn this game is hard". I looked at him fail and I laughed. This guy said, "I bet you can't do it". I didn't respond. He paid another $5 for a bucket of rings and tried to get the rings onto the bottles yet again. He failed, yet again. I was starting to get annoyed and I wanted a guitar somewhat.
So I buy a bucket of rings for $5. He says "Don't waste your money, you can't do it". I look at him then I look back at one of my rings. I try to get a ring in the bottle and I don't. This guy (Now who seems very douche like now) starts screaming and saying "What did I tell ya, this game is rigged, you can't win it". Some of the other players who have been failing agree as well. I grab another ring and say "Idiots, that was just the first ring". I try another ring and I get it in. The seemingly talkative guy doesn't speak any longer. The booth guy asks me to choose my price and I choose the guitar.
Before I walk away, I grab another ring then pass him the rest of my rings that were in the bucket (You get about 20 of them). Before I leave, I simply say "Our difference isn't due to one of luck..." I throw the ring and it goes in yet again. "... but rather one of skill, idiot.".
Then I walk away.
Anyways, I just felt like posting that. Since I already know that GAF will be like "PICS? PIX? PIKS?". I already took one. Here is the guitar.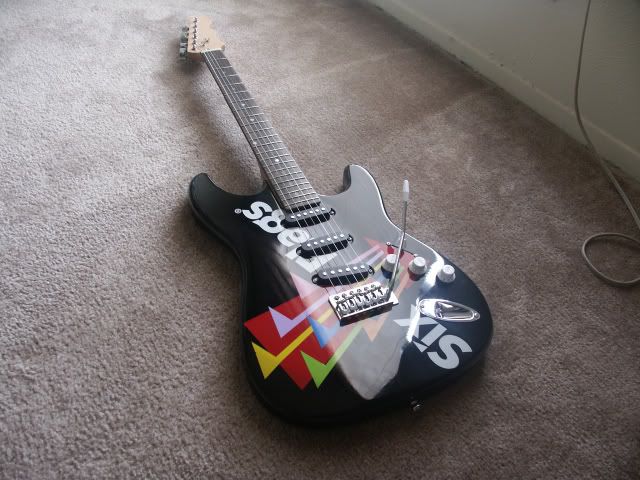 Anyway, the real question of this thread is. I have no clue how to play a guitar. Nor what amp to get (Surprisingly this was a electric guitar I just happened to win). And suggestions? I know this isn't a $400 guitar, but surely it must be decent.