That's the 8th quarter with PS4 results. Others sales at the end of 8th quarter.

Wii- 34.55m
PS4- 29.30m
PS2- 24.99m
PS3- 16.60m
360- 13.40m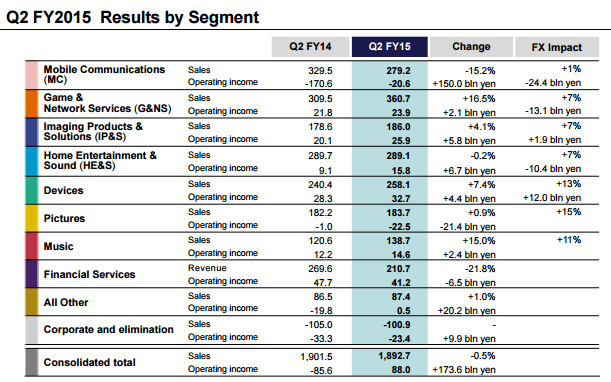 Operating Income- US$733 million

Net Income- US$280 million

Game & Network Services Operating Income- US$199 million
Wrong on both counts.

Sony:
Sales: $5.4 billion
Operating Income: $359 million

Nintendo:
Sales: $1.7 billion
Operating Income: $74 million

It's obvious where you went wrong with Sony's numbers (billions of yen != millions of dollars) but I have no idea where your Nintendo numbers came from. Can't have been from the link you posted.
Sony Returns to Profit in Second Quarter as Revival Takes Hold
ony Corp. returned to profitability in the fiscal second quarter after its "Hotel Transylvania 2" film set a box-office weekend record and President Kazuo Hirai's focus on video games and image sensors bore fruit.

Sony's fourth straight profit beat shows Hirai's progress in reviving a company that has cut thousands of jobs to pivot away from phones and TVs. Sony, which posted losses in six of the past seven years, maintained its outlook for annual operating income of 320 billion yen in the year ending March 2016, the largest full-year profit in two decades. The company is now boosting investment in image sensors, expanding the PlayStation 4's media offerings and introducing a virtual-reality headset.
Presentation Slides
Q2 Financial Results