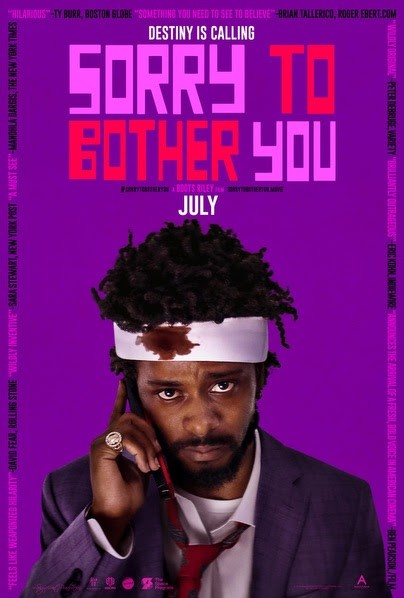 In an alternate present-day version of Oakland, black telemarketer Cassius Green (Lakeith Stanfield) discovers a magical key to professional success, which propels him into a macabre universe of "powercalling" that leads to material glory. But the upswing in Cassius' career raises serious red flags with his girlfriend Detroit (Tessa Thompson), a performance artist and minimum-wage striver who's secretly part of a Banksy-style activist collective. As his friends and co-workers organize in protest of corporate oppression, Cassius falls under the spell of his company's cocaine-snorting CEO Steve Lift (Armie Hammer), who offers him a salary beyond his wildest dreams.
TOMATOMETER
93%
AUDIENCE SCORE
71%
https://www.rottentomatoes.com/m/sorry_to_bother_you_2018/
I really enjoyed this film, amazing cast (the white voices you'll recognise, and lol incessantly.) It's relaxed, manic, all over the place at times but that's life, right? Also there's a killer line that I won't give away. I started expecting a hopefully decent indie and was very pleasantly surprised.