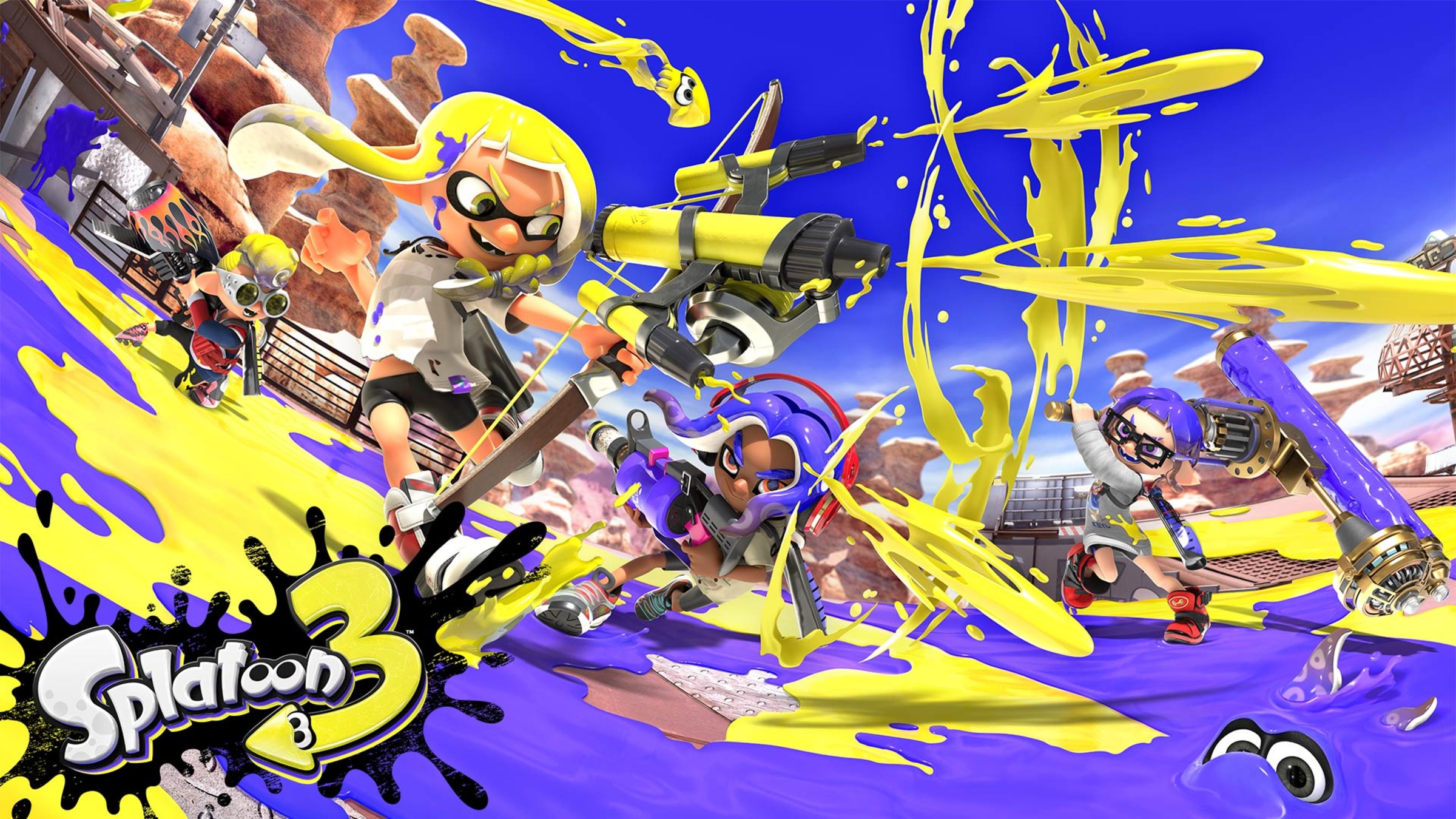 ---
Game Information:
Game Title
: Splatoon 3
Platforms
:
Nintendo Switch (Sep 9, 2022)
Trailers
:
Publisher
: Nintendo
Review Aggregator
:
Opencritic 84/100 - 100% Recommended - 19 Reviews
Metacritic 84/100 - 24 Reviews
---
Critic Reviews
Console Creatures
-
Bobby Pashalidis
-
Recommended
Will you have what it takes to beat the Fuzzy Ooze and solve Alterna's puzzles? Remember, you have to know how to learn to swim before doing the Squid Roll!
---
Destructoid
-
Chris Carter
-
9 / 10
Given that Splatoon 3 shores up nearly everything already present in the series and adds a few extras like Tableturf Battle, it's safe to say that the magic of the series is still alive.
---
Dexerto
-
Lloyd Coombes
-
0 / 10
If you're looking for a multiplayer shooter to fill your days with color this winter, then Splatoon 3 will keep you octopied (sorry). Its changes are small and easy to miss, but there really is nothing like it at all.

A lot of the game's continued success will come down to Nintendo's own support of the game and its community, but after seeing the support for Super Smash Bros Ultimate and the recent Mario Kart 8 Deluxe DLC, Splatoon 3 is swimming in the right direction.
---
Digital Trends
-
Giovanni Colantonio
-
4 / 5
Splatoon 3 delivers a breed of content-rich multiplayer fun that's refreshing to see in the age of shaky free-to-play promises.
---
Game Informer
-
Brian Shea
-
8.5 / 10
Splatoon 3 doesn't reinvent the wheel, nor does it need to. Instead, it improves nearly every franchise element in sometimes small but meaningful ways. With an already-robust set of content available at launch and at least two years of free and premium content on the horizon, Splatoon 3 is simultaneously the series' best entry to date and its most promising.
---
GameSpot
-
Steve Watts
-
7 / 10
Splatoon 3 isn't quite as novel the third time around, but a great campaign and tons of multiplayer options make it the most robust Splatoon yet.
---
Geeks & Com
-
Anthony Gravel
-
French
-
8.5 / 10
Splatoon 3 delivers the best solo campaign of the series so far and it's a whole lot of fun. With a wide variety of challenges that make you use all of the many weapons of the game; you will want more and more. On the competitive side, it's unfortunate that Nintendo doesn't introduce new modes, but the variety of maps and weapons should satisfy the fans. On my end, I plan to spend a lot of time in the new and better Salmon Run which will now be active 24/7. Overall, Splatoon 3 still shines with its unique approach, but we expect Nintendo to deliver multiple free updates to keep us inked in.
---
God is a Geek
-
Adam Cook
-
9 / 10
Splatoon 3 isn't the most exciting release on the calendar, but it is the best the game has been. As a standalone game it's a rip-roaring success, and perhaps the game that fans wanted all along.
---
Metro GameCentral
-
David Jenkins
-
8 / 10
Technically this is the best Splatoon ever, but the complete lack of anything approaching a new idea is profoundly disappointing.
---
Nintendo Life
-
Alex Olney
-
9 / 10
Splatoon 3 is more of the same, but refined to borderline mechanical perfection. It's the most fun we've had with an online shooter in years, and for series veterans it makes Splatoon 2 feel entirely redundant for all but its unique single-player content. It feels like the development team has solved every problem the Splatoon community was bleating on about, and then fixed some more that we didn't even realise were problems until they were fixed. There's nothing revolutionary about it compared to its predecessors, and it's perhaps missing a Big New Idea™ that you might expect after five years, but Splatoon 3 is the pinnacle of the series, and the pinnacle of shooters on Switch.
---
Polygon
-
Ana Diaz
-
Unscored
Splatoon 3 exudes polish, but lacks ambition
---
SECTOR.sk
-
Matúš Štrba
-
Slovak
-
8 / 10
Splatoon is back with its colorful and fun action gameplay. In addition, it is now richer in content than ever before. The problem with the game is that it doesn't bring any real new mechanics or features.
---
Shacknews
-
Ozzie Mejia
-
9 / 10
While I wouldn't call Splatoon 2 old and busted by any means, there's no denying that Splatoon 3 does feel like the new hotness.
---
Stevivor
-
Jay Ball
-
Unscored
Of what I've experienced so far, Splatoon 3 is really just Splatoon 2 with a fresh coat of paint. It's fun, it's silly and accessible, and still a great way to introduce younger gamers to online multiplayer in a relatively wholesome package. I just wish there could have been more meaningful content in this latest entry.
---
The Independent
-
Jasper Pickering
-
9 / 10
Splatoon 3 is one of the most enjoyable and accessible multiplayer experiences currently available on the Switch. By sticking to its guns (or paint rollers), Nintendo has crafted a competitive shooter with near-universal appeal in both its presentation and simplistic take on team-based deathmatches. It's strong competitive offering is only improved by the addition of its capable single-player and cooperative game modes, which means there is a well-served rotation of different options to try out. Fans of previous Splatoon games will enjoy the continuity this third instalment serves and newcomers looking for an online game with a twist will find plenty to wrap their tentacles around.
---
TheGamer
-
George Foster
-
4 / 5
Splatoon 3 won't change anyone's mind on the series, but several smart changes to the formula make it unarguably the best game in the trilogy.
---
Twinfinite
-
Rebecca Stone
-
4 / 5
Splatoon 3 is the same reliable fun the franchise has always been, and it has the much-needed improvements that fans clamored for, but players should just be aware of how much new content there actually is before committing to purchasing.
---
WellPlayed
-
Kieron Verbrugge
-
Unscored
If you're in it purely for the single player content, you'll find a lot to love in Splatoon 3.
Last edited: