UPDATE: Nintendo has launched an official Tumblr with English versions of all updates
NOA jumped on the Splatoon bandwagon and made a tumblr:

http://splatoonus.tumblr.com/

Looks like all the JP tweets, with translations and everything.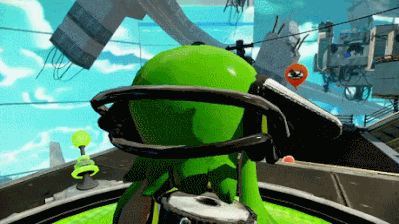 The official
Splatoon Twitter
account has been posting updates about the game on a regular basis, and posters here have been kind enough to translate them for the rest of us. All credit to the individual translators. Since there's a lot of new information being released like this, I figured it made sense to have a thread for it like with Smash Bros. Below you can find the translations in
descending order
so that the
newest posts come first
.
Squid lovers may already be aware of this but a squid's jaw is called a 'beak', and is firm and sharp much like a bird's is. Looking closely, you will notice that the Inkling's teeth also have an interesting shape. By the way, the meat around the beak on a real squid is crunchy and tasty.
https://twitter.com/SplatoonJP/status/542588887457992704

Report from the Squid Research Laboratory. In Turf Battles, the amount of area covered by ink becomes your points. The number of times you knocked out enemies and the number of times you were knocked out is counted to, but these don't contribute to your score. This means that the ones who spread the most ink are the best.
https://twitter.com/SplatoonJP/status/541869309165723651

We received a sketch from one of our researchers. A giant weapon, created by the Octopus Army Corps, awaits you deep inside their underground base. It appears to use the Battery Catfish as its power source. In order to rescue the poor thing from this fate, you have no choice but to take down the weapon while withstanding its powerful attacks.
This is another device made by the Octupus Army Corps. Shooting the propellers of this fan-like device with ink will cause the platform's motor to run. Moving the propellers too fast will sometimes cause enemies to dive onto the platform. You must be cautious when using these platforms.

One of our researchers got their hands on what appears to be blue prints for the Octopus Army's weapons.
This one will automatically follow any intruders and shower them with a rain-like ink to chase them away. The Inkling's attacks appear to have no affect on this device. That is one scary weapon...
Link


NintendoEverything said:

This is a report from the Squid Research Lab. We've confirmed that the octopi fighters are using several different kinds of equipment. Their shields defend them from attacks, and they can wait in the ink for an ambush. They'll use all kinds of tricks to get in the hero's way.
New Tweet

We received a sketch from one of our researchers. This is a female Inkling with the Charge Shot Gun equipped. This knit cap, with its large decorative badges, makes her look cute...wait, what am I saying? She's a squid!
Recently, probably because I've been thinking about squids non-stop, I can't help but notice them everywhere - even at the supermarket. The other day, I bought a packet of a certain type of calamari for 150 yen. I pan fried it with butter and soy sauce, then dipped it in mayonnaise and ground chilli pepper seeds. I wonder if it it is alright for something so delicious to exist...
It appears that when transformed into squids, the Inklings can pass through wire fences. They can use this special ability to take shortcuts and hidden pathways. However! They must be careful if they transform while on top of a wire fence, as they will fall to the bottom. With that said, what are their bodies made out of that it allows them to do this???
https://twitter.com/SplatoonJP/status/537533004575277058

We have obtained a photograph of one of the fighters in the Octopus Army Corps. They control a hovercraft-like vehicle using the end of their tentacle, while shooting ink from the nozzle. Their attacks are strong, but perhaps they are a little dim; when the hero hides in ink, for these soldiers, it is as though they suddenly disappeared.
https://twitter.com/SplatoonJP/status/537127463650742272

In turf battles, you can use special weapons by painting the ground and building up power. Below is one of these, the 'Barrier'. For a short time, this will rebound all of the opponent's attacks. It appears that there are other kinds of special weapons to be found as well.
https://twitter.com/SplatoonJP/status/537088719795130368

This is a sketch from our researchers. This inkling boy is using a giant paint roller. You can customize all your weapons and clothes, including t-shirts and glasses. Inklings are very fashionable!
Squids squirt ink to create a substitute to escape their predators. It's an oily substance, difficult to dissolve in water, that becomes a sort of mass. On the other hand, octopi use ink as a smoke screen. It is water soluble in order to spread. Like oil and water, even the inks of the two species doesn't mix.
This image was sent by one of our researchers. It appears to be a sketch of the Octopus Army Corps Base, which is the setting for Hero Mode. It seems as though it was made using the remains of an ancient civilization. It seems to be using very familiar things...or is it just my imagination?
(Twitter)

This is one of the mechanisms that appears in Hero Mode; Sponge Blocks. These blocks expand when hit with squid ink and shrink when hit with octopus ink. Sponges are living creatures from the ocean. I wonder, is the Octopus Army Corps also acquainted with biotechnology...?
New Tweet

Report from the Squid Research Lab. This guys name is "Denchinamazu" [Lit: Battery Catfish]. This world appears to run on the energy produced by this catfish. The protagonist enters the Octopus Army Corps base alone in order to return the stolen Denchinamazu.
Investigation report from the Squid Research Lab. This mysterious person (sorry, squid) guides the protagonist in Hero Mode. It seems that in the peaceful squid world he is the only man (sorry, squid) that has noticed the plans of the Octopus Corps. Anyway, he's totally seeing our cameraman here.

(Twitter)

We have confirmed the existence of various contraptions in Hero Mode. This cannon can shoot powerful ink bullets. Could it be something that the Octopus Corps set up, or was it someone else entirely? Be that as it may, it looks like a rather technologically advanced device.


(Twitter)
We've received some comments on our previous report of the mysterious rocket-like jump, saying "No way, squids can't fly like that!". It's not widely known, but apparently squids can indeed fly. Seriously. If you don't believe us, do search for "squid fly".

https://twitter.com/SplatoonJP/status/533199640565260288
Follow-up report from the investigation team. While in squid form, Inklings can climb walls. Walls don't count toward the result of Turf Battles, so a painted wall might mean that someone climbed up it. It's important in battles to make use of the opponent's imagination.

Investigation report from the Squid Research Lab. We got witness reports of Inklings that could jump like rockets. When they touched the icon of a team member on the map, they apparently "flew to their aid", quite literally. However, they went straight to the frontlines! Apparently Inklings are a reckless bunch.

Investigation report from the Squid Research Lab. While the Inklings can move freely while inside their own ink, when in enemy ink they move slower and can't become a squid. They're as helpless as a baby squid.
We got a photo back from one of our researchers. Even this place surrounded by nature can become a battleground for a Turf Battle. Anyway, do the Inklings have nothing else to do but fight? Campfires? Barbecues? There must be something else they can enjoy...

https://twitter.com/SplatoonJP/status/533076603874471938

Investigation report from the Squid Research Lab. Inklings have the ability to swim inside ink splattered on the ground as squids. Apparently they can move faster than their human forms when swimming in ink. Additionally, if they don't move, they can hide from enemies.

https://twitter.com/SplatoonJP/status/533088082124238848
https://twitter.com/SplatoonJP/status/532696973556469760

Report from the Squid Research Lab. The color of the ink used in Turf Battles changes with each battle. It's very colorful. It is known that Inklings can change their body color, but there are also ones who can change the ink that they shot?!
https://twitter.com/SplatoonJP/status/532428965462302721

Report from the Squid Research Labs. Your main way of painting the ground in ink and attacking enemies is the Paint Gun, which shoots using the ZR button. There's many different types of weapons, including the Charge Gun, which allows you to hit at a distance and the Roller, which is useful in close-range combat.

https://twitter.com/SplatoonJP/status/532429394531209216

Report from the Squid Research Labs. You can use 'sub-weapons' by tapping the R-Button. Pictured is the 'Splash Bomb' which explodes, shooting ink over the immeadiate area. It doesn't just hurt your opponents, it also has tactical uses, including distracting enemies or exposing hiding ones, too.
https://twitter.com/SplatoonJP/status/532364652731047936

Our researchers sent us this photograph. It appears to be one of the stages used for territory battles. The Inklings seem to enjoy having such battles even in inner-city parks. I wonder if the neighboring people...I mean squids ever get angry at them? It's mildly concerning.
https://twitter.com/SplatoonJP/status/531716833984786433

*Rather than sweeping movements, like you are looking into the world, [using gyro requires] a quick movement of the wrists only.

*Hybrid of the gyro sensors and R-stick. You make big movements with the right stick and intuitively aim with the gyro.

*You can turn off the gyro sensors and use only the R-stick to control the camera
ZL - Squid (dive into ink, restores ink)

L-stick - move

R-button - Bomb (uses 70% of your ink)

ZR - Ink Shot (uses up ink)

R-stick - looks left/right

X - Jump

Y - Camera Reset

Touch the Squid Icon to make a big jump to one of your team mates.

Use gyro to aim.
https://twitter.com/SplatoonJP/status/530245730636533760

Investigative Report from the Squid Research Lab. This cat is the referee who decides the winner of each match. They can determine who has the largest covered area in an instant. But why is there a solitary cat in this world of squid....? This mystery is yet to be solved.
https://twitter.com/SplatoonJP/status/530539193651707906

Investigative Report from the Squid Research Lab. The protagonist, wearing the Hero Suit, travels through this underground world. The Octopus Army Corps, hoping to invade the Squid's world, built this underground facility. Is it just me that feels the Octopus' longing for the world above-ground from the blue sky projected onto those large monitors?
https://twitter.com/SplatoonJP/status/530663163663233024

We present to you an image of the Octopus Army Corps and the protagonist wearing the Hero Suit, sent to use by one of the lab's research assistants. We say octopus, but theses guys are really more like octopus legs....What's going on with their internal organs? We will make this our next topic of research.
https://twitter.com/SplatoonJP/status/530303838792581120

Investigation Report from the Squid Research Lab. This is the 'Hero Suit'. It is worn by the protagonist in 'Hero Mode'. It has a different feel to the regular clothes. According to our theory, it is designed to resemble a fire fly squid. The glowing translucent lights covering it are beautiful.

The firefly squid aka

Watasenia scintillans

.
https://twitter.com/SplatoonJP/status/530210741073096704

Report from the Squid Research Lab. It appears that the Turf Battles are decided by which team has the most surface area covered. You can shoot your opponents with ink to take them out, but it appears to have no impact on the result. It all comes down to who has sprayed the most ink. These are quite simple, easy-to-understand rules.
https://twitter.com/SplatoonJP/status/530182351574159360

Report from the Squid Research Lab. The mysterious Inklings have a habit of dividing themselves into two teams of four and painting the ground with their ink, in what they call a Turf War. Amongst themselves, this is known as a 'Turf Battle'.
https://twitter.com/SplatoonJP/status/530124190053969921

Does everyone know about mysterious Inklings, who can change into human form, that were discovered in June this year?
We're slow to say this, but we're the 'Squid Research Laboratory' and we're independently researching the Inklings. Here, we will report on our research results and other special information. Please look forward to it.
Fan Art Megathread
Reveal Thread
Single Player Announcement Thread
E3 Director's Interview