WE!
Are the Crystal Gems!
We'll always save the day
and if you think we can't
We'll always find a way!
That's why the people
of
this
world
believe in
Garnet, Amethyst,
and Pearl
and Steven!
The Crystal Gems are a team of magical beings who are the self-appointed guardians of the universe. Half-human, half-Gem hero Steven is the "little brother" of the group. He's still learning to save the world using the magical powers that come from his bellybutton and he goes on magical adventures with the rest of the Crystal Gems, even though he's not as powerful as fellow group members Garnet, Amethyst and Pearl. Despite his shortcomings, Steven usually finds a surprising way to save the day.
STEVEN UNIVERSE
-
Zach Callison
The happy-go-lucky eponymous protagonist. The son of former Gem Rose Quartz (who died giving birth to Steven and passed on her powers to him) and Greg Universe (a one-hit wonder musician whose stage name is apparently his legal name), Steven acts as sort of a surrogate little brother for the other three gems. Although his heart is bigger than his brain, he still manages to do the right thing when it counts and unfailingly bring a smile to the faces of everyone he meets.

GARNET
-
Estelle
The strong, silent leader of the Gems whose stoic demeanor masks her kind, caring nature. She fights using a pair of crimson gauntlets summoned from the gems on her hands.
AMETHYST
-
Michaela Dietz
The Gems' token slacker; a rather immature girl who values having fun above completing missions. Despite this, she can still be very deadly when push comes to shove, and fights using a multi-tipped whip summoned from the gem on her chest.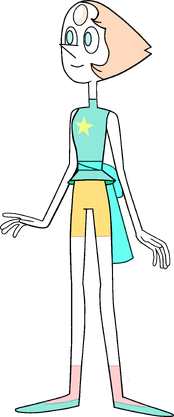 PEARL
-
Deedee Mango
The most motherly of the gems, and the one in charge of making sure Steven stays out of trouble while learning to control his powers. She is also the thirstiest character in the show, which is simply undeniable. Pearl fights using a naginata summoned from the gem on her forehead.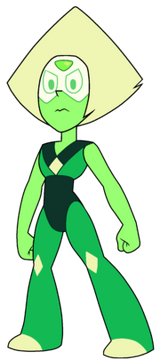 PERIDOT
-
Shelby Rabara
The newest member of the gems, Peridot was previously stationed on the Homeworld planet where she was tasked with helping to destroy the Earth. After crash-landing and having numerous encounters with the gems, Peridot now dedicates herself to saving humanity from the rest of Homeworld.
LAPIS LAZULI
-
Jennifer Paz
Though not an official member of the Crystal Gems, the hydrokinetic Lapis Lazuli has proven herself to be an invaluable ally and unlikely friend to both Steven and Peridot (with whom she spends most of her time ever since being rescued by the Gems). Though she's much more bitter and abrasive than the rest of the Gems, Lapis' heart is usually in the right place.
Here's a wonderful episode guide for the entirety of Season 1 made by our very our Psxphile. Wow, thanks!
FAQ said:
A note regarding spoilers:
Spoilers are to be tagged for 3 HOURS following its initial airing, to give watchers on both coasts a chance to catch up before the thread becomes a minefield. Spoilers on unreleased episodes are to be tagged until the episode airs. THIS INCLUDES LEAKED EPISODES. NO EXCEPTIONS. Please try to be courteous regarding hints, teases and leaks from the creators, as not everyone wants to know everything in advance. Additionally, though it goes without saying, do not post links to leaked episodes or to unofficial streams of any kind. Failure to comply with spoiler policy will result in a thorough tongue-lashing from your fellow viewers and potentially mod involvement if you continually ruin others' experiences by posting untagged spoilers.
What is a "Steven Bomb?"
A Steven Bomb refers to a promotional event that has happened several times so far in which five brand-new episodes air over the course of a week. If you see someone use that term in the thread, they're probably talking about a deluge of new episodes over a protracted period of time. Variations include a "Steven Nuke" (in which new episodes air every weekday for a full month) and a "Minibomb" (in which multiple episodes following the same story arc air in proximity but not close enough to be called a true Steven Bomb).
Who is the best?
Peridot is the best.
War and glory, reinvention
Fusion, freedom, her attention,
Out in daylight, my potential,
Bold, precise, experimental,
Who am I now in this world without her?
Petty and dull with the nerve to doubt her?
What does it matter, it's already done.
Now I've got to be there for her son.
It's over, isn't it? Isn't it? Isn't it over?
It's over, isn't it? Isn't it? Isn't it over?
You won, and she chose you, and she loved you, and she's gone.
It's over, isn't it? Why can't I move on?
*Amazing banner lovingly created by Kyledk05!