May 31, 2009
5,171
73
1,150
http://nintendoeverything.com/super-mario-run-announced-for-mobile/

KYOTO, Japan, Sept. 8, 2016 JST –

At an Apple event in San Francisco, CA earlier today, Nintendo announced that the leading man of video games will star in Super Mario Run, a full-sized Super Mario Bros. action platformer that has been developed specifically for mobile, and will be available first on the App Store this December.

Mario creator Shigeru Miyamoto took the stage at the event and put Mario through his paces in a multi-level demonstration instantly familiar to millions of fans worldwide. In the game, Mario runs forward on his own, but relies on the touch of a single finger to jump over obstacles, avoid pesky enemies and capture the flag pole to complete levels.

"We have created Super Mario Run to be perfect for playing on your iPhone," said Mr. Miyamoto, who first devised the Mario character more than 35 years ago. "Super Mario has evolved whenever he has encountered a new platform, and for the first time ever, players will be able to enjoy a full-fledged Super Mario game with just one hand, giving them the freedom to play while riding the subway or my favorite, eating a hamburger."

"The App Store has made so many things better in our lives – the way we communicate, the way we work and the way we have fun," said Tim Cook, Apple's CEO. "But for gamers of all ages, the story just hasn't been complete without Mario, so we are thrilled that Nintendo is bringing him to iOS for the first time this December."

Super Mario Run has a mode in which the player collects coins and heads for the goal, and a mode in which the player competes against the acrobatic moves of other people who have completed the same course. In addition, there is a mode in which you create your own Mushroom Kingdom based upon these play results.

iOS users will be able to download and enjoy a portion of Super Mario Run for free and will be able to enjoy all of the game content available in this release after paying a set purchase price. More details will be disclosed at a later date. The game has been developed with Mr. Miyamoto as lead creator for Nintendo.

Nintendo is also continuing its partnership with DeNA for the launch of Super Mario Run. It will be offered on the App Store this December in more than 100 different countries, and nine different languages.

To help iOS users get ready for the launch of Super Mario Run, a free Mario-themed sticker pack for the App Store for iMessage will launch this month.

iMessage users can easily access and use these stickers in a variety of ways, bringing a bit of Mushroom Kingdom flavor to their conversations.

Super Mario Run represents the next phase of Nintendo's expansion to mobile platforms, following the release of Miitomo earlier this year. After the launch of Super Mario Run in December, Nintendo plans to deliver its previously announced mobile device titles in the Animal Crossing and Fire Emblem series before the end of March, 2017.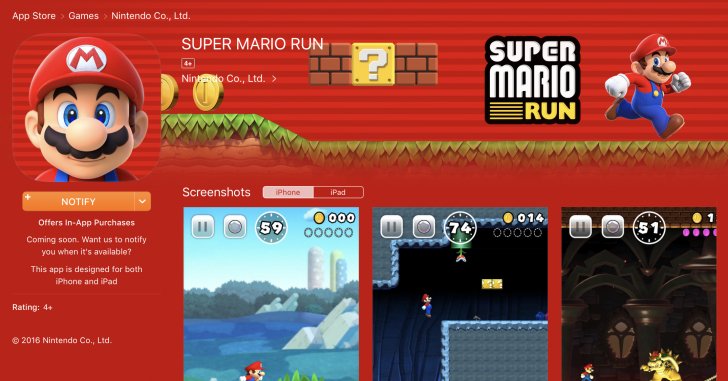 Nintendo said:

A new Mario game you can plaay with one hand!

At long last, Mario jumps into a new adventure on iPhone and iPad, this time playable using only one hand.

Even if this is your first Mario game, you won't be able to put it down!

In this game, you constantly move forward through the courses while using a variety of jumps to navigate. Your character will behave differently depending on the timing of your taps, so it's up to you to show off particularly smooth moves, gather coins, and reach the goal.

Super Mario Run offers three different game modes:
- The first mode features challenging courses for you to complete.
- In the second mode, you challenge the play data of other people's completed courses. You compete to see who can finish the course with the most style!
- In the third mode, you can create your own Mushroom Kingdom using coins collected by playing the first two game modes.