I think this deserves a thread for speculation and discussion.
As you already know, Namco had 1 RPG listed for every next gen platform. Trusty Bell was revealed to be X360 and
now Namco lists Sword of Legendia (Tentative Name) as RPG for Wii
. PS3 still has its game as 'New RPG'.
http://namco-ch.net/list_game/list.php?hid=29
ソード オブ レジェンディア(仮称)(RPG)
There's more...in the Wii's interviews:
http://www.nintendo.co.jp/wii/topics/wii_preview/movie/interview.html
The first guy, if I'm right, is Makoto Yoshizumi (吉積 &#20449
or thats what I think the upper kanji says. He's ToS producer if you remember the credits...
He talks a little about the controller and then presents this...
Sword of Legendia, with a Chloe-resemblant artwork...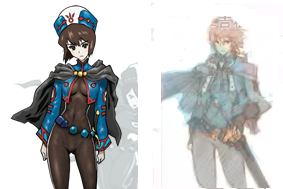 · So, lets see, this 'Sword of Legendia' is the RPG that Namco had announced, listed for Wii.
· It seems its a Namco Tales Studio project if Yoshizumi is showing it.
ToL's producer was Jun Toyoda and it was made by a Namco Internal Team.
· And by the name and the artwork, it seems its Tales of Legendia and Chloe centered. Sword fits both Chloe and Wii...