Funded!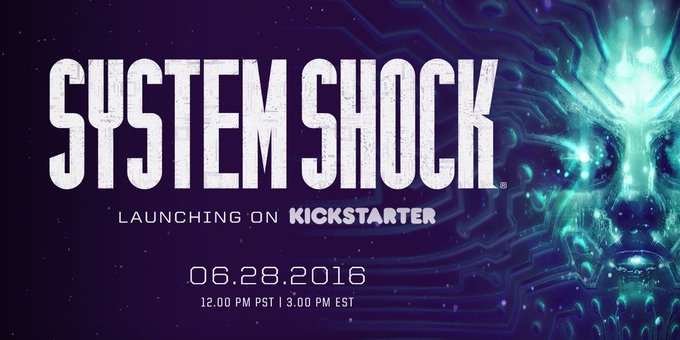 https://www.kickstarter.com/projects/1598858095/system-shock?ref=hero_thanks
Platforms: PC, XB1, PS4
Engine: Unity
Tentative Release Window: Dec 2017
Stretch Goals 1.1 Million: Mac/Linux and Razer Chrome support.
1.2 Million: Multi-language support for French, German, Spanish and Italian.
1.3 Million: Additional locations and expanded narrative.

1.4 Million: Updates to the core design.

1.5 Million: Full orchestral score.

1.7 Million: Additional scenario and death cinematics.

1.9 Million: Soundtrack remix of the original game.

???

???

???
Story
Caught during a risky break-in, you become indentured to a greedy TriOptimum executive. After six months in a healing coma, you awaken to discover the surgeons are missing, the station is in disrepair, and the once-prime corporate facility now teems with mindless cyborgs, robots, and mutated beings, all programmed to serve a ruthless A.I.: SHODAN. There's scarcely time to think before it unleashes the first terror...

To help shape and direct the existing narrative of System Shock, we've enlisted the help of Chris Avellone, who is best known for his work on a number of role-playing games, including; Fallout: New Vegas, Wasteland 2, Star Wars: Knights of the Old Republic II, Planescape: Torment, and Fallout 2. Chris will be working closely with Stephen Kick (our Creative Director) and Jason Fader (our Project Director and Senior Producer from Fallout: New Vegas) as well as several other key developers from Fallout: New Vegas to bring modern AAA quality into the world of System Shock.

General Features
→ A modern take on System Shock, a faithful reboot; it's not Citadel Station as it was, but as you remember it. Many improvements, overhauls and changes are being implemented to capture the spirit of what the original game was trying to convey, and bring it to contemporary gamers.
→ Re-imagined enemies, weapons, and locations by original concept artist Robb Waters.
→ Terri Brosius reprises her role as SHODAN, and new VO will be recorded.
→ Brand new musical score composed by Jonathan Peros.
→ The user interface, game mechanics, enemies, and puzzles will be updated to reflect modern aesthetics and sensibilities, while maintaining the feel of the original.

Scope Features
→ $900k Goal: Modern Inventory Management, Modern Controls, New Puzzles, Updated Faithful Levels, Game Difficulty Modes.
→ $1.7m Goal : Enemy limb dismemberment, More puzzles, Ammo types/weapon settings, Vending machines, Basic crafting/research, RPG leveling with perks/skills, Weapon upgrading, Hardcore mode (No respawning), Ironman mode (Only 1 savegame. If you die, the save is deleted)

Art Direction
We wanted the art of System Shock to be fresh and new while still remaining true to the aesthetics of the 1994 classic. We've maintained much of the original look, while accentuating it beautifully by an array of modern rendering features such as Physically Based Rendering (PBR), screen-space reflections, real-time global illumination, ambient occlusion (HBAO), volumetric particles, and dynamic lighting. It's the world you remember:
Demo Links
Steam
GOG
Humble Bundle