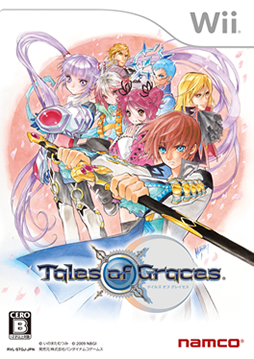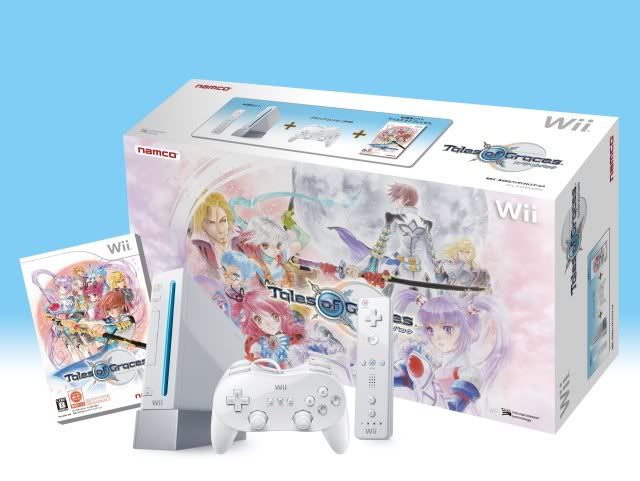 Bundle:
http://tog.namco-ch.net
Release Date: 12/10/2009
Genre: "Understand the Power to Protect RPG"
- Developed by Tales Studio (Team Destiny)
- Uses the Style Shift Linear Motion Battle System, which lets characters have more than one fighting style. You can set skills to the A and B button on the Wii remote.
-New system known as the "Around Step" allows movement in a 360 degree angle around the enemy and other maneuvers.
-Uses the Chain Capacity (CC) system, first used in the Tales of Destiny remake for the PS2.
- Also uses the Blast Calibur (similar to Mystic Artes), from Tales of Destiny PS2.
- Uses Titles to learn skills. Titles have passive abilities that can only be used when the Title is equipped, or ones that can be mastered and used, even when you change that character's title. Each has certain number of skills you can learn, from passive abilities, to artes and magic, to stat boosts. Through battles you gain SP. By getting SP, you can master the skill the Title has, and use them even when you equip another Title.
-Uses the Arles Pot, which is an item creation system based on the Food Sack system used in Tales of Destiny PS2. You can prioritize which items the pot will make, and it will make them, at the cost of a certain amount of energy. It doesn't just make food, you can also make things like Gels.
- Includes a minigame that you download to your DS, Kamenin Merchant (Turtlemen Merchant). It's an action game in which you control a Turtleman and have to stock items, and up to four people can play through a wireless connection.
-Compatible with the Classic Controller Pro.
-Animation scenes done by Production I.G. like always
-Staff: Hideo Baba (Producer), Inomata Mutsumi (Character Designer), Kazuya Ishizuka (Director), Kazuhisa Oomi (Director), Shinichiro Okamoto (R&D Producer)
-Trailers
PV 1 -
http://www.youtube.com/watch?v=Kz4KZIPgOzQ&fmt=18
PV 2 -
http://www.youtube.com/watch?v=u9AJK4SEfmI
PV 3 -
http://www.youtube.com/watch?v=xpDYDtKZOGQ
PV 4 -
http://www.dailymotion.com/video/xb3w04_tog-pv
-Characters:
Asbel Lhant
- Age 18. Born as the eldest son of Aston, the Lord of the Lhant territory, which is located in a border zone between Windol's border and its neighboring country, Fendel. He was raised since he was at a young age by people like his father and is butler Frederick, taught so that he would be prepared to be the future Lord. However, Asbel strongly holds thoughts of becoming a knight. After a certain event, he decided to enter into the Knight Training Academy in the capital, where he spent his life earnestly devoted to his training and soon accomplished his growth into a diligent and polite young swordsman. As a child he was cheerful, openhearted, and honest. As he grew he transformed into the type who hides his enthusiasm within. He often takes care of other people, and can't turn away from someone in front of him who's in trouble. Voiced by Takahiro Sakurai.
Sophie
- A young girl who lost her memories, she met Asbel when he was driving back the Fendel army during a battle between Fendel and Windol. Despite her appearance, she's capable of defending herself in a battle, and drove back Fendel together with Asbel. She has a personality where she doesn't let things affect her, but as she continues her journey she begins to express her feelings to other people. Voiced by Kana Hanazawa.
Hubert Ozwell
- Ag 17. Asbel's true brother, younger than him by a year. He has an extremely patient personality, and as a child he was very obedient. Once his talent as a swordsman began to bloom, he repeatedly refined that personality. He is currently in the rank of major in the Strata Army. When it comes to his brother Asbel, he becomes depressed and gloomy. Voiced by Takahiro Mizushima
Cheria Barnes
- Age 18. The granddaughter of the butler working for Asbel. She has a bright and helpful personality, and holds faint feelings for Asbel, though she isn't very honest about it. While living with the Lhants, she tries to be helpful to her hometown. Voiced by Shiho Karawagi.
Pascal
- Age 22. A woman Asbel encounters on his journey, she is a bright and genius engineer. She has a friendly and cheerful personality, and she's very curious and doesn't worry about many things. She tries to raise the spirits of those around her, putting her in a position of "mood maker" for the party. She says the things she feels inside and doesn't always understand the situation, which causes those around her to be surprised by her actions. Voiced by Kana Ueda.
Malik Caesars
- Age 40. Asbel's teacher, who teaches at the Knight Academy in Baronia, Windol's capital city. He has excellent fighting and leadership ability, from teaching in the Academy. Despite having a serious personality, he isn't firm. He has a balance of being moderately frank and the composure of an adult. He has taught many alumni at the Academy, and Asbel looks up to him. Voiced by Hiroki Touchi.
Richard
- Age 19. The prince of Windol. Respected by his people because of his preference for peace. Has been a friend of Asbel since they were children, and they have a great amount of trust for each other. Voiced by Daisuke Namikawa.
Screenshots:
http://www.famitsu.com/game/coming/1229415_1407.html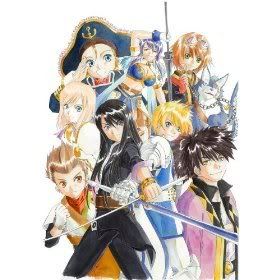 http://tov.namco-ch.net/ps3/
Blog:
http://tov.b-ch.com/blog/tov/
Releasing: September 17, 2009 (Demo on July 13)
Developed by Tales Studio
-Enhanced port of the 360 game Tales of Vesperia to the PS3. If you want to know more about it, look it up.
-Staff: Yshito Higuchi (Producer), Kosuke Fujishima (Character Designer), developers are similar to the 360 version's staff
-Trailers
PV 1 -
http://www.youtube.com/watch?v=y_jqQntbYUk&fmt=18
-Has numerous changes/additions:
*New logo
*New character, Patty Fleur, voiced by Chiwa Saito.
*New bosses
*New Hi Ougi/Mystic Artes
*New artes
*New story scenes
*New side quests
*Main story is fully voiced
*Other new voiced content (like new skits)
*Voicework is double the amount of the original
*New animated FMVs
*New costumes
*Same opening song, "Ring a Bell" sung by Bonnie Pink
*Content in movie to tie in with the game
*Redone camera angles
*Flynn joins the party more (or is permanent)
*New Giganto Monsters
*Preorder bonus that allows you to get costumes of Asch, Tear, and Luke from tale sof the Abyss for Yuri, Estelle, and Flynn respectively
Screenshots:
http://www.famitsu.com/image/2102/IR8FewGY4DdPot6cgiKC112QQ46lW9wS.html
http://www.famitsu.com/image/2666/Um8gcMT8m5l3774G8i5ugu6bhApJ3zk7.html
http://to-vs.namco-ch.net
Releasing: August 6th, 2009
Tales Studio+Matrix Software
-Action game using Tales characters
-35 characters from 13 Tales games
-Uses a LMBS battle system
-Use Grade points to level and customize characters
-Story mode, minigames, etc., etc.
-Staff:
PV 1 -
http://www.youtube.com/watch?v=Zh7dn9eL3KM&fmt=18
-Cast:
*Tales of Phantasia - Cless Alvein, Mint Adnade, Arche Klein, Chester Barklight , Dhaos
*Tales of Destiny - Mighty Kongman, Stan Aileron, Lion Magnus, Philia Felice
*Tales of Eternia - Farah Oersted
*Tales of Destiny 2 - Nanaly Fletch, Kyle Dunamis, Harold Belserius, Barbatos Goetia
*Tales of Symphonia - Kratos Aurion, Lloyd Irving, Colette Brunel, Presea Combatir
*Tales of Rebirth - Mao, Eugene Gallardo
*Tales of Legendia - Senel Coolidge
*Tales of the Abyss - Luke Fon Fabre, Anise Tatlin, Asch, Jade Curtiss, Tear Grants
*Tales of the Tempest - Caius Qualls
*Tales of Innocence - Ruca Milda, Iria Animi
*Tales of Symphonia: Dawn of the New World - Richter Abend
*Tales of Vesperia - Yuri Lowell, Judith, Rita Mordio
*Tales of Hearts - Shing Meteoryte, Kohak Hearts
Screenshots:
http://www.famitsu.com/image/2099/gG3pdy7pFTz7wI1f6u6S1V156gf54b6G.html
http://www.famitsu.com/image/2662/aqd4CiHHXKy4Ar3xqAUQqIKYkrI92d5H.html
Tales of Vesperia: The First Strike
http://www.tov-movie.net/
Coming to theaters October 3, 2009.
Credit goes to Duckroll for all this:
duckroll said:

http://www.bandainamco.co.jp/files/...2B9E3839AE383AAE382A220E698A0E794BBEFBC89.pdf

Official press release for the ToV movie. It confirms that the movie is based on events that take place before the game. It also mentions that the director Kanta Kamei also directed the anime FMVs for ToL and worked on the FMVs for many of the Tales games. The script is written by Reiko Yoshida. The animation character designer and animation director is Tokuyuki Matsutake. He's the animation director for most of the FMVs in Tales games, including ToV. The movie will be the first Tales anime theatrical feature, and will be animated in full HD. The movie will be produced by Production IG.
No, none of these have been confirmed for English releases yet.