Screens
-June 20 - Dengeki-
Package Illustration said:
Example of new cut-in animation said:
http://news.dengeki.com/elem/000/000/657/657931/
-July 25 - Famitsu-
http://www.famitsu.com/news/201307/25037118.html
(press enter)
-Website Update - August 1-
http://tos-u.tales-ch.jp/
-August 21 - Famitsu-
http://www.famitsu.com/news/201308/22038657.html
(press Enter)
-Website Update - August 29-
http://tos-u.tales-ch.jp/
-Siliconera - August 29th-
http://www.siliconera.com/2013/08/29/tales-of-symphonia-chronicles-shows-off-its-xillia-costumes-and-more/
Videos
Announcement Trailer
Commercial
Trailer 1
Trailer 2
-Character Trailers-
Lloyd
Colette
Emil
Marta
Zelos
Sheena
Genis
Kratos
Presea
Richter
Regal
Raine
Original
Tales of Symphonia and Dawn of the New World for the PlayStation 3 coming out in Japan in October 10 this year.
The game is set to release in Early 2014 for the West (US/EU).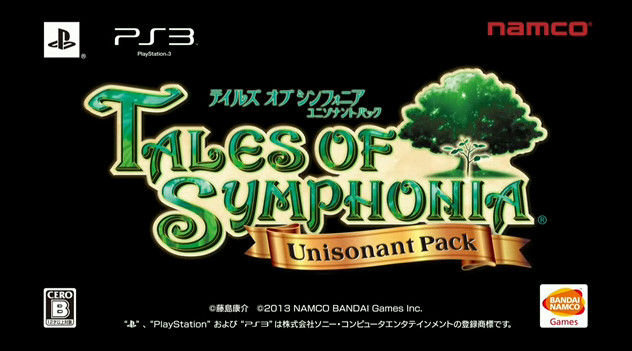 The bundle will use the PlayStation 2 version of Symphonia.
Costumes for Lloyd and Genis such as Guy's costume or Luke's.
Features new cut ins for hi-ougis and it will have new art.
New Starry Heavens music.
The Regal and Lloyd one (Ryuuko Metsugajin) is new to people who only played the GC version. It's a new Unison Attack for the PS2 version.

Notable changes for the PS2 version:
- Crappy framerate (60->30FPS), textures, and load times compared to GC ver. Hopefully all fixed in HD port.
- Camera doesn't suck as bad with multiplayer
- Unison Bar flashes brighter than the GC version when filled, and fills much faster.
- Sheena gets cut-ins for her summons
- New anime movies/a few new cutscenes and small side events
- New costumes for the cast
- New Unison Attacks, artes (for both party and bosses), mystic artes
- Fixed bugs like the T/S bug (the one that allowed you to learn both variations at the same time), infinite combo with spell cast->spell cancel has been removed, Eternal Sword glitch, etc.
- An extra boss battle added to the original EX dungeon and 5 more floors added
- Casino actually works in Altamira now and there's Blackjack and Slots
- Dragon from Earth Temple gives a lot less money
I'll add more info as it comes in.