In the middle of your trek to save the world from an evil empire suddenly you're stopped at an Opera house of all places. Is there a dragon that's threatening to burn it down? No. Is the owner extorting money from the poor? No. It just so happens that a member in your party looks like a prima donna and you decide to use her as a decoy to lure a playboy with an airship, before you can say "But I'm supposed to be saving the world!" The lights go off and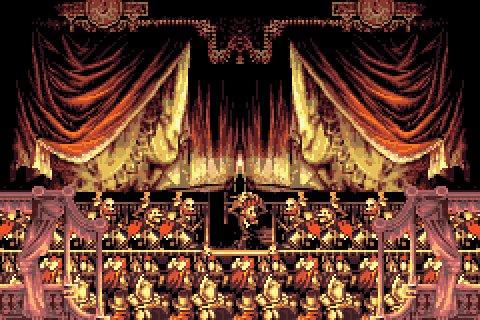 BAM! You're in a freaking Opera
With overture and everything. You have to take your character on an admittedly simple memorization test to sing an aria about love and longing.
After that a dance scene begins but it doesn't end at that. No, a giant purple octopus decides to wreck the Opera for some reason. After racing through the rafters to catch him before he can drop the weight on the stage the characters and the octopus fall to the stage and a fight ensues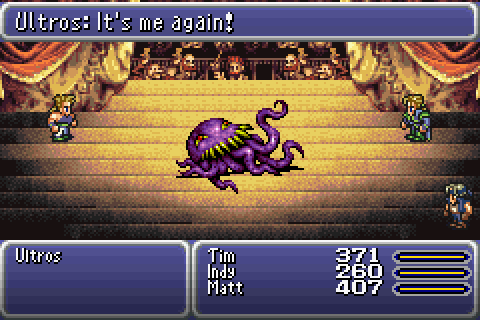 After defeating the octopus your decoy is taken to the airship and the scene ends with the impressario promising more adventure in the next scene.
I realize that there's no shortage of love for this scene. But really when you think about it it's just brilliant. "We'll have them play an Opera! And we'll bring back that purple octopus from earlier! Why? Because it'll be fun damn it!"
FFIV had the dancers, FFV had piano lessons, FFVII had its cross dressing scene and the golden saucer, VIII had triple triad and the concert, IX had the opening scene. To a lesser extent FFX had blitzball. Yes, final fantasy is broken for many reasons (non-nonsensical stories, unlikeable characters, linearality) but one that consistently gets overlooked is that it just takes itself too seriously. It seems they're so busy trying to create "epic" that they've forgotten the humor and fun that was in the series. And this goes beyond simply putting in mini-games. It's the ability to laugh at itself, which in many ways Final Fantasy just has failed to do largely. Sure FFXII was deadly serious but that was a different kind of game and it wouldn't have worked well there (though the hunts were great).
I just don't see Square having the guts to do something like this scene anymore. Perhaps I'm wrong, perhaps it's there in FFXIII and I've missed it (it could be FFXIII-2 I stopped after two hours). But I'd like for Square to be brave enough to be like "You know what? You're in an opera now. And you're going to have to fight a purple octopus because it'll be good for you." again.