Oct 2, 2008
43,250
21
1,145
There'll be a test later.
(Okay, not really.)
So I've played all the core SMT games. I imagine a lot of people haven't.
With IV coming out in two weeks, I figure a lot of you will want a primer.
Have an enjoy.
(Note, I'm not covering the original FC Megami Tensei games, as they're basically their own universe.)
Also, expect
spoilers
for SMT1 & 2. I'll leave Nocturne alone for the most part.
You've been warned!
Shin Megami Tensei
(lit: True Goddess Metempsychosis/Rebirth)
(SFC/Sega CD/GBA/PCE/PS1/etc., 1992)
SMT1 is available fan translated via the SFC version, and has never been officially localized.
Shin Megami Tensei starts off, well, strangely.
A dream of crucifixions, sacrifices, and true love.
Then you wake up, to a warning.
A man named Steven warns you that a program called the Devil Summoning Application has gotten loose on the internet, and soon, all hell will break loose.
He's not lying.
Before long demons are tearing Tokyo apart, and eventually the US Military shows up to put a stop to the coup being staged by a devil summoner known as Ozawa.
They fail.
Japan is obliterated by nuclear fire, and the entire world soon follows suit.
All that's left is a barren landscape ruled by demons, and a few stubborn cultists known as Gaians and Messians continue to bicker over whether God's angelic followers or Lucifer's demonic army should rule the day.
(This has not changed much over the years.)
Who wins the day, the Great Will or the Fallen Angel? The main character alone gets to decide.
Well, with some help of course.
Shin Megami Tensei II
(SNES/PS1/GBA/etc., 1994)
SMT2 is also fan translated, SFC version only. Still no official release.
(Unless you count some JP-language-only iOS version. No, I didn't either.)
But maybe it really didn't matter. At the start of SMT2, the Messians have taken over. The world has been rebuilt in the name of God, and from a lofty city known as the Center, the Messians rule with an iron fist. Anyone who disagrees with their divine mandate is cast into lesser cities, doomed to a life of slavery.
Yeah, the Messians are
dicks
in SMT2.
On the bright side, this means you get to take the fight straight to Yahweh himself!
Timeline of the game, thanks to Luisfe from SA:
Timeline of the game:

199X:
-----
* The Great Destruction of Tokyo
Thorman presses the button to launch nuclear-warhead-tipped ICBMs at Tokyo.
Global nuclear holocaust ensues.

203X:
-----
* The Great Tokyo Flood
After the rebuilding of Tokyo, a tectonic plate movement of massive
proportions causes the ocean to rush into Tokyo and decimate the area
around it. Even after the waters receded, the suburbs of Tokyo remained
submerged.

* Establishment of a Communal Cooperative Society
After the destruction of the Cathedral, a free society and government is
established, where anyone, both Mesian and Gaian alike, are welcomed warmly.

204X:
-----
* Rise of the Mesian Church
Through political machinations, the Mesian Church takes over the government
and converts it to a theocracy.

* Gaian Revolt
Angry and opposed to the Mesian rise to power, several groups of Gaians start
riots, but they are quickly quelled by the Temple Knights.

205X:
-----
* Completion of the Center
Using a huge amount of funding, a massive structure is built on the former
site of the Cathedral and named the "Center." The plan to create a municipal
government called "Millennium" is announced.

* Demonoids developed
In order to ensure a source of labor, artifical life forms called "Demonoids"
are developed.

206X:
-----
* Millennium nearly completed
Facilities designed to accomodate the people like Valhalla and the Factory
(a production/industrial area) are designed and nearly complete.
Entertainment facilities like the Casino are also built.

* Environmental Contamination
Through global warming, radioactive contamination, and the deterioration of
the ozone layer, most of the world outside of Millennium is rendered
uninhabitable. Large numbers of people from around the world flock to
Millennium, as its environment is entirely self-contained.

* Temple Knights become Special Police Forces
After putting an end to several Gaian demonstrations and revolts, the Temple
Knights are evaluated by the Center and are promoted to Elite status. They
are declared the official police force of the city. Their increase in power
tightens the control the Center has on the rest of the city.

20XX:
-----
And the Messiah is born...
That's you.
Yes, he's a silly-looking fellow, but Aleph is rightly considered one of the most badass protagonists in the SMT pantheon. How many other humans can not only demand audience with God, but
kill him?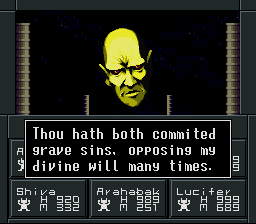 So Aleph is born as the Messiah. Fortunately he has no obligation to become one. Fight the powa and shack up with Lucifer, remain Yahweh's loyal servant, or give them both the finger.
Or just do some LET'S DANCIN at the Messian Boogie club, a guilty pleasure.
Oh yeah. Lucifer.
It's not a core SMT game without this slacker involved in some way. He's appeared in SMT1, 2, 3, and Raidou 2 and Strange Journey. Where Messian dogs bite at the ankles of the free-willed, Mr. Cypher will always be there to lend a cryptic word of advice. Or something like that.
Sidestory: Shin Megami Tensei If...
(SFC/PS1, 1994)
Patch in the works. Who knows when it'll release.
This is where things branch off a touch. If focuses around a universe where Thor didn't obliterate the world, and where a lowly devil summoner named Kazama offers up his soul for demonic might. That goes pretty badly.
So you and a few classmates set about putting things right, and kicking demons out of your school.
Persona 1/2 & Devil Summoner fans will hopefully recognize this as being the game where Tamaki originated from. If has a male and a female protagonist, but Tamaki is considered the canon one, in a rare occurrence.
If is currently free on the J-PSN if you have Plus, or sign up to try it out.
Where were we? Oh yes.
Shin Megami Tensei III: Nocturne
(PS2, 2003/4)
Nocturne is widely considered the best of the series, with good reason. Most think it starts with a clean slate, but astute readers will notice there's still a Messian/Gaian faction having it out in Ueno Park before things go to hell.
Most likely it's an alternate reality or some such.
SMT3 was the first game to (decently) make use of 3d models for demons and characters, so Atlus went all out. As a result, the game still looks really sharp today.
Atmosphere goes a long way. I won't touch much on SMT3 for fear of spoilers, as this has actually been released in the US, but basically, the main character is a half-human/half-demon tasked with rebuilding the world after a global apocalypse, however he sees fit.
Sidestory: Strange Journey
(DS, 2009)
Less a core game, despite whatever Atlus would have you think, and more a sidestory game like If.
Still, it's a damn good one.
For working off limited means, the Atlus team did a great job on the DS hardware. SJ has a moody atmosphere, varied dungeon designs, and some of the most sadistic maps this side of Etrian Odyssey. Eridanus is known as the crusher of dreams.
The story doesn't do much of note, but the cast and setting still ought to keep you hooked until the minimalist resolution(somewhat of a series tradition).
Also,
I don't get it either.
Music!
So in case you didn't notice, the OST coming with SMTIV is kind of, well crappy in way of highlighting the series' musical origins.
Here's some real history.
SMT1
Palace of the Four Heavenly Kings
Ginza
Cathedral: The Final Dungeon
SMT2
Disco
2D: Devil's World
Chaos
SMT3
Cathedral of Shadows (Cursed)
World Map (Before Transformation)
World Map (Last Area)
Dante Battle
Strange Journey
The Fear of God
A Land Controlling Roads
Chaos
If you have any questions about any of the above, feel free, but try to tag spoilers about localized titles.