Oct 24, 2017
10,326
23,505
1,210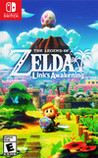 The Legend of Zelda: Link's Awakening for Switch game reviews & Metacritic score: [*Reviews will go up on September 19 at 5am Pacific] 26 years after its original release on Game Boy, The Legend of Zelda: Link's Awakening will be reborn as a...
www.metacritic.com
The Legend of Zelda: Link's Awakening is lovingly reimagined for Nintendo Switch with a gorgeous art style that invites you to experience its unique and dreamy story all over again.
opencritic.com
IGN: 9.4/10
My most succinct recommendation for the 2019 remake of The Legend of Zelda: Link's Awakening would be this: a couple of weeks ago, having finished the original, I was actively hoping that this wouldn't be a shot-for-shot remake. Entire decades after the fact, the dungeons felt a little underthought, the controls a bit archaic. Even slowly making your way through the overworld by way of set clues, rather than the kind of self-directed navigation we were allowed in A Link Between Worlds, felt old-fashioned. And yet, as I potter once again across Koholint, digging up its last remaining secrets to avoid turning it off again, I'm delighted to have been wrong. Link's Awakening retains the style and feel of its 1993 self, but looks and controls like a game – albeit a retro-styled one – made in 2019. In doing so, this feels like it was made in some alternate present, where games remained in 2D, puzzle-focused and strange, but tech improved to support it all. You could, I guess, call it time travel.
Gamespot: 8/10
Though the remake has a couple of blemishes, it's still an easy game to recommend. People speak of Link's Awakening as the secret best Zelda game. That's a tough call to make, but it's definitely one of the best. If you haven't touched a classic Zelda game in a while, Link's Awakening will almost instantly transport you back to the '90s. It's simple, in many ways, but the orchestrated journey still conveys a sense of adventure, and this new version is without question the best way to experience it. And more than anything else, it will put a smile on your face. Remakes are a dime a dozen nowadays and often easy to overlook. Don't make that mistake with Link's Awakening.
Destructoid: 9/10
Slight gripes with the new engine and the old source aside, this is still Link's Awakening: one of the best Zelda games to date. Although I don't think I'm going to rotate the DX version out of my yearly Zelda replay sessions, I'll definitely be working the Switch remake in.
Vooks: 4.5/5
Link's Awakening, all these years later, is still an amazing Zelda title, it's a flood of nostalgia for those who have played it before, and if you haven't it's not one of those "old games" that people say were good, but they're just clouded by nostalgia. The slowdowns in the framerate is a little blemish, as that's the kinda thing that doesn't hold up over time. But with the limitations of the Game Boy removed, modern graphics and art, all new music — Link's Awakening continues to the littlest Zelda title with the biggest heart.
Daily Star: 5/5
The Legend of Zelda: Link's Awakening is the quintessential 2D Zelda experience. The gameplay never feels repetitive, and solving each dungeon or beating each mini-boss is equally as satisfying as the first. The audio is crisp and matches perfectly to the gorgeous visuals that players will be treated to throughout their time on Koholint Island. It pays homage to the original in the greatest of ways, by introducing an entirely new generation of players to one of the best Zelda experiences out there. It is a must-have for any Zelda fan, and so should take its place as a console seller for the Nintendo Switch.
EGM: 4/5
The remake of The Legend of Zelda: Link's Awakening is stuck between two places—the past and the present. Chances are that you've already made up your mind about whether or not to play it. It's a classic Zelda game given a second chance with a striking visual language and evocative, haunting musical reinterpretations. Making the jump from the Game Boy to the Switch means that you'll spend a lot less time changing items in the menu and much more time appreciating the meticulous clockwork of Koholint Island's challenges.
Gamesrader: 4/5
This is old-school Zelda at its best and most strange, reimagined for a modern audience. For those looking for a more traditional Zelda experience on Switch, this is the dream, with its inventive dungeons and puzzles galore (although don't make me do any more horse head bouncing), set in a world that'll keep you exploring for days to come. Regardless of whether you're familiar with the game or are experiencing it for the first time, this is a sweet slumber you'll want to slip straight into.
USgamer: 5/5
The Legend of Zelda: Link's Awakening remake for the Switch improves most of the flaws from the original game while maintaining (or enhancing) everything that makes Link's Game Boy adventure a classic. Its shiny new coat of paint suits it well, even if slowdown issues pop up from time to time. A few hours of play is all it takes to remind you why Zelda fans love Link's Awakening so very much.
Eurogamer: Essential
I first played Link's Awakening in black and white, more than 20 years ago, but it coloured my hopes for every Zelda since. Some frame-rate issues on the overworld at launch aside - more an annoyance than anything else - this version surpasses the hopes I had for another visit to its world. Koholint Island deserves nothing less, and while Link must journey to leave its shores, this remake will always be a place which preserves the island for others to follow.
The Sixth Axis: 8/10
With a quirkiness to it that stands out from the rest of the series, Link's Awakening still holds up beautifully well as a modern 2D Zelda game. Outside of some nagging performance issues, Link's Awakening is a wonderful remake of a Game Boy classic.
Screen Rant: 4/5
The Legend of Zelda: Link's Awakening is practically the same game that was released in 1993 - for better or for worse. The original version of The Legend of Zelda: Link's Awakening is still a great game after all these years and the remake has the same great gameplay wrapped in a more pleasing package. The lack of compelling new content and the short length of the game are two disappointing aspects of The Legend of Zelda: Link's Awakening and returning players shouldn't expect much outside of improvements to the base game, but it's still the same excellent title that it was back in 1993.
Polygon
Link's Awakening is a special adventure and a perfect introduction to even the youngest would-be Zelda fans, but it does fall short at times. The striking new presentation is stellar, even if the game can't quite keep up with the splendor on the technical side. And the slight enhancements made to the original's gameplay are mostly for good, even if the biggest new feature (Chamber Dungeons) doesn't offer much.
Nintendo Life: 9/10
The Legend of Zelda: Link's Awakening was a technical marvel when it first arrived on the scene back in 1993. Easily one of the great Game Boy releases, it was a first bash at a handheld Zelda that took the formula as perfected by A Link to the Past, jammed it all onto a tiny portable console and, somehow, managed to make it all work while adding a host of new features and concepts to the mix. This beautiful Switch remake rebuilds all of this from the ground up in fine style. It adds modern conveniences, a dungeon creator, amiibo support and lots of little quality of life improvements whilst infusing every single square inch of Koholint – every secret passage, Piranha, Pokey and Pig Warrior – with a level of detail and depth that totally reinvigorates both its timeless story and classic Zelda gameplay for a whole new generation of gamers.
Press Start 8.5/10
The Legend of Zelda: Link's Awakening is another must-play Nintendo Switch game. It still stands the test of time and in no way feels outdated, which is impressive for a 20 year old game. Don't let performance issues and a high price point stop you from playing this absolute classic.
WCCFTech: 8.5/10
The Legend of Zelda: Link's Awakening looks gorgeous, sounds beautiful, and tells a twee and compelling tale. While the game can be played through in around ten hours if you know what you're doing in advance, new players will find a lengthy and engaging Zelda game to love. Whether it's your first time playing Link's Awakening or your dozenth, you will still find a gripping Switch game that you'll remember for another twenty years.
Twinfinite: 4/5
Whether this is your first Zelda game or if you've played

Link's Awakening

10 times, there is something amazing to be found here for everyone. This remake is absolutely charming, stunning, and visually striking, making it one of the prettiest Switch games out there.
XGN: 9.3/10
Last edited: