Game news:
DS | Culdcept DS
Sega, 2008
- all cards being reviewed, lots of new cards added
- all chars that were in Culdcept Expansion have been redrawn
- lots of new Cepter symbols added on the board
- including new cards, there are now more than 370 cards
- based on PS version of Culdcept Expansion
- also includes the "achievements" included in the series since "Second"
- no gimmicks that move the maps but thinking about including in versus maps
- since it's the first portable version, they want users to try versus, and are not including a new story mode
DS | Derby Stallion DS
Enterbrain, Spring 2008
- rival horses and jockeys use real names
- with wireless you can race your friends
- wi-fi for national races
- during auctions, auction on top screen, pedigree on bottom screen
- during races, race on top screen, overhead view of course on bottom screen
DS | 花と太陽と雨と (With flowers, sun and rain)
MMV, Spring 2008
- port of PS2 game announced in 2001
- more than 50 new mysteries
DS | Dragon Quest V
->
homepage open
PSP | Ghiren's Greed: the Menace of Axis
Bandai Namco, 7 Feb 2008
- ZZ, CCA scenarios added
- Federation, Zeon, AEUG, Titans, Axis selectable at start; can start play from the Gryps Conflict
- MS IGLOO and Harmony of Gundam MSes will appear.
- Due to the wide spread of the game, covering from the One Year War to Char's rebellion, "Blood of Zeon" system is reduced in importance. Replacing it is a system that lets you choose your faction's relative morality---"Colony drops and poison gas? We'll leave that to your imagination."
- Units can now be set to self-control by type.
- Over 400 types of units appear, counting variations. "We'd like to think we've pretty much got them all by now."
PSP | Musou Orochi
Koei, Feb 2008
- A first for PSP Musou, Battle and Story modes can be multiplayed.
- 77 generals plus Orochi and Dakki.
- For a smoother portable feel, cut-ins now don't pause the battle.
- Generals' serifs can now appear in comic-style speech balloons.
PSP | Coded Soul
SCEJ, 7 Feb 2008
- Development: Gaia, Producer: OKADA Koji, Sound: SAKIMOTO Hitoshi, Chara design: KAZAMA Raita, Scenario: I suck at names
- It's an RPG where you capture and form a party of monsters, then use them in cooperative action battles.
- The basis of the game is use of monsters. Customization, training, and item synthesis all deepen the play.
- More than 100 enemy monsters
- Multiplay is a race through dungeons, but you can also trade monsters.
- Can connect with PS3 "Folks Soul".
Wii | JAWA The Mammoth and the Mysterious Stone
Spike, Mar 2008
- Hanging out with village friends, hunting in the plains, an action-adventure game with a variety of fun events in a prehistoric setting.
- Three-heads-tall, cute character design.
- In the village, you can interact with the others through events like teaching them how to eat meat.
- In the plains, creatures from the ornamental up to giant dinosaurs exist---around 270 varieties. Encountering them, battles can start; the Wiimote is used to control in battle.
PS3 | Disgaea 3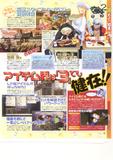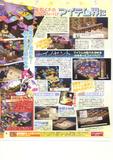 (thanks for the updates, Mandoric)
Weekly Famitsu reviews:
DS
Tales of Innocence 9998
Docomodake DS 6776
Me and the Sims 7768
Juushinden 7687
Power Pro Pocket 10 8889
Nepleague 7656
Arkanoid DS 8887
Winning Eleven DS Goal Goal 7777
K-1 World GP 6666
Gintama 8666
PSP
GTA Vice City 8898
Chronicle of Dungeon Maker 2 9898
Silent Hill Zero 7887
Minna no Golf 2 101089
Yuusha no Kuse ni 108810
PS2
Shoukan Shoujo 6666
GTA Vice City 8799
Pirates of the Caribbean 7687
Disney Princess 7666
PS3
Uncharted 9999
Pirates of the Caribbean 6577
Conan 7777
360
Conan 7777
Viva Pinata Let's Party 8776
Lost Odyssey 9999
Wii
Disney Princess 7666
Doraemon Wii 6765
Tamagotchi 8777
Raving Rabbids 2 8677
No More Heroes 9889
Famitsu Xbox 360 reviews:
Medal of Honor Airborne 8788
Winning Eleven 2008 9898
Guilty Gear 2 Overture 8787
Virtua Fighter 5 Live Arena 9898
Conan 7887
Momotarou Dentetsu 16 Gold 7887
Viva Pinata Let's Party 6876
Lost Odyssey 10898
Shikigami no Shiro III 6776
Stuntman Ignition 7886
Smash Court Tennis 3 8888
KUF Circle of Doom 8788
FIFA08 9898