Since the official thread got so huge and people where requesting a summary I thought I'd start this thread with just about every info we got (I hope!).
Enjoy, since this is the day we celebrate!
Nintendo delivered
!
Big
! Woooh!
DS Demo Channel (Everybody's Nintendo Channel) announced
- Nintendo announced that a DS download service is coming that will allow gamers to download DS demo's from your Wii and send them to your DS.
- It also lets users download and view video's for (upcoming) games.
- You can also vote/rate games you own online and search on games recommendations that suits your criteria

More in-depth info from mutsu:

You first identify yourself (age, gender, etc), then you go ahead and recommend a game that you have played. You can choose who to recommend to (anyone or people who plays games often), what kind of game it is (is it a casual game or requires dedication), suitable for how many people (single or multi player).

People can then basically search for a game, and view the people's comments/recommendations on all Wii games available, to determine if the game is suitable for them or not.
[/quote]
Video
(youtube)
* Will launch in Japan in november! *
Fire Emblem DS announced
Apparently a remake of the very first Japan only NES Fire Emblem.
Online co-op in Super Smash Bros. Brawl confirmed
This doesn't need explenation, I would guess it's about the offline Adventure Mode you can go through with a friend in co-op but instead you can do it online. IGN confirmed it in their blogupdates on the even. "The game will include online fights. In addition, it will have online cooperative play of some form."
Sonic in Super Smash Bros. Brawl confirmed
New trailer showed, plus a additional Sonic trailer on the Dojo site on which you can see his moves, hear ingame Sonic music from Sonic Adventure 2 Battle and see the start of his Final Smash (Super Sonic!).
"Super Smash Bros. Brawl - Finish the fight!"
Both new trailers and character profile including more screens is located
here
.
WiiWare blowout
WiiWare uncovered, 10 new games announced, releasedate in Japan and pricing off 1 high profile WiiWare titel.
Iwata Claims Over 100 Wii Ware Proposals
Iwata: "We've already received proposals for over 100 titles from software development companies."
Final Fantasy Crystal Chronicles: The Young King and the Promised Land
Developer:
Square-Enix
Website:
http://www.square-enix.co.jp/littleking/
Square Enix brings a 2nd Final Fantasy Crystal Chronicles exclusive to WiiWare. New genre, new name/logo, new devteam.
In FF CC:The Young King and the Promised Land you play as a young king that has to rebuild his country after it was destroyed in the previous Crystal Chronicle game.
(click on the thumbnails for original size)
[
5
][
6
]
Pricing: Only 1500 WiiPoints ($15) to download in Japan. Looks like a full blown game (simulation RPG) with great graphics (for Wii).
Official trailer
Looks awesome, 1 minute actual gameplay
Pokémon Farm Channel
Developer:
Ambrella
Publisher:
Nintendo
In Pokémon Farm you can import your Pokémon from Diamond & Pearl and transfirm them to this Wii Ware titel so that you can put them on your Pokemon-farm. On this farm you can raise your Pokemon and take care of them.
[
Video
]
Dr. Mario & Bacteria Extermination (online)
Developer:
Nintendo
Dr. Mario & Bacteria Extermination is a remake of the classic Dr. Mario puzzler. You can make your Mii appear in place of the Mario characters, and can challenge friends over Wi-Fi. The game includes the Saikin Bokumetsu game from the Japanese Brain Age 2, which can now be play cooperatively with four players.
[
Screens here
]
Star Soldier R
Developer:
Hudson
Star Soldier R is the sequal off Star Soldier. A 3D verticale shooter filled with action, in which you have to destroy your enemies.
Bomberman
Developer:
Hudson
Hudson also comes with Bomberman to Wii Ware (surprise!). Same goal as ever, destroy your enemies.
"Marble game"
Developer:
Mindware
Publisher:
Nintendo
Puzzleloop
Developer:
Mitchell
Publisher:
Nintendo
Joy Sound
Developer:
Hudson
Joy Sound is a karaoke game and additional to the retail version, Joy Sound also comes to WiiWare. If you have a microphone (don't know if this is neccesarry), then you can download the game. You can download additional songs.
Mojipittan
Developer:
Bandai Namco
Mojipittan is a puzzelgame that is very populair in Japan on the DS and PSP.
[
Screens here
]
More screenshots off these WiiWare games can be found
here
.
Ping Pong Wii
Developer:
Arc System Works
This is a Ping Pong title that uses the Wiimote for direct controls of your in-game counterpart's paddle. Based on how you swing, you can achieve top spin, back spin, smashes and other shots. The game lets you chose between automatic movement and manual movement. When set to automatic, all you have to do is time your shots and swing. Those who want the full ping pong experience will want to go with manual mode. Modes of play will include a challenge mode, where you earn items by playing five mini games, and a four player doubles mode, where the screen splits to make sure everyone has a similar view of the action.
Already known WiiWare games:
Gravitronix
Developer:
Medaverse Studios
Plattchen - Twist 'n Paint
Developer:
Bplus
Title TBA
Developer:
System 3
Title 2 TBA
Developer:
System 3
Title TBA
Developer:
Pronto Games
Title TBA
Developer:
GarageGamess
Title TBA
Developer:
Shin'en (creator of Nanostray)
Multiple projects
Developer:
Alten8
At the very least 19+ WiiWare titles and counting (we already know Nintendo for one is doing a lot more than the above, I mean.. come on. Not to mention that 3 of the 4 are 2nd party).
As far as I know, each and every one of these titles is geared toward
the launch of WiiWare that is coming to Japan in march 2008.
Link to footage from conference
http://www.irwebcasting.com/071010/53/f078bbc3f8/main/index_hi.htm
Monster Hunter 3 Wii announced
Monster Hunter is one of the more populair Sony franchises in Japan right now and was previously Sony exclusive. Monster Hunter 3 was announced exclusively 2 YEARS ago for the PS3, untill today. The PS3 version is removed from the officia site off Capcom (which probably means that it's cancelled altogether). On this moment Monster Hunter 3 is exclusive for Wii.
(Monster Hunter 3 Wii)
Mario Baseball Stadium (Wii) announced
Sequal from the gamecube game is announced for Wii, again by Namco Bandai.
[
More here
]
Mario Kart Wii info (12 players online confirmed!)
Trailer
(youtube, look above for higher quality link from conference)
Motorbikes in Mario Kart. Stunts indeed in the game. Spring 08 in Japan. Wii Wheel standard bundled with it for free.
12 players online confirmed
by Iwata!
Match-making process streamlined for quicker connections (no specific details on what was done).
[
More screens here
] (also DS retro tracks in 3d) - bad quality screens though but better than nothing
Batallion Wars II screens
[
More screens
]
Wii Music media and info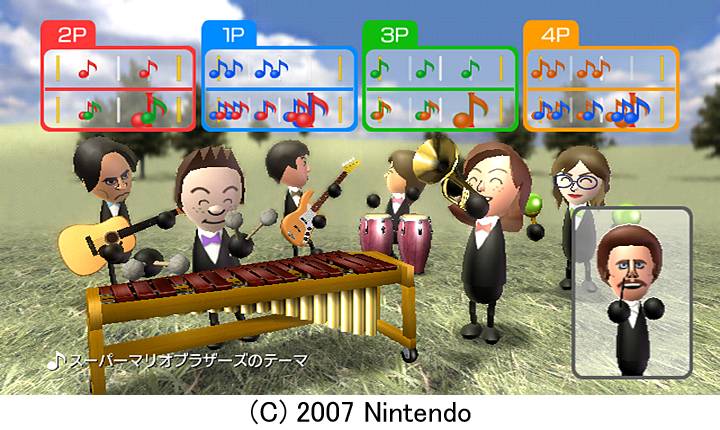 Seems more indepth, with apparently also different themes.
- Control music by using Wiimote and Nunchuck in correct time (button presses included)
- 6 person band
- 40 instruments
- 4-player support (single player controls 4 musicians or 1 while the CPU does the rest)
- 2008 in Japan
Wii Music footage (Super Mario Bros. Theme song played)
http://youtube.com/watch?v=O9vCkqw4izY
Smash Bros. Brawl media (not on the dojo)
[
More here
]
Mario & Sonic at the Olympic Games update
Sega has announced Mii integration in the upcoming Mario & Sonic at the Olympic Games, allowing you to use your Mii to compete against gaming legends. Along with the Mii integration, Sega has also confirmed four Dream events to be included in the game on top of the extensive lineup of real Olympic events. These take place in colorful, game-inspired stages laced with power-ups and special moves, appeasing the Mario and Sonic purists out there. There's a Dream Race on the Sandhill Race Course, Dream Platform Diving which sounds a bit like Pilot Wings skydiving, Dream Fencing on jungle beach, and Dream Table Tennis in a 'sci-fi wonderland'.
Dream Events footage
DS screens
Disaster: Day of Crisis
Final Fantasy: Crystal Chronicles They Crystal Bearers
(old??)
Omg, floodgates of screens! There are just to many of them!
We Love Golf
Zack and Wiki
Resident Evil: Umbrella Chronicles
Soul Caliber Legends
Opoona
Dance Dance Revolution
Chocobo Mysterious Dungeon
Ghost Squad
Sonic Riders
Rayman Raving Rabbits 2
NiGHTS 2
Rygar
No More Heroes
King Story
Japanse game van makers Odin Sphere
Tales of Symphonia 2
And. much. moooaar..!
http://www.watch.impress.co.jp/game/docs/20071010/niss1.htm
Card Hero DS announced (Nintendo)
Card Hero is Yoshio Sakamoto's baby and Nintendo. Probably the same team that did Wario Ware: Smooth Moves (Nintendo / Intelligent Systems) is co-developing this.
Eternal Chronicle DS announced
Developed by PAON, published by Nintendo.
Kirby Ultra Super Delux announced
Possibly remake of Kirby Super Star!
Advance Wars 2
[
More screens here
]
Soma Bringer (DS) announced
Developer: MonolithSoft (Disaster: Day of Crisis, Baiten Kaitos etc).
Publisher: Nintendo
Steel Princess (from Marvelous Interactive) for DS announced
- 2008 release
- action RPG
- developed by Climax
- play as Anice the Pirate
- steal treasure
- sword, whip
- a lot of items[/quote]

Harvest Moon: Shining Sun and Friends (DS) announced

- Marvelous Interfactive
- Winter release in Japan
- Five islands
- Island from last game is in this title
- Trade items over wifi
- Mark and Chelsea return
- Takes place on Sunflower Islands
- Wild animals help you along the way
- Find stones to unlock new islands
- Voice chat via WFC

Ninja Gaiden: Dragon Sword screens


Final Fantasy Tactics A2 screens
Rune Factory 2 (DS) screens




Screenshots overload:

Kingdom Hearts 358/2 Days

Final Fantasy IV

Dragon Quest IX

Dragon Quest IV

Point & Click Adventure van Tecmo

Tales of Innocence

Level 5 footbal rpg

Professor Layton and the Devil's Box

Mario and Sonic at the Olympic Games

Mario Party DS

Much more

here

Nintendo DS Japanese first party line-up updated

Fire Emblem DS
ASH
Card Hero
Soma Bringer
DS Novel Collection
Nintendo Crossword
Eternal Chronicle
Kirby
Advance Wars 2
Mario Party DS

Super Mario of Awesome and Win




_O_

Oboro Muramasa Youtouden (new game from Vanillaware, the makers of Odin Sphere, Princess Crown and GrimGrimoire).


King Story
No More Heroes


Super Mario Galaxy footage
http://www.gametrailers.com/player/26219.html

Monster Hunter 3 trailer
http://youtube.com/watch?v=hKCt0HqOkjI

Endless Ocean / Forever Blue footage
http://wiiz.fr/article.php?a=14300

Tales of Symphonia: Knights of Ratatosk trailer
http://www.youtube.com/watch?v=RM3zkx5krfE

Misc

New release dates (Japan):

22 nov. Mario & Sonic at the Olympic Games
1 dec. Wii Fit (8,800 yen - $75)
24 jan. Super Smash Bros. Brawl (delayed although the previously release date was temporarely)
Spring Mario Kart Wii

(Sony am fucked? Super Mario Galaxy on 1 nov.)

- Nintendo plans to start a service center to help people set up the internet at their home, in order to aid them in getting online with the Wii.
- Check Mii Out Channel (November for Japan), Everybody's Nintendo Channel (DS demo channel), Pokemon Farm is a channel as well.
- Small Wii Firmware update - full USB Keyboard support for Internet Channel, send links to friends directly from Internet Channel, opens links from message board, copy past text, better typing support (hold b for Shift etc)
- Nintendo Japan today also announced that they will have cooperation with NTT Japan to expand their network infrastructure around all country.
- Wii Fit makes it's own channel? (image directly linked to NoJ site)
- Check Mii Out Channel, launches november in Japan. Video
- WiiWare official site on Nintendo of Japan site: http://www.nintendo.co.jp/wii/features/wiiware.html
- Every sale chart on the conference (aka how Nintendo owns Japan)
- 7.8 Million Virtual Console downloads Sales graph of Virtual Console downloads * Thanks to Cheesemeister for the graph
- Nintendo updated the Japanese Wii Virtual Console site with tons of videos for Virtual Console releases.


_______________


And... I'm done!