And then the LORD David Bowie saith to his Son, Jonny Depp: 'Go, and spread my image amongst the cosmos. For every living thing is in anguish and only the LIGHT shall give them reprieve.'
Dec 1, 2004
15,883
2
1,545
ever since i got my ps3, i've been messing around with this amazing free 'game' i got from the japanese psn store. this thing is cool! the presentation is really slick and it's fun trying to figure out what does what, since i have no clue what i'm doing other than the sparse english guides around the internet. for those who don't know, it's a hybrid of up-to-date japanese news, tamagotchi-sims customization and kind of a social network game.
i was hoping some people here were into this, maybe they could help me figure out how to do certain things, like add friends in game and get the different animal costumes i've seen that unlock the sixaxis minigames. right now all i really know how to do gamewise is play people online at the logic puzzles. everyone with a ps3 should grab this, it's awesome! just got my first virtua fighter poster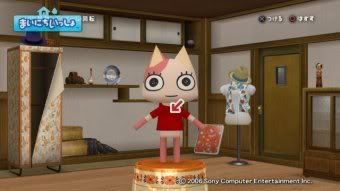 the best translation guide i could find, still kinda vague.
a list of which news stories give which presents
.