"Fallout 3 will have over 200 endings."
"Skyrim will have infinite quests."
"It just works."
"You can climb that mountain"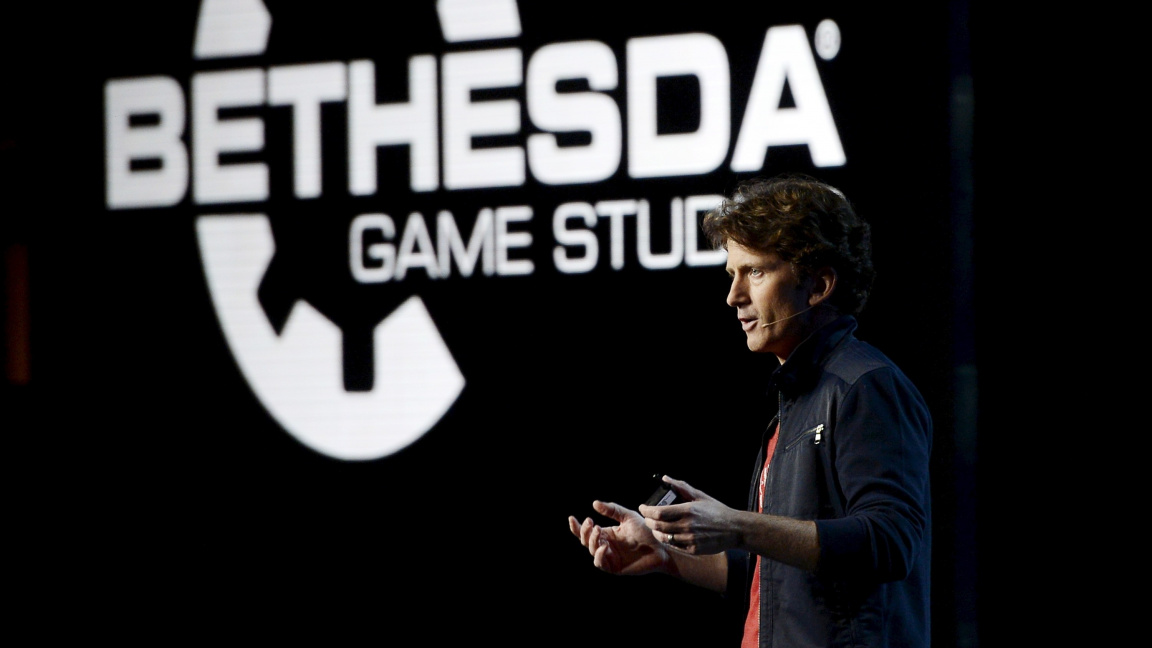 Everyone who follows Bethesda knows these quotes, and they were all said by one person: Todd Howard. Born in 1971 and quickly passionate about video games, he discovered his vocation by playing Ultima III (1983).
"This is what I want to do, this is the kind of games I want to create," he expresses, exploring Richard Garriott's game. He join Bethesda in 1994, aged 24 as a designer and producer.
After
Peter Molyneux
, let's take a quick look on Todd Howard, from Terminator: Future Shock to Skyrim, on his most famous games.
Terminator: Future Shock:

If you want an origin story for Bethesda's Elder Scrolls and Fallout RPGs, look more to Future Shock than to the first Elder Scrolls itself.
This semi-open world (it wasn't a sandbox, but the huge size of the maps meant it did feel so) first-person shooter was very much about exploring, scavenging and getting yourself into a whole heap of trouble, a concept revisited and refined in latter games by Bethesda and many more (it also did 3D enemies and mouse controls before Quake did ).
-"They started me on Future Shock, I don't know why. I guess they saw something I didn't. I was very eager," recalls Howard.​
Tellingly, it was Todd Howard's first design gig (having previously been a mere producer on The Elder Scrolls: Arena), and many of the values and concepts he laid down then continue to this day
-"We wanted these big, even in those days, expansive levels you could explore. The way we built Future Shock, you have a height map and instanced 3D objects rendering on top—that, believe it or not, is still how we build today. It's our basic paradigm for how to build a space.​
I have great memories of that project. And then Quake comes out and everybody forgets Future Shock, which is what it is, understandably so. But that game has a real sweet spot for a lot of us."​
The Elder Scrolls III: Morrowind:
It is by becoming the project leader of TES III: Morrowind (2002) that Todd became inseparable from the license. He is a true team leader, with a very precise vision of video games, and knows how to be very serious when necessary. For him, a team is an entity in its own right and not a group of developers responding to the ideas of a game designer. He regularly says that culture is more important than a project or that great people, who like to work together, will make great games. Bethesda gives him complete creative freedom. The point is not to create an RPG but to do what they want. In his view, games should serve as an experience, not as a list of features.
"We'd made some bad games, we made some mistakes and the development team probably went down to six people," he says. "That's the game where we had no fear. We felt the company was going to go out of business, so when we had a chance to make Morrowind, we were like 'What's the worst that's going to happen?' We took a few more risks and if it hadn't worked out, I don't know that we'd be here. It worked out better than we could have imagined." ​
For TES and Fallout, it can be summed up in a catchphrase:
"Big world, do anything".
The team is so passionate that they even fight to know
''
how high a Werewolf could jump
''
Despite its reluctance to develop a version for Xbox, Microsoft's new console, Bethesda (on the verge of bankruptcy at that time) risked it. By August 2005, the game had surpassed 4 million copies sold, the majority of which are on consoles.
Its success allowed the company to invest more into Oblivion, branching out with a PS3 version as well, and even helped it acquire the Fallout licence.
The Elder Scrolls IV: Oblivion:
The game contains over 50 hours of spoken dialogue. Some of the voices are performed by well-known Anglo-Saxon actors, notably Patrick Stewart, who lends his voice to Emperor Uriel Septim VII, and Sean Bean as Martin Septim.
Development of Oblivion began in 2002, immediately following the release of its predecessor, Morrowind. If the last game was a gamble for Bethesda, Oblivion was a big bet in its own way.
While most publishers would immediately leap onto a sequel, Howard says his team was given the luxury of a four-year development cycle in order to take advantage of the then-next-gen hardware.
And while Todd disagrees there was more pressure on the sequel to Morrowind, he does admit the team took "more calculated risks with Oblivion."
"We did not expect the success that one had either, Oblivion just became this lightning rod for next-generation gaming at the time," ​
Also, Oblivion will plant the seeds of the gameplay changes coming to Fallout with ranged fight:
"We've fully integrated melee, blocking, magic, and stealth combat (bows) into one system. You can easily switch between all three, we want to make ranged combat not just about dexterity, but about skill."​
Fallout 3:
Released almost ten years after Fallout 2, it marks Bethesda's takeover of the license.
This results in two major changes: the game goes from an isometric 3D to a true 3D first person, thanks to the Oblivion engine, and is closer to the design of the games of Bethesda.
To this day, Fallout 3 remains Howard's favorite project:
"Obviously I love them all, but that holds a special place in my heart because it was so new for all of us and when you're making a Fallout game, there's so much you can do. There are very few ideas that you can't fit into a Fallout game in some manner. It mixes post-apocalyptic with drama, dark comedy, B-movies and, if you're doing it right, it moves between those in a way that it forges its own identity."​
The story also presents a difficult balance to strike. Elder Scrolls games are known for casting players as a blank canvas, an avatar with no backstory, leaving them free to dictate their motivations and ultimate destiny.
But Fallout games tend to tell a more specific story and the nature of player choices is purposefully made to be more difficult:
"Who do you side with? Who lives? Who dies? What are you going to sacrifice to live, given the nature of the world you're in? Elder Scrolls is a bit more systemic in its design. Intentionally, you can join all of the factions. There's not a specific choice."​
And Howard admits that striking the balance is tricky
"And I don't know that we've solved it. You want some sort of time pressure on the player, but that fights against anything else you're doing. The stories we've told in Elder Scrolls suit that better." ​
​
The Elder Scrolls V: Skyrim:
Compared to Oblivion, which listed 14 actors, Skyrim has crossed a large quantitative threshold: more than 70 actors are recruited to interpret the 47,000 lines of dialogue. This just show how much bigger Skyrim was:
"I view the game as, the first line in the credits is "Game Design: Bethesda Game Studios." I view it as a studio project. It is too big for one person. I don't know all parts of it "​
Skyrim is dedicated to enhancing the features of The Elder Scrolls series (and kinda fail, if you ask me), while introducing a whole new land in Tamriel. The game feature simple puzzles in some of the dungeons.
But Skyrim does not require specializing in a single path (mage, warrior, archer ...) and the spell creation system is removed, which felt like a let down by many fans. Skyrim was probably victim of his ambitions.
"When it comes to game features, we are more about iteration. You can spend a lot of time on paper coming up with great ideas, then as soon as you put it in the game, you're like, "I was thinking wrong"​
It's easy to make a video of [new Skyrim] content, but taking those ideas and forming them to completion so they fit into the game is a different story"​
Critical and commercial success, Skyrim accumulated in November 2016, five years after its release, more than 30 million units sold.
Todd the meme:
I cant talk about Todd without mentioning his promises. Throughout his career, Todd Howard has receive much praise and criticism for his work, he was named one of the best game developers by IGN and one of the top 20 most influential game developers by Gamepro on March 7th, 2009.
Despite his reputation, Todd has also received criticism primarily due to most of his games being bug ridden upon release and his tendency to lie in interviews regarding the features and state of his game projects.
I count on GAF to quotes the best lines of Todd and remember, IT JUST WORKS ! But meanwhile, this famous video is a must watch:
​
I hope you enjoyed this tread, it has not for objective to make a full biography but more a small portrait of this famous game director we love and hate at the same time ^^
Last edited: