Nicola Jane Bulley (born 12 October 1977) is an English woman who was last seen and heard from on 27 January 2023 near St. Michael's on Wyre in Lancashire, United Kingdom. Based on the evidence found at the scene, and in the absence of any direct indication of third party involvement, the Lancashire Police's primary working hypothesis is that Bulley fell into the River Wyre and drowned; but despite a massive search effort which has included police divers, helicopters, sniffer dogs, and drones, no trace of Bulley has ever been found.
11 things to know (from close friend, approved by family)
Paul and Nikki both mostly work from home which is why he was at home that day. They have CCTV and there is a reason why Paul has never been a suspect.
They both do this walk regularly and Paul is very well known in the community and very well recognised
The dog never has her harness on for a chunk of that walk, it's removed at the gate of the top field and then put back on at the gate when they leave
They very rarely take the ball out for walks with willow now because she is very very protective over the ball and haven't done for a while
Nikki quite often would put her phone on loud speaker when talking
The dog was found very close to the bench and the harness. The harness was found on the floor not on the bench
Nikki is an incredibly strong swimmer
Nikki drove to the school and then left her car there and walked to the river
The dog was dry when found
The dog has since been back
There's CCTV at the back of the caravan park. The only camera that isn't working is the one that would have seen everything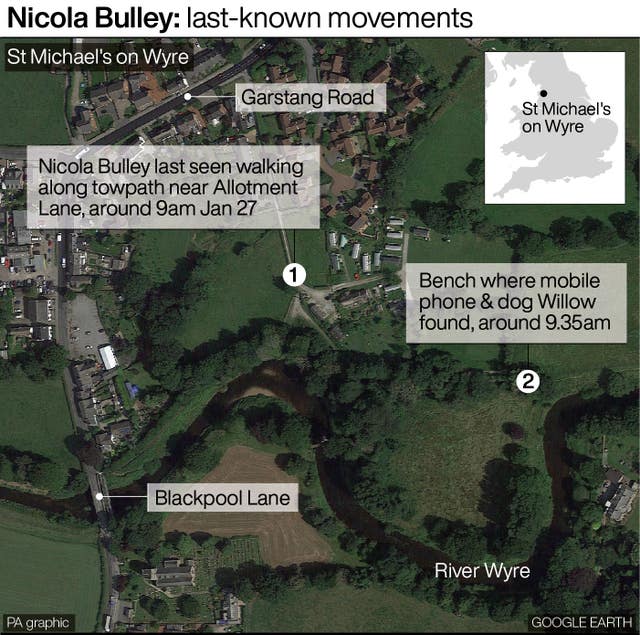 Police have been working to the theory that Ms Bulley fell in the river, but her family and friends have questioned that.
The force believes the 45-year-old mortgage adviser went missing in just "a 10-minute window" while she was walking her dog, Willow, close to the River Wyre, after dropping off her daughters – aged six and nine – at school.
Ms Bulley had logged in to a Microsoft Teams call at 9.01am, which ended at 9.30am with her phone still connected to the call.
She was seen by another dog walker at 9.10am – the last known sighting – and police traced telephony records of her mobile phone as it remained on a bench overlooking the river at 9.20am. The device was found by a dog walker at around 9.35am, with Willow nearby.
In a Facebook post, Ms Bulley's sister, Louise Cunningham, urged people to "keep an open mind" as there is "no evidence whatsoever" that the dog walker fell in the river.
"Off the back of the latest Police media update, please can I add there is no evidence whatsoever that she has gone into the river, it's just a theory," she said.
"Everyone needs to keep an open mind as not all CCTV and leads have been investigated fully, the police confirmed the case is far from over."
Ms Bulley's friend, Emma White, also cast doubt on the police theory, telling Sky News it was based on "limited information".
Ms White said that police were working to get data off Ms Bulley's Fitbit watch.
"The Fitbit had not been synced since Tuesday," she said.
"The police are trying other ways to try to get information from it."
The police search has been aided by specialists and divers from HM Coastguard, mountain rescue, and Lancashire Fire and Rescue Service – with sniffer dogs, drones and police helicopters deployed.
Detectives are also working behind the scenes to analyse CCTV and dashcam videos, and members of the public with footage which could be useful have been urged to come forward.
Five things baffling a forensic expert
According to the forensic expert, the mobile phone left on the bench is "the only thing the police have to go on".
The phone was discovered on a bench still logged on to a work Microsoft Teams call with the camera and microphone both switched off.
However, Mr Faulding has suggested the phone could have been left there as a decoy by a third party.
"If Nicola is not in that stretch of river today my view is that there could be a third party and that [the phone] was a decoy placed by the river," he told
Good Morning Britain
on Tuesday.
"The phone on the bench, I mean, you have to ask, normally someone would have a phone in their hand especially if they were walking around," he told
BBC Breakfast
.
Behaviour of Nicola's dog

​

Police still believe that Ms Bulley fell into the river, although her loved ones have disputed this suggestion due to a lack of evidence.

She was walking her spaniel Willow at the time she vanished but the dog was found "bone dry", suggesting it had not entered the river either before or after its owner vanished.

"We dealt with a drowning a couple of years ago where a gentleman went into a river and Ripley, his dog, was screaming by the riverbank when we got there," Mr Faudling told GB News.

"When we arrived it was howling, and literally pointing exactly where he was. He stayed with his owner."
'No screams were heard'

​

Mr Faulding also flagged that it "feels odd" that there were no screams heard at the scene, despite police having spoken to a number of witnesses.

There were also no marks left at the scene which could have given clues about what happened.
Scene not closed off to public

​

A scene of this nature would normally be sealed off to retain any clues that could unravel the

disappearance

, Mr Faulding said.

However, the area remained open to the public which may have resulted in the loss of key evidence, he claims.

The forensics expert said: "People have been walking past the bench. There's no police tape up. This would normally be sealed off as a crime scene so potentially crime scene investigators can go in and see if there are any microfibres, evidence, slip marks down the bank etc and I don't believe that has actually happened here."
No body found in river - despite extensive search

​

The downstream and upstream river have been searched thoroughly by police divers on multiple occasions but they still have not found anything, leaving the forensic team "baffled".

Mr Faulding told

BBC Breakfast

: "These are very professional divers and they didn't find anything and that is the odd thing about this. That is what I can't get my head around. It is very strange."

"Normally when we deal with drowning victims they go to the bottom and they will stay there for a while," he said. "The police divers have done a thorough search of that river twice and nothing was found. This is one of the most odd cases I've ever worked on.

"If anything is there, we will find it. A body will move after a time, but they searched that area and came up with nothing – that is what is weird here. We are baffled."

When asked about whether Ms Bulley's body could be in a different part of the river, Mr Faulding said: "Unless someone's put her in a different part of the river somewhere or she's fallen in somewhere.... It is a very short stretch.

"On a normal river we can scan ten miles a day for a body and locate it very quickly."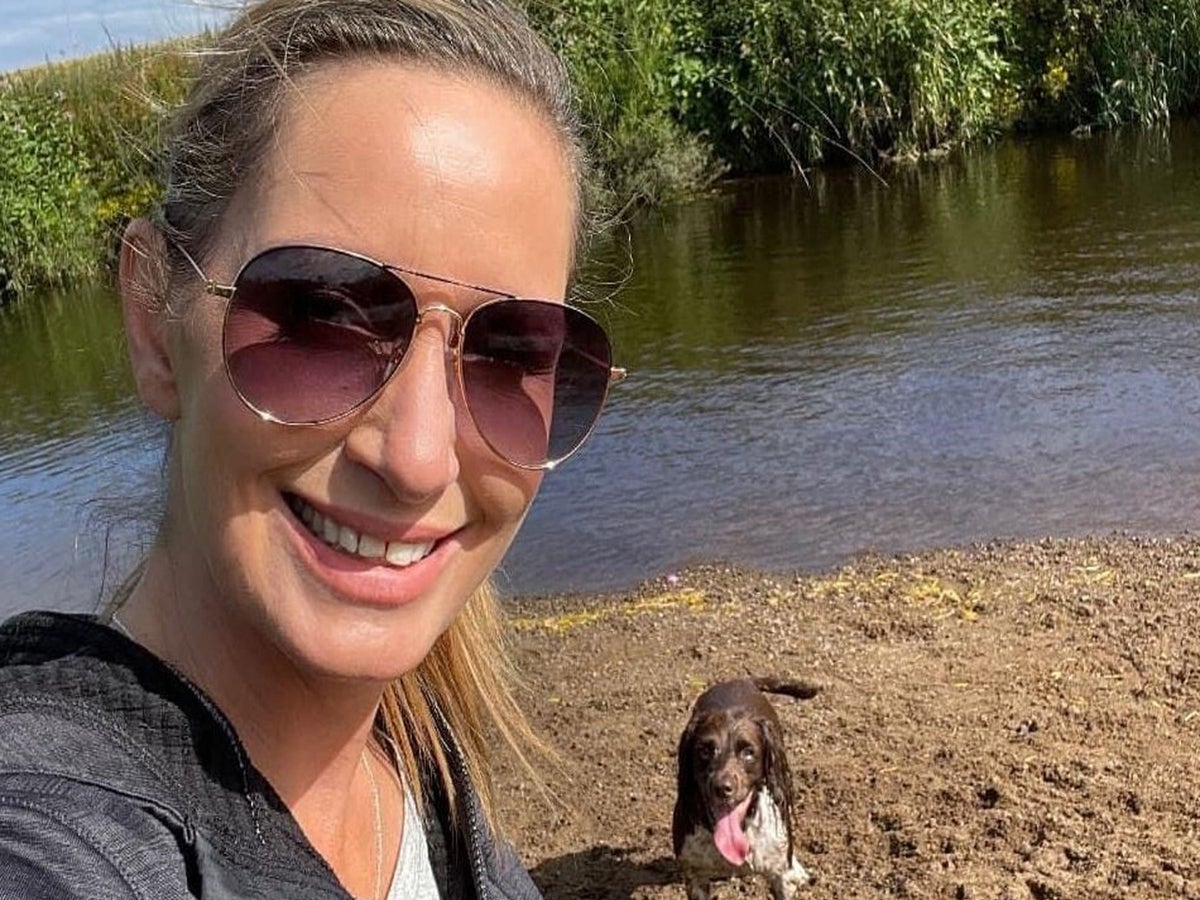 Last edited: