The winners of last year's UNIQLO design competition,
UTGP '17
, with the theme of Nintendo have been decided.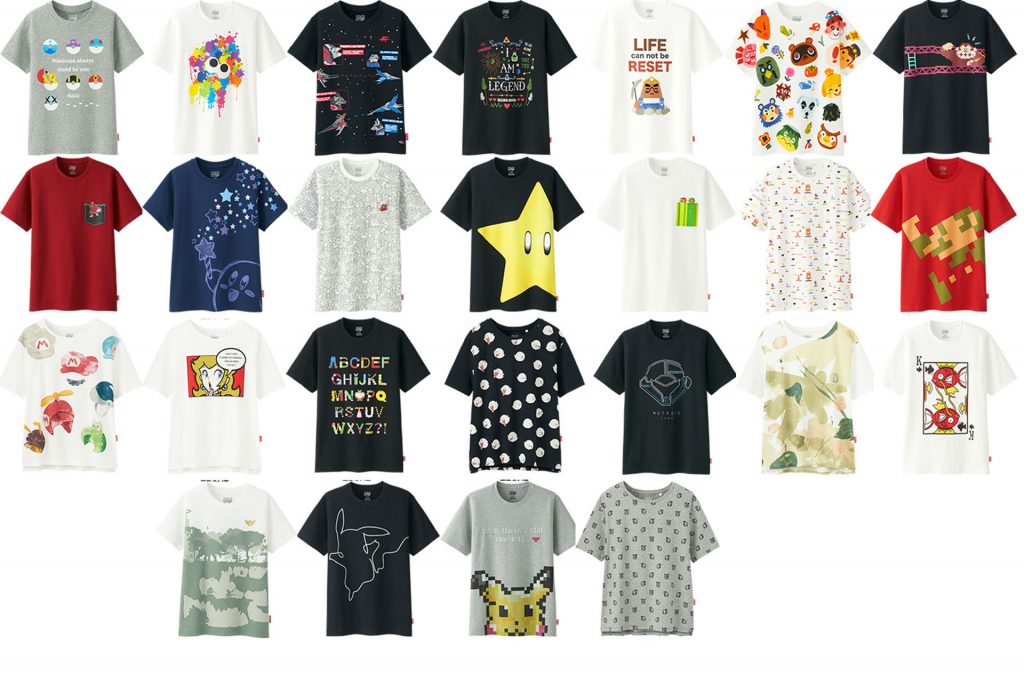 Edit 4:
Available to purchase here.
Nintendo UNIQLO
Video of all the Shirts
Grand Prix Winner:
I was extremely surprised and pleased to receive such a prestigious award for my creation featuring one of Japan's most renowned characters, Mario, as a motif. I would like to express my sincere gratitude to you all, including my family who supported me throughout. Thank you!
Second Place Winner:
As someone who is trying to become a creator, I couldn't be happier. I want to take away this experience and joyful feeling and reflect it in my future activities. Thank you very much!
Third Place Winner:
As the first Mexican to win the prize, I feel extremely honored. I would like to express my gratitude to UNIQLO and Nintendo for giving me the opportunity to win the prize. I have been a fan of the games created by Mr. Miyamoto ever since I was a small child. Many years later, my creation featuring Zelda has been selected to be used on a UNIQLO T-shirt produced in collaboration with Nintendo. I feel as if my dream has come true. To the team of Nintendo, thank you for letting me be part of your world!
Edit 2: Higher Resolution Images:
MEN, KIDS:
WOMEN:
From:
http://www.highsnobiety.com/2017/05/01/uniqlo-nintendo-collection/
Fronts-Only:
Full Details:
Franchise Breakdown:
Mario: 9 Shirts
Pokémon: 5 Shirts
Zelda, Animal Crossing and original Donkey Kong: 2 Shirts
Metroid, Kirby, Star Fox, Pikmin and Splatoon: 1 Shirt
Gender and Age Breakdown:
Men Only: 11 shirts
Women Only: 5 Shirts
Kids Only: 5 Shirts
Men, Women and Kids: 2 Shirts
Men and Kids: 1 Shirt
Men and Women: 1 Shirt
Not the most spectacular but there are several shirts for Men that I'm interested in from Metroid, Splatoon, Animal Crossing and that ABC Mario one. There are some great designs only available for kids and women like the third place Zelda shirt. I may buy the women shirts I find interesting and never wear them put in public but only with friends.
It seems possible the number per franchise was decided before the contest even Bagan with how ever franchise available:
Q05 Which game characters can be used for designs?
"The characters which appear in the following games series all can be used in design submissions." The Super Mario series, the Zelda series, the Pokémon series, the Animal Crossing series, the Star Fox series, the Pikmin series, the Metroid series, the Kirby series, the Donkey Kong series, and Splatoon
Got at least one shirt. You also couldn't combined different franchises as per the rules. Also the Donkey Kings shirts being from the original arcade game and not Country with characters like Diddy and Dixie is super disappointing. Then again Miyamoto was the judge.
Also I strongly disagree with the first place winner. There are so many 8-bit Mario shirts already that that winning is crazy.
Even a similar concept of 8-bit Mario on left edge of shirt has done by Nintendo years ago as a Club Nintendo shirt I have:
So thoughts? What do you like? What do you plan to buy?
Edit:
These go on sale in Japan on May 19th. Not sure about other regions.

Nintendo posted on their Facebook that US will release on May 19th as well.
Some screenshots from the 1 Minute Promotional Video:
A closer image of the Peach shirt and its text:
I DON'T CARE!
I'D RATHER GET KIDNAPPED-
THAN ASK MARIO
FOR HELP!
Also looks like the Grand Prix Winner will be in White Fire Mario style for the woman version according to the Japanese page: