Video comparison:
https://www.youtube.com/watch?v=TAr2J95Ln00
So I'm in the middle of a second play through of VTMB with the last time I played it being 6+years ago.
I do lots of modding with games like Skyrim and GTA4 so I spent some time looking for mods to make this game look better so I thought it might help some people if I just dump everything I found in this thread.
Unofficial Patch 9.5 - 20.03.2016
Since getting released in 2004 this game is STILL getting patched which keeps improving the game by fixing bugs and restoring new content
http://www.patches-scrolls.de/patch/4647/7/73349
It also comes with a custom resolution patcher for widescreen support.
The latest unofficial patch (plus option) also restores removed first person animations for spells as seen in the original trailer!
SweetFX preset for VTMB:
This preset makes the game look really nice. A bit more darker and moody.
http://forums.guru3d.com/showpost.php?p=4426333&postcount=2788
This is another nice preset.
Made using reshade so it has DOF and SSAO etc...
http://sfx.thelazy.net/games/preset/5527/
Better World Textures:
This guy has done a lot of good world textures for the game.
Stuff like the roads, walls, bricks, wood, tile, glass, objects. concrete, carpet etc...
You can choose the ones you want or swap them out etc....
Just extract it into the vampire folder.
http://moddb.com/members/gothicseraphim/addons
Before and After:
Another texture pack for various little things:
I think that one has the shotgun and pistol textures used in my screenshots.
http://moddb.com/mods/silent-masqu-mod
Better lock picking up close hand textures: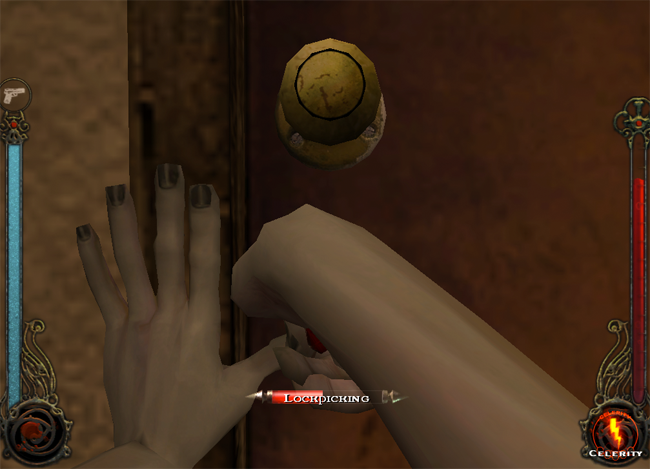 http://moddb.com/games/vampire-the-masquerade-bloodlines/addons/less-hideous-male-pc-hands
Better looking eyes: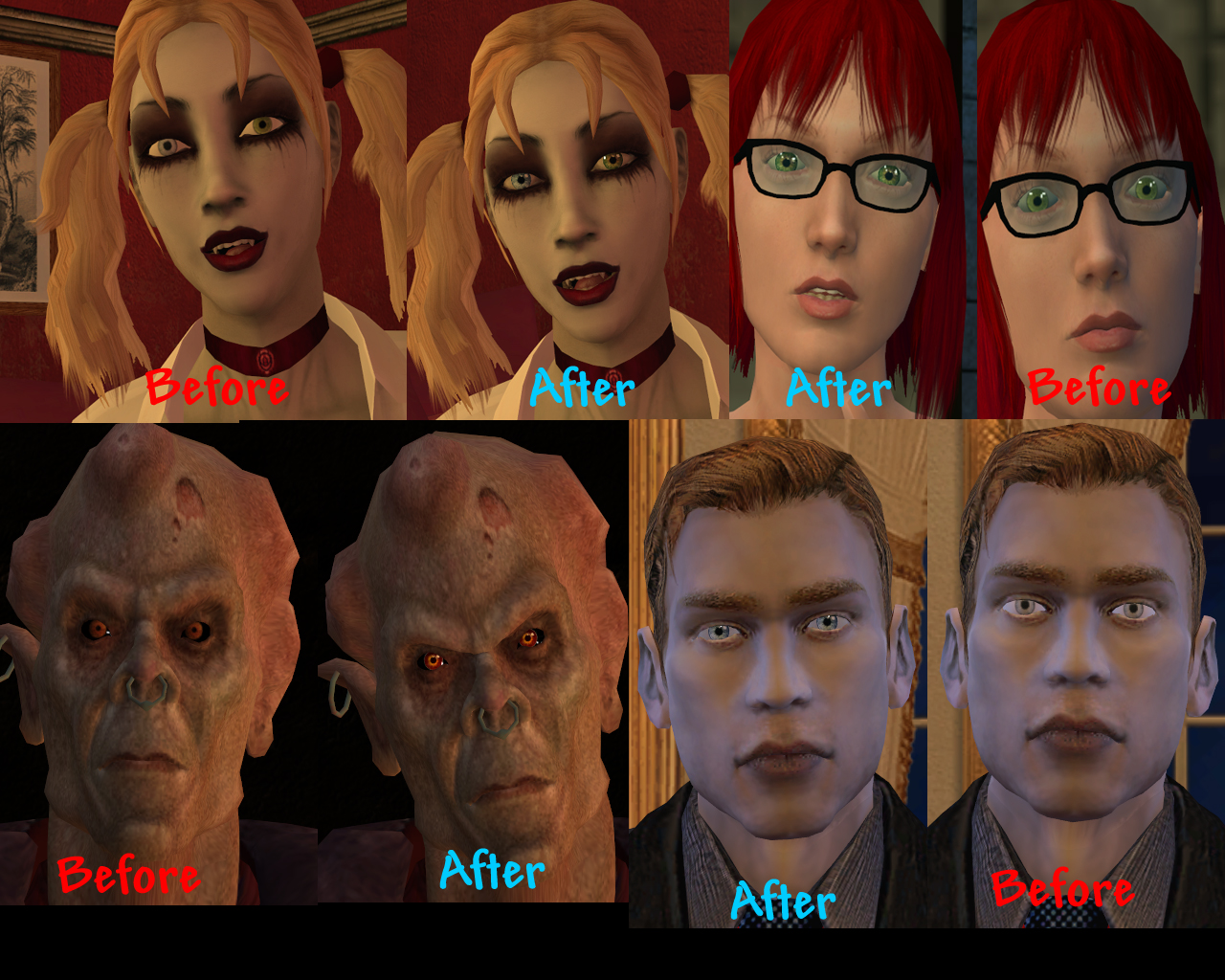 http://moddb.com/games/vampire-the-masquerade-bloodlines/addons/eye-replacer
Here you can get skins for the player and NPC characters:
http://moddb.com/games/vampire-the-masquerade-bloodlines/addons
You can also get Anti-Aliasing to work with Nvidia Inspector to get rid of those jaggy lines
(I had to add the vampire.exe to that profile for some reason it wasn't already added)
Or use downsampling. Or both.
Changing the FOV of the first person gun model:
You need to enable to console first by adding -console on the game shortcut.
The default is viewmodel_fov 54 which looks way to close
I like to have it at viewmodel_fov 75
Before and After:
Remove the HUD:
Use the console command draw_hud 0
There is an ENB mod for this but its old, unfinished and looks bad so don't bother with it.
Also there are gameplay mods for extra clans and quests but they are pretty old and I'm not sure if they work with the latest unoffical patch so skip them too.
So yeah thats just some stuff.
Here are some screenshots I took:
PlanetVampire
This is a good and still active site and forums if you need help with the game, technical issues or modding
http://www.planetvampire.com/
http://www.planetvampire.com/forum/index.php?action=forum
Now commence the reinstall!