UPDATE: June 18th
gamersyde 6min of gameplay
UPDATE: June 17th
PlatinumGamesJP said:
Thanks for all the kind words about what we've shown at E3.

Just to clear something up...

Vanquish runs at 30fps. It is a blistering fast 30fps, but it is 30fps.

I think the fact that the gameplay video has many of you thinking it is 60fps shows how well we have succeed at making Vanquish one of the fastest games you will play this year.

Back to Osaka today, so enjoy the last day of e3 guys.
PS3 gameplay video:
http://www.gametrailers.com/video/e3-2010-vanquish/700373
http://www.gametrailers.com/video/e3-2010-vanquish/700371
Interview
andriasang said:
On Vanquish's influences

Mikami was asked if he consulted any titles while creating Vanquish. Responded Mikami, "Of late, most of the games I personally like are foreign, so if asked what I referred to, it would be the Gears of War and Call of Duty series. Also, the "Neo Human Casshern" anime."

On the focus on single player

The gathered press wanted to know why Vanquish is exclusively single player. Responded Mikami, "In addition to our not having knowhow in multiplayer, we also cut online in order to make a game of higher quality. If we'd tried to do both, they both would have probably ended up being half-hearted."

On the possibility of multiplayer

Someone got a bit ahead of himself and asked if multiplayer would be a possibility for the next title. Mikami joked that this question should be asked of Platinum Games.

He also added here, "We're making something that's specialized in single player play, so making it into multiplayer might be extremely difficult. The character animation, hit detection, and other areas would all fail, to the point that if adding multiplayer it would probably be faster to start from scratch."

On the inorganic world

Mikami was asked about the game world and the prevalence of inorganic elements in all the segments we've seen so far. Will some stages have a more natural setting? Mikami joked that there is something resembling a forest. However, for the most part, most of what we'll see in the game has similar image to what's been shown thus far.

It's not the case that the stages will be completely inorganic, though. There are stages where you'll see the ocean, forests and other elements in the background.

On quick timer events

Someone noted that the boss battles have quick timer elements. In his response, Mikami referred to this as "QT System." The original plan, he revealed, called for having a large number of these sequences. In the end, they used the system sparingly. It's like a bonus, or actually a bonus for a bonus.

On positional damage

Enemies mid sized and up will allow for positional damage. Based off where you cause the damage, you can earn higher score. However, warned Mikami, most of the mid-sized enemies are dangerous, so if you pay too much attention to getting high score, you'll probably end up dying. "You won't have time to look at score while you play," he said.

He did mention that you can get a bonus by performing head shots.

On difficulty

Vanquish has easy, normal, hard and god hard difficulty modes. Easy mode gives you an aim assist known as "Easy Automa." While many shooters have an aiming assist feature, Famitsu noted in its writeup that Vanquish's implementation is very helpful, allowing you to simply shoot to continually take out the enemies in the area of your general sight.

It looks like the game will lean towards the difficult side. Mikami was asked if he's purposely trying to make the game on the whole difficult, to which he responded in the affirmative. "We felt that this game would be more suited to a more difficult setting rather than something that can be played easily."

They set the difficulty with consideration for people who play a lot of games, explained Mikami. However, midway through development, they came to realize that the difficulty was too high, so they decided to add the easy mode. They also made normal mode considerably easier than they'd originally planned at the start of the game's developments. Normal mode is at the level of difficulty where most people will be able to clear the game if they work at it.

On play time

Mikami said to expect a play time of around 7 hours. Adding in demo scenes and other non gameplay areas, and the game becomes a 10 hour experience.

On smoking

Sam can be made to smoke a cigarette during combat. You can make him smoke up to three cigarettes per stage. The cigarettes do have an effect on the game, as enemy robots will react to the flame when you toss the cigarette and will come at you in attack
--------------------------------------------------------------------------------------------
UPDATE1:
October release date
New gameplay demo
http://www.gametrailers.com/video/e3-2010-vanquish/101700
http://www.gametrailers.com/video/e3-2010-vanquish/101698
-------------------------------------------------------------------------------------------
UPDATE2:
Interview
-----------------------------------------------------------------------------------------------------
handson
gallery
Release date: October 2010
t begins in an underground base. Sam's white-grey future-suit has a nifty transforming arm in place of different weapons, folding out into a shotgun, heavy machinegun, rifle and anything else he can pick up.

He's surrounded at all times by similarly outfitted soldiers, but they're largely non-interactive - they're just there to draw fire, really, which presumably wasn't a prominent clause of their sign-up papers. You can keep these handy bullet sponges alive by dashing up to them when they're in trouble and injecting a syringe of Magic Video Game Cure-All into their shoulders, but there's no penalty for ignoring them.

It kicks off when we move Sam and the squad up to the surface, where an army of robots is making an almighty din and a lot of mess. It's all juddering machineguns and exploding robots, bright white structures and enemy dropships depositing more and more droids into the field. They can't take much fire before blowing up, but nearly-dead robots glow red and run towards you in a suicidal explosion if you don't finish them off.

A press of the D-pad switches the grenades on Sam's belt to EMPs, which we can use to disable and take over AT-ST-style enemy walkers, vaulting acrobatically into the platform and showering the remaining robots with laser fire. After a while, a much-tougher-than-usual mech comes stomping down some stairs, helpfully blowing away a barrier that lets us at the mounted guns overlooking the level.

Bigger enemies drop new weapons, or upgrades for your existing ones; smaller ones just drop ammo. You have to hold a button to pick them up, though, which stalls the otherwise-fluid action somewhat - particularly when you run out of ammo in the middle of a boss fight and have to take a speedy tour of the arena, bending over periodically in the midst of gunfire to pick something up off the floor like a thrill-seeking environmentalist.

Ammunition seems quite strictly regulated, forcing you to change weapons or pick up new ones quite frequently, and make optimum use of mounted guns or hijacked walkers.
It's outside of normal pointing and shooting that Vanquish gets interesting. Having peppered robotic enemies with bullets until they begin to spark and twitch, you can finish them off by sliding along the ground and kicking them in the face in slow-motion, landing back on your feet in a twisting somersault
Slow-motion kicks in automatically if you're low on health as a kind of helping hand, albeit an extremely distracting one when you're trying to flee into cover. You can leap in and out of cover with a faintly ludicrous horizontal vault that flings Sam sideways about five feet into the air - another excellent opportunity to deploy slow-motion and blow off some robot heads before hitting the ground again.
After hammering the robot's elbows for a while, Sam leaps in for a slow-motion QTE, dodging rockets in the air before diving into the robot's arm-mounted gun and ripping it off, leaving a sparking mess of wires hanging out of the limb. After another assault on the robot's exposed core, it's over; it crashes to the ground, its red glowing face fades, and the demo comes to an end.
When director Shinji Mikami claimed that Vanquish looks like a shooter but feels like an action game, he wasn't wrong. Watching Sam slither past man-sized bullets with a swivel of the analogue stick and rip the limbs from an enormous boss brings back pleasant memories of Bayonetta.

Comparisons feel slightly redundant, though; Vanquish looks as entirely idiosyncratic as any of Platinum's other games. Suspicions that it's a re-skinned, Japanese Gears of War fade to nothing as soon as you slide-kick a barrier into a crowd of robots before chucking a cigarette onto the debris
Gallery
UPDATE June 15th 13 new screens / via Gamersyde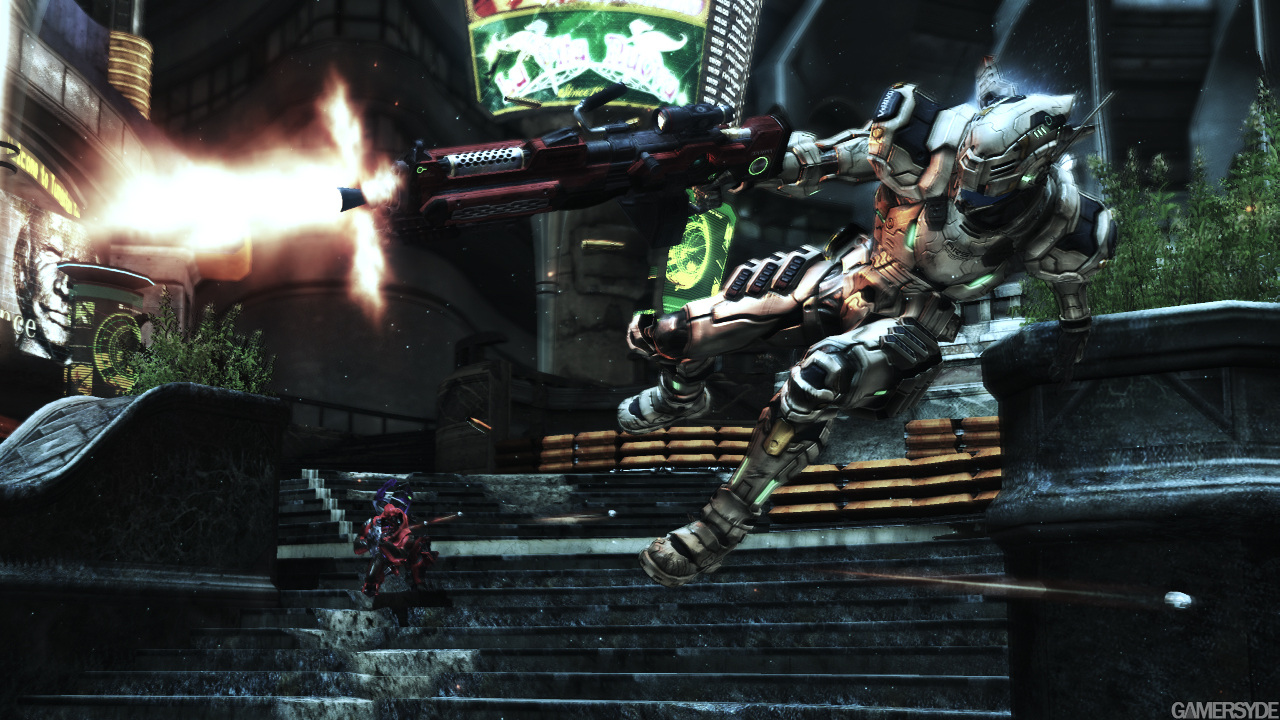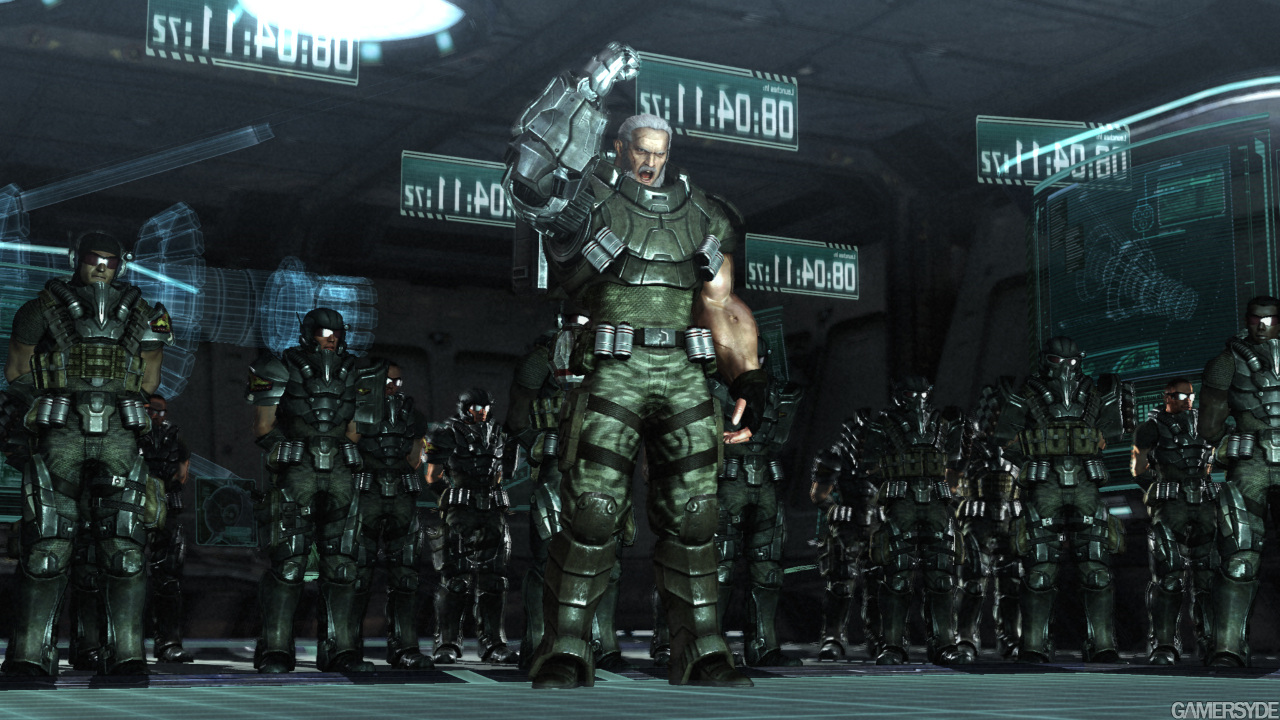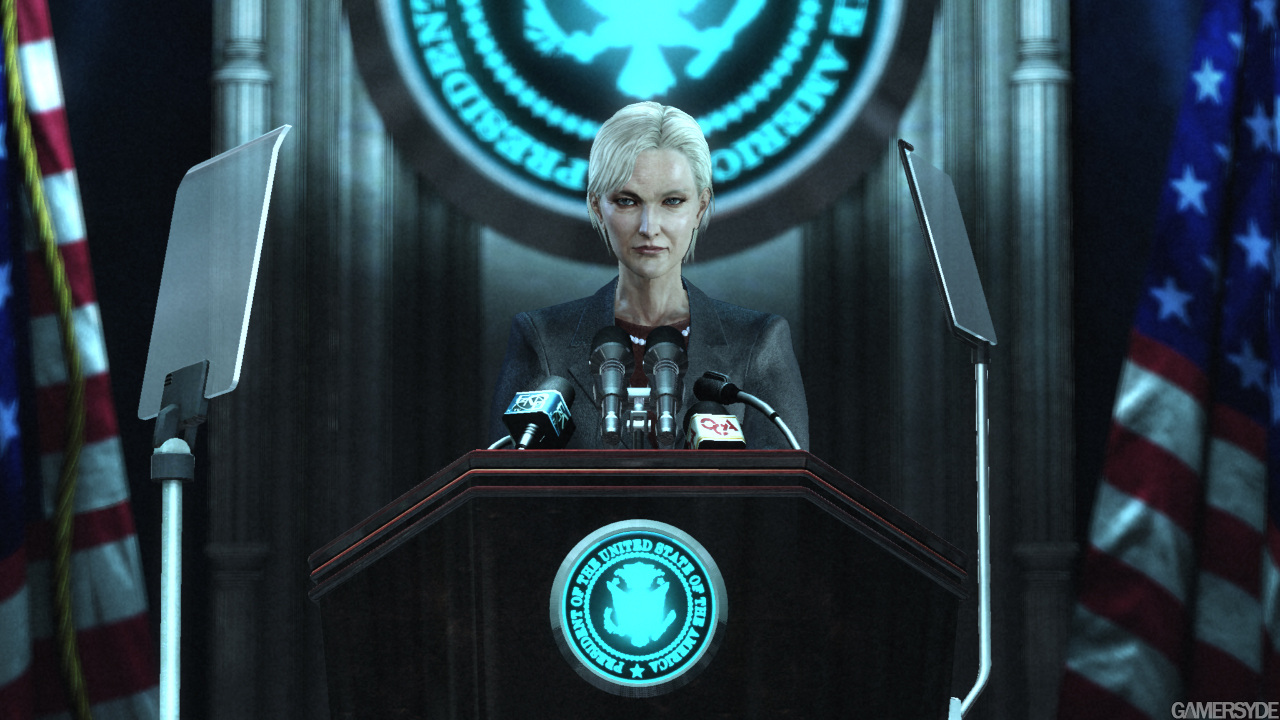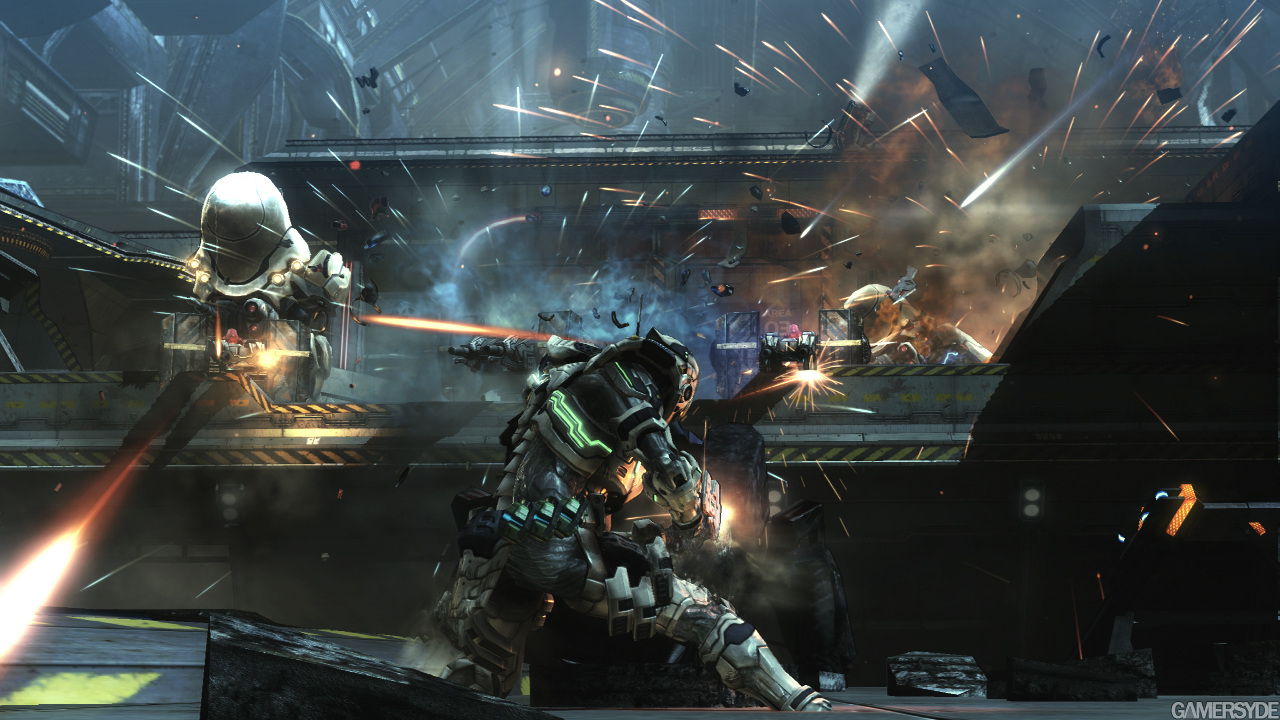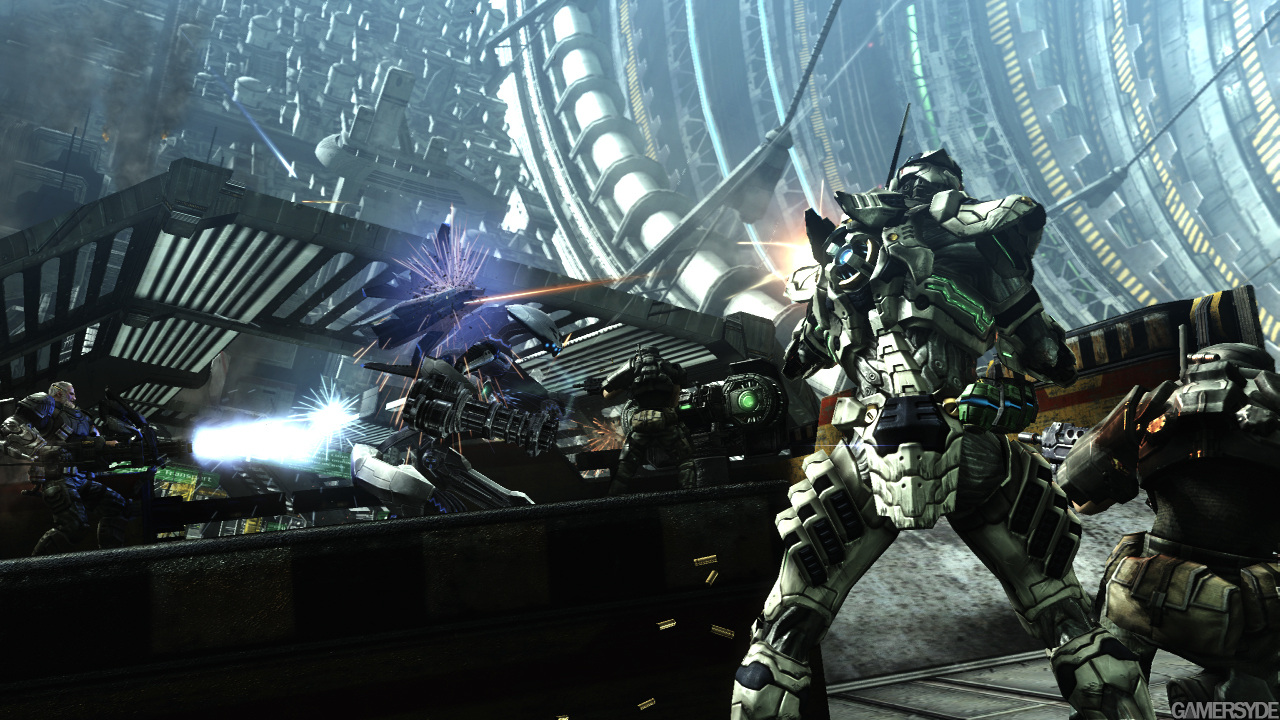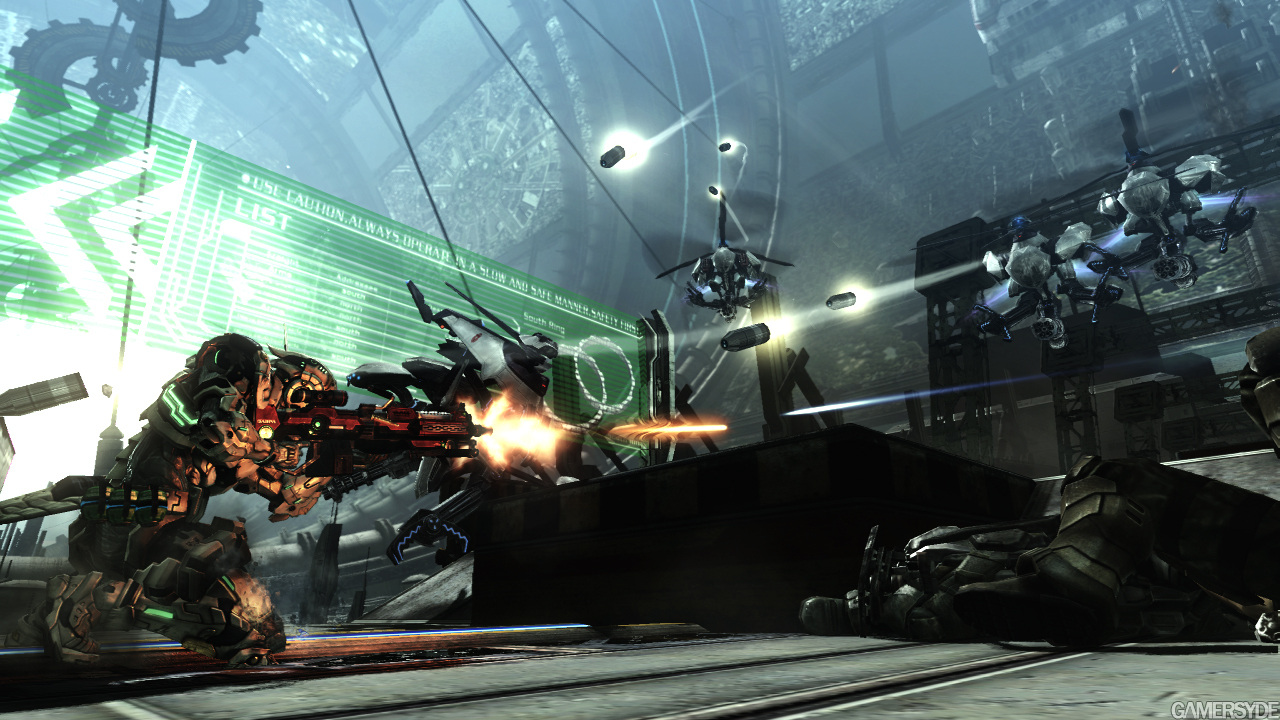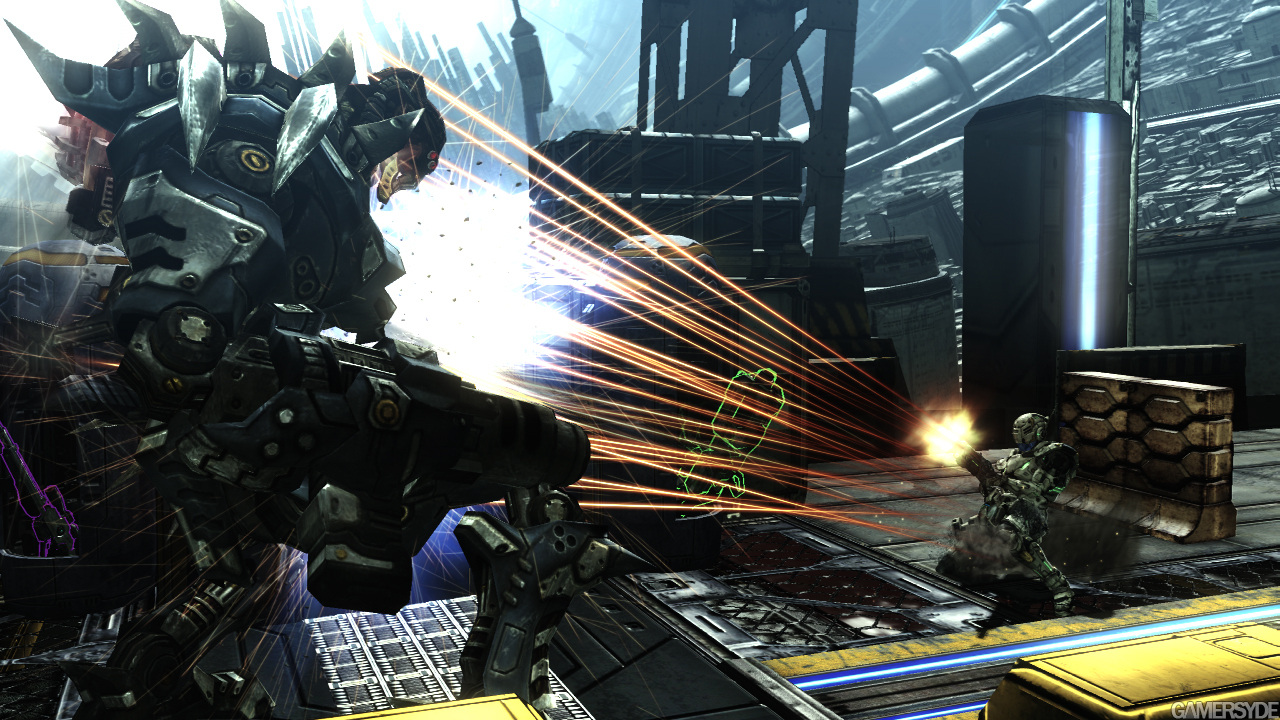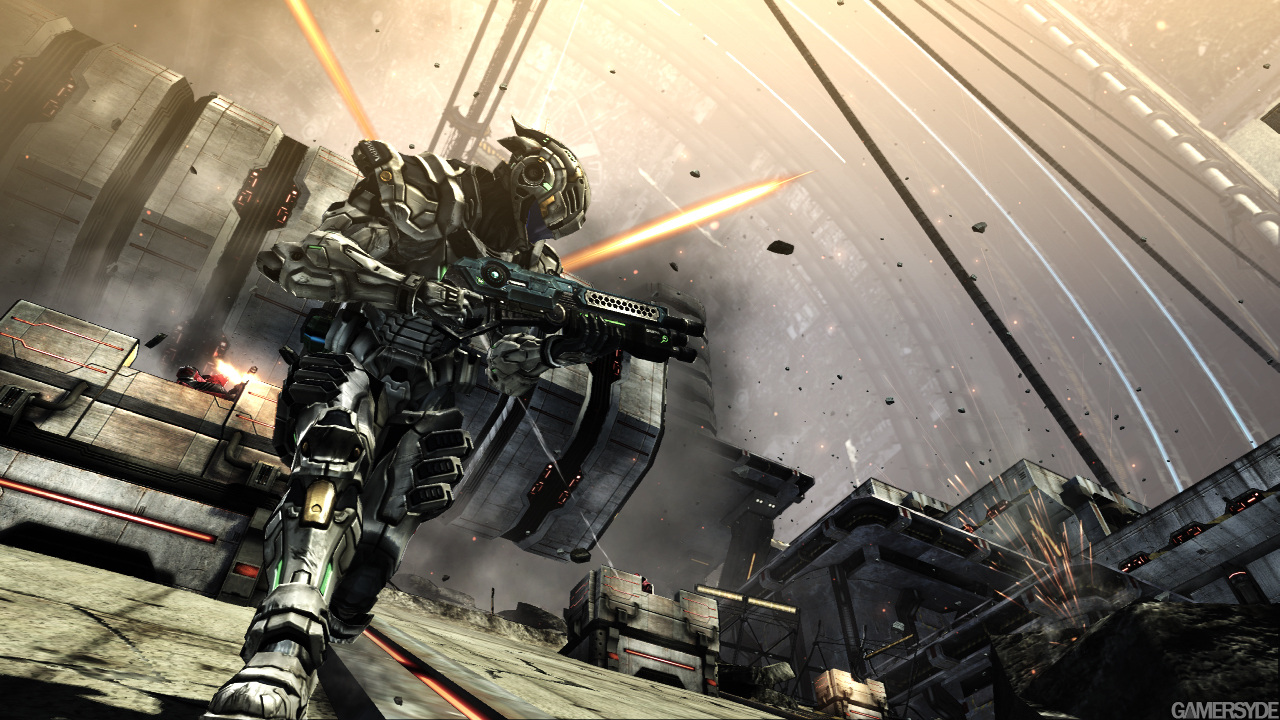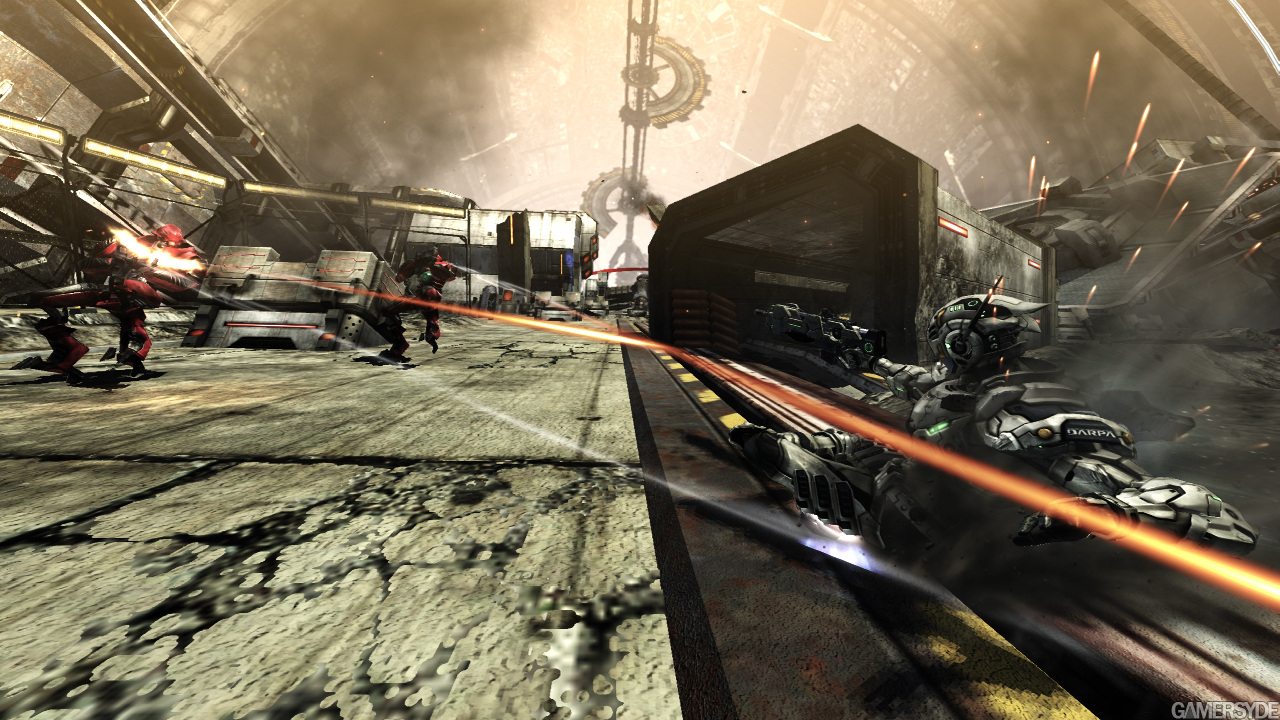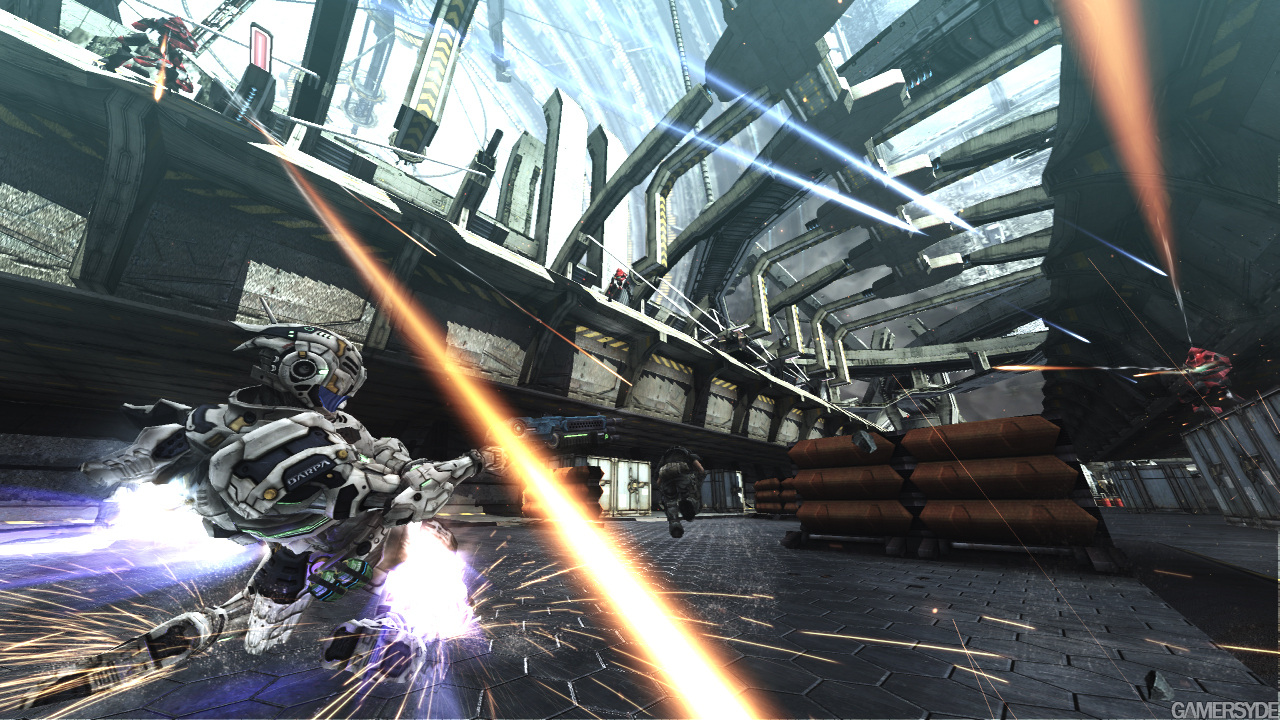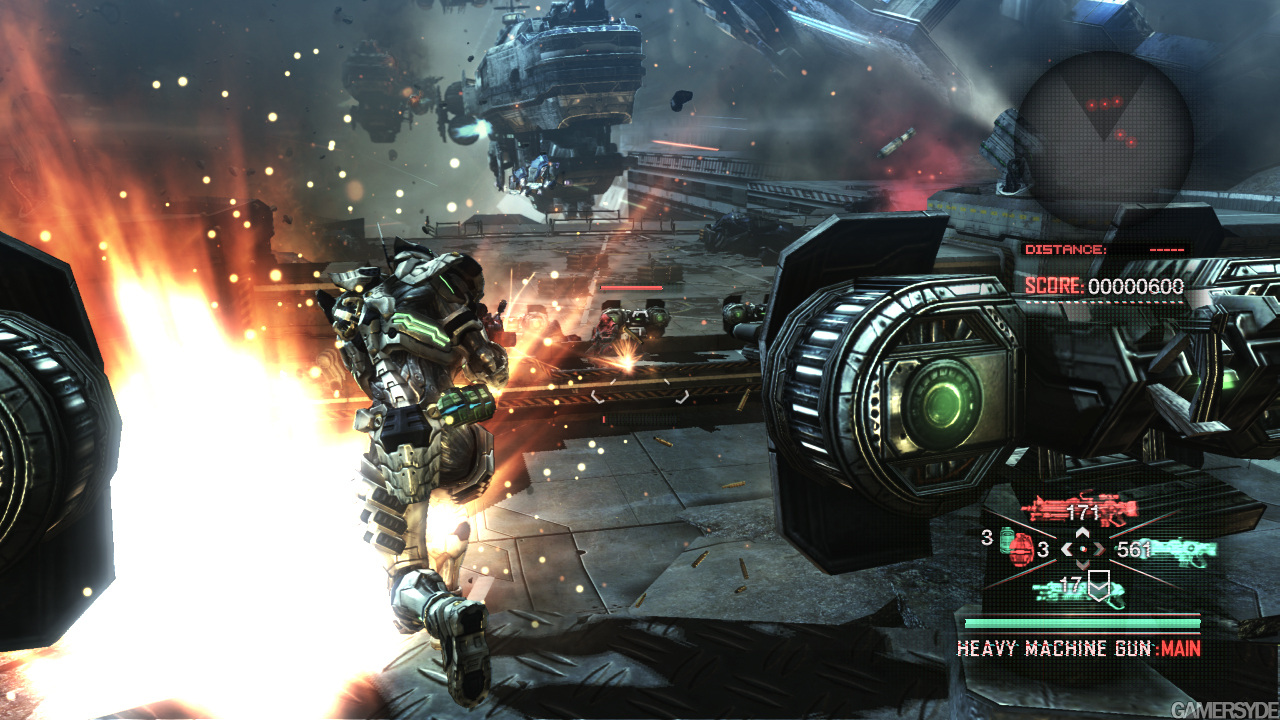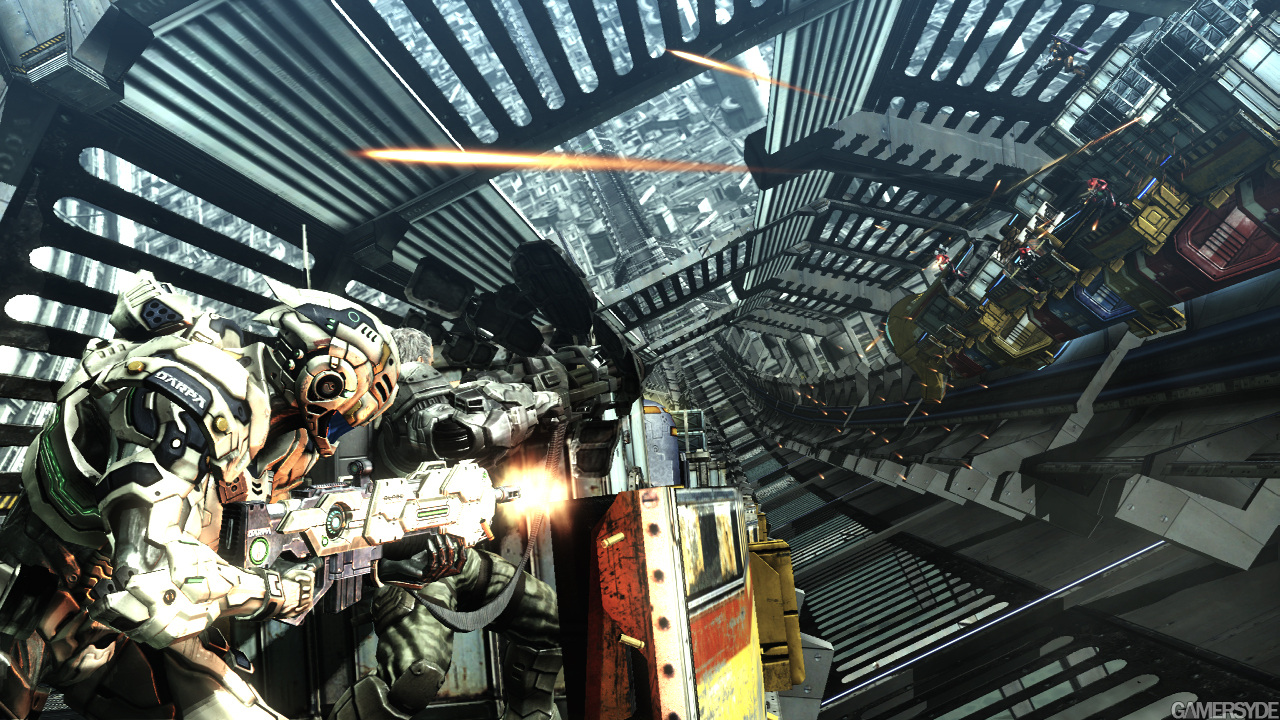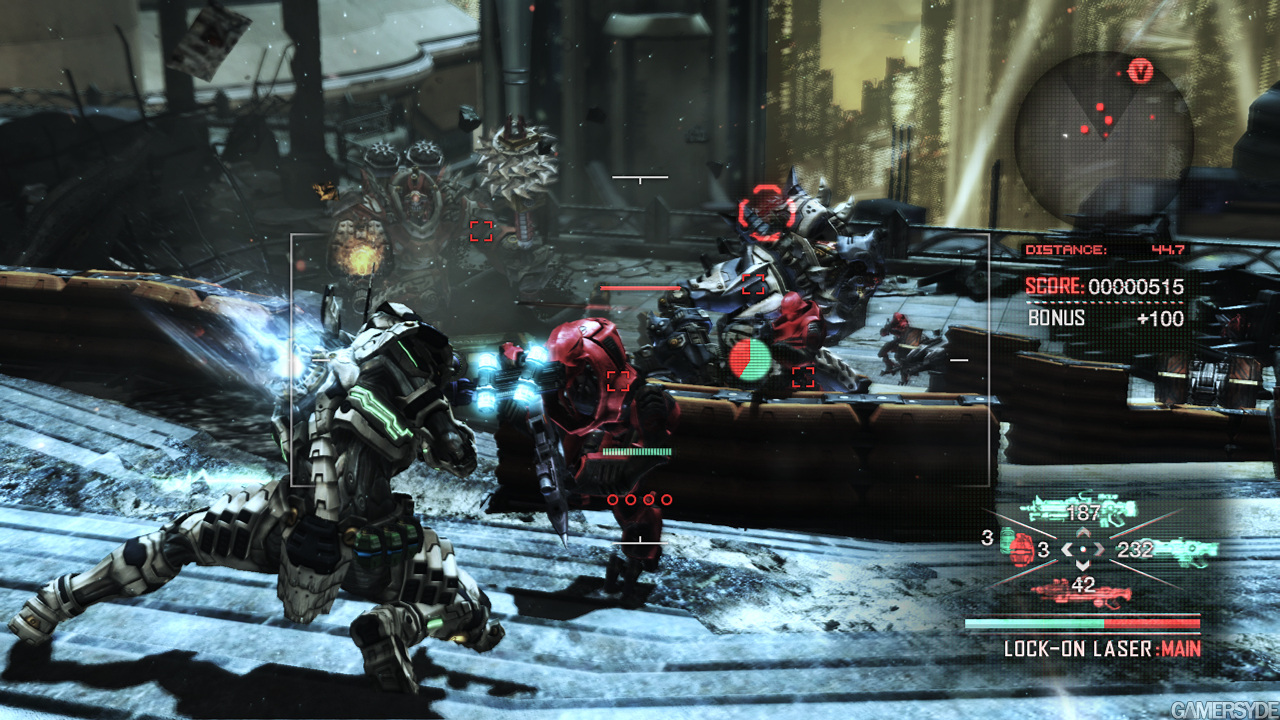 -------------------------------------------------------------------