He's a pretty swell guy in my books anyway.
Aug 30, 2005
22,609
0
0
34
Since one hasn't been started yet I'll do the honors this week... looks like something new is coming for PSU fans.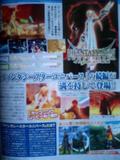 A PS2 version of GGXX Accent Core will be released on May 31st in Japan.
Sengoku Basara 2: Eiyuu Gaiden announced for PS2 & Wii.
Some scores:
Heroes of Mana - 9/8/8/7 (32/40)
Yoshi's Island DS - 9/7/8/8 (32/40)
Karas (DC) - 6/6/6/7 (25/30)