Developer -
Ostrich Banditos
| Publisher -
Adult Swim Games
$14.99, PC/Mac (
Steam
)
Launch Trailer
|
Interactive Trailer
---
Play the original flash game
Listen to the soundtrack from the original game here
---
Westerado: Double Barreled is Ostrich Banditos' homage to Spaghetti Westerns about dirty pasts, consequences and taking a hold of your future. When your family is murdered by a mysterious desperado, you set out into the world to take revenge. Take control of your own fate and that of others, all using your trusty shooting iron. If words aren't enough to persuade a character, draw your revolver and see what happens. You can shoot whomever, whenever you like. Be an outlaw or a saint, explore the open world, meet a varied cast of characters and decide how you want your revenge story to unfold.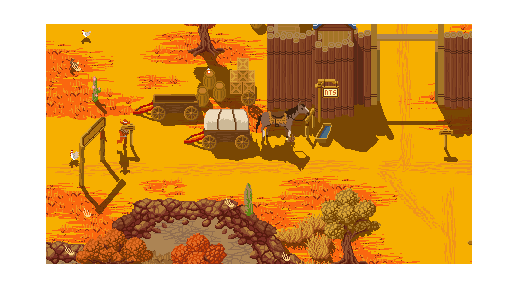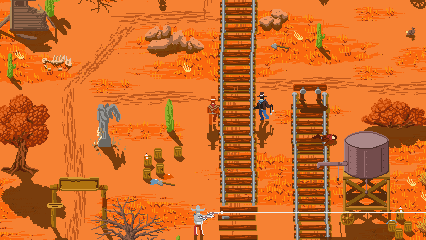 Hunt down the desperado that killed your family and explore the stories of the world's inhabitants. Discover all the possibilities and create a unique story each time you play.
Ride, shoot, and threaten your way through an expansive Wild West, expanded with all-new environments like the forest, desert and mountains.
Soak up the western sun in a world built out of the grittiest pixels this side of Montezuma, and an expanded western soundtrack, featuring live recorded banjos, trumpets, saloon pianos and more!
GUNS! Let your gun do the talking, by drawing and cocking it during any conversation. Shoot whoever you want, whenever you want, no exceptions. Pick your favorite weapon, whether it's a revolver, shotgun or even a tomahawk.
Multiple save slots to keep your progress across sessions and explore the splitting narrative.
Technical upgrades to include full controller support and 720p/1080p display resolutions.
Changes from the flash game
We basically reworked the game from the ground up, but it still has some similar content.

Biggest changes:
- World's at least triple the size of the browser version.
- You can get different guns! Shotgun, rifle, double revolver, tomahawks, bolas.
- Different playable characters you can unlock!
- New music to go with all new environments, such as forests, deserts and mountains.
- All new characters and existing characters have longer storylines.
- It feels waaaay better to play.
- Save games, full screen support, controller support and local 2-player coop!
Reviews
PC Gamer
-
83/100
If you're still miffed Red Dead Redemption never came to PC, Westerado: Double Barreled might help scratch that itch, albeit on a much smaller and simpler scale...
Otherwise, Westerado is fun, a humorous and violent detective tale in the Old West. It's well written, the pixel art and animation are nicely done, and the fact that you can draw your gun whenever you want, and that you can shoot key characters dead and just keep on playing, gives it a great sense of freedom.
More to be added soon