Mar 18, 2020
9,795
24,125
980
Similarly to the large majority of you, the media I enjoy plays a major part in my life. I couldn't imagine wasting my days away on sites like NeoGAF if that weren't the case.
There are three obvious favorites I have. I say obvious because I never shut the hell up about them.
The Buffyverse (Buffy the Vampire Slayer/Angel)​
​
​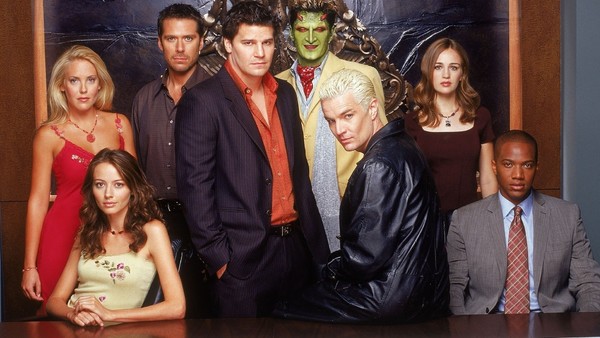 As a lover of both horror movies, and late 90s and early 2000's youth culture, BtVS/Angel are a perfectly attuned to my interests. Wrapped neatly in a WB/UPN friendly package, nearly every episode is not only exploding with macabre themes, but romance, action, and comedy as well. To me, they're the perfect punch of everything one could turn to television or movies for. Apart from that, the writing is phenomenal as each episode takes twists and turns which aren't afraid to put its sultry young stars in peril repeatedly. Characters are all not only distinct and memorable, but bursting at the seams with amiability. The writing is sharp, and self aware, and only strengthened by the charm of the mid-budget special effects of their respective era. An absolute love letter to horror, science fiction, television in general: BtVS and Angel stand above giants. I can re-watch these endlessly.
Deftones
Deftones, the perfect band. Taking my pre-teen nu metal loving roots and filtering them through a shoegazey, post-rock, dream pop filter on each album is no small feat. The serene tones of Chino Moreno's soothing croons dance so delicately with the amazingly heavy riffage of Stephen Carpenter backing them up. Not lacking whatsoever is the tight and polyrhythmic drum blasts of Abe Cunningham and Sergio Vega's bassy booms (RIP Chi) completing the rhythm section of the band. Last but not least, you have Frank Delgado complimenting the band's overall mixture of beauty and rage with his atmospheric keyboard and turntable stylings. Nearly impossible to place a genre label on throughout their career, Deftones never fail to impress.
Tekken
Few games contain the amount of endless depth which Tekken does. The undisputed king of 3D fighters. Even other fighting game communities tip their hats to Tekken fans based upon the intricacies of the game itself. Like any great game, it can be played as simply or as complex as you'd like. All the characters are so damn cool, and the OST never fails to represent. With multiple characters having over 100 unique moves in their arsenal, learning matchups is a must for this insanely advanced game of footsies and highs, mediums, and lows. You could spend hundreds of hours with this game and still have something new to learn while studying new matchups or situations. Everything about Tekken is so damn cool, man. I adore it.
​
Like a far nerdier version of Captain Ahab, these three things are the stupid whale which bit off my leg, except I've finally caught them as opposed to them being root of my demise. While watching Buffy/Angel, listening to Deftones, or playing Tekken - I enjoy myself so much that I genuinely question why I even bother watching other movies/tv, listening to other bands, or playing other games. The way which these things scratch my itch almost feels like they're giving my brain a blowjob or something lmao. I try to talk to others about this sort of thing, and they really don't seem to fully grasp it - obviously they have preferences of their own.
For me, these three things are the crème de la crème of each of their respective mediums. So much so, that it sorta makes me dislike other things simply for not being one of these. Apart from a beautiful woman, I can think of nothing I enjoy more than these.
Tl;dr
HOW ABOUT YOU?! What is your crème de la crème of all media and why?!