I've been fascinated with conspiracy theories for a long time. Don't get me wrong - I don't believe in a single one - but they're just so creative and make for such entertaining reading. Earlier today I was browsing Above Top Secret and peeked into their Fukushima thread and stumbled on this gem:
I truly believe that this is the single most momentous event that has happened, or will happen, in my lifetime, short of WWIII. In fact, I believe my own lifetime has been shortened because of it.
I think this illustrates why I'm so fascinated with them. They offer an entirely alternative reality, a whole fictional universe - except people think they actually live in it! The comment I quoted above doesn't just take as granted that Fukushima is a cover up of global proportions (that's the point of their thread after all), what grabbed me is the suggestion that WWIII either is guaranteed to happen or has
already
happened. Maybe the poster didn't mean it that way, but that's the thing: when you jump into the conspiracy mindset everything and anything is possible.
So which are your favourite conspiracy theories, and why? I'll post three of mine.
First up: HAARP!
Why? Because it's a cool Sci-Fi concept that's surprisingly accepted even by people who aren't completely devoted to the CT subculture. But most of all: the truth about what HAARP was is just so innocent.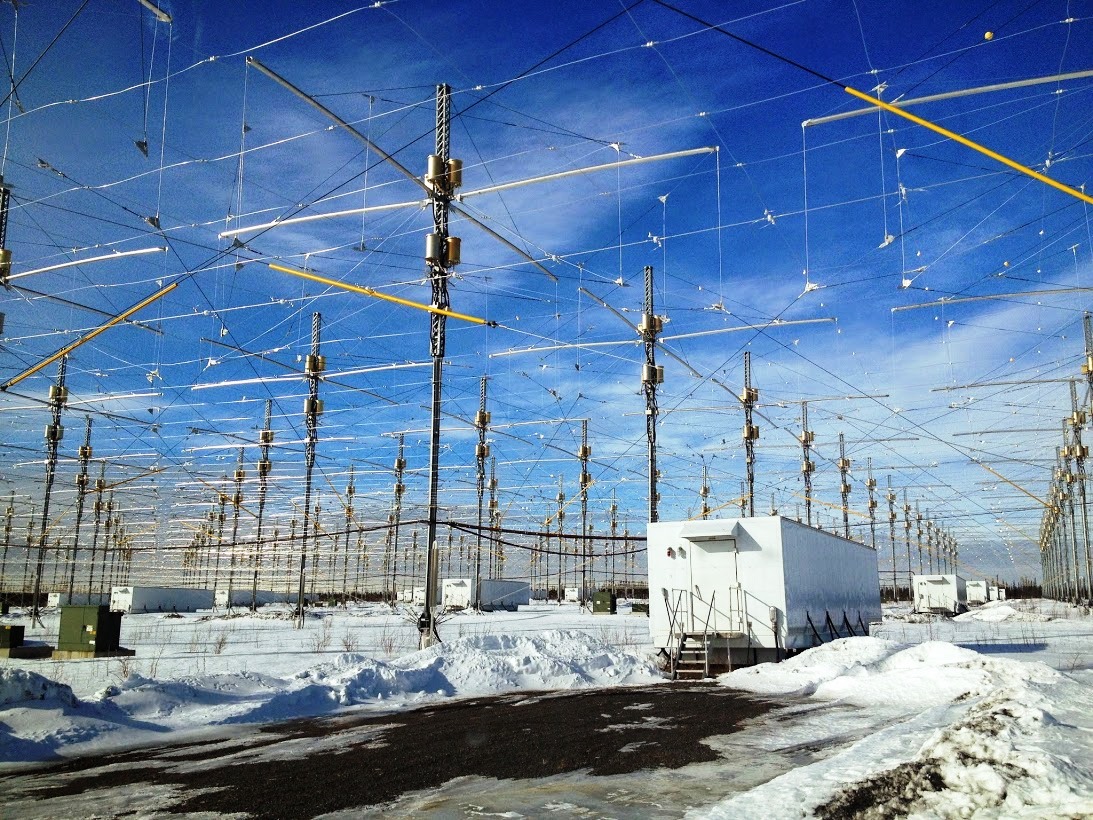 On some level I can see why HAARP got as much traction as it did. Firstly, it was run by the Air Force, it just looks weird and it's located far away from civilization. Secondly, its real function was kind of abstract. Thirdly, it's just such a multifunctional theory! Among other things HAARP has been accused of being an earthquake machine that caused the 2011 tsunami, a weather control device, a mind control weapon/and or pacification device, a missile shield, a defence against/for communication with/built by aliens, a device that's causing/countering global warming and in some way shape or form connected to chemtrails (because at the end of the day, what
isn't
connected to chemtrails?)
So what was HAARP actually used for?
That's one example. Uh, like I said. It's a little abstract. It was basically altering the local ionosphere in order to study it. And it really was innocuous: it was even open to the public for field trips in the summer. The reason I'm referring to it in the past sense is that it was shut down earlier this year. The facility is being transferred to the University of Alaska Fairbanks now so if people are still suspicious I guess they can just give them a call. And no, I don't think this fact will prevent it from continuing to be featured in future theories.
Next up: The Black Knight
Why? It's
another
cool Sci-Fi concept and it looks
really
mysterious and surprisingly plausible at first glance! And the name is just awesome. Props to whoever coined it.
It looks like something straight out of Mass Effect or a space horror movie. Now, technically the Black Knight isn't always presented as a conspiracy theory because at times the tale is spun more in the way of no one knowing what it is. Still, it belongs in the CT subculture and it's usually claimed that NASA is trying to keep it covered up. The general gist of the story goes like this: it's up there right now, it's black, it pre-dates human space travel and it's most likely an alien construction of some kind. An alien spy satellite, an alien space station or a derelict alien spacecraft thousands of years old - the details vary. I'm sure there are theories about it being Nazi, NSA or Soviet too but they aren't as interesting.
So what is it really? No one knows. Well, that's not strictly accurate: it's more like no one is really sure if it actually exists. The object on that photo is generally accepted to be a thermal blanket from the shuttle that took the photo, but the original myth goes back a very long time and includes everything from sightings to unknown radio signals to strange radar echoes. It has basically morphed into a catch-all theory for anything resembling a ghost satellite despite the claims not being connected at all, which makes it largely immune to debunking. But it's a fairly harmless - and cool - theory, so I don't really mind. The Black Knight will probably stay in the CT orbit for some time longer.
Finally: CERN.
Why? Remember the people freaking out about the Large Hadron Collider creating a black hole back in 2008 when it was coming online? Those people have nothing to do with
this
theory. This theory is much more entertaining. It's about CERN actually being a project to open a gate to hell.
Unlike the previous theories I'm not going to spoil this one by over-explaining. It's too good for that. This one needs to be
experienced
. So with that in mind, let me just present you a sample of pictures and videos for you to explore:
https://www.youtube.com/watch?v=-4F-IS0-Z_g
https://www.youtube.com/watch?v=PRvUmwz_A-U
https://www.youtube.com/watch?v=JuPRDUSfwKk
So what is CERN really? I'm pretty sure you already know the official story.
Me, I'm pretty sure it's just a front for making the world's craziest dance videos.
So what's your favourite conspiracy theory?