On aspect of a lot of modern shooters I've never quite liked is their tendency of having a progression system based on unlocking new weapons and abilities.
I really like the idea of everyone starting a match on even ground, and so the concept of giving better (or at least more experienced) players better gear has never made sense to me. Being new to a game and facing players that know the maps and are more experienced with the gameplay is already a big (but fair) disadvantage, so I don't think we also need to give them better (or more) weapons, skills and abilities.
I played a ton of Halo back in the day and one thing I always like about those games (but it's in no way exclusive to them) and that I feel has been lost in several shooters is the concept of everyone spawning with the same weapons, skills and damage output. Stronger weapons spawned on the map and so obviously more experienced players knew where to go get them which gave them an advantage, but even during my first game I also had a chance to go get the same rocket launcher or shotgun and , maybe more importantly, once I got a weapon it worked the same as for more experienced players. Their shotgun didn't have a higher fire rate and their missile launcher didn't have a larger blast radius.
Now, I've mentioned this to some friends and also online and people always tell me that it all comes down to progression. That modern games need this "carrot on stick" type of design to keep player engaged.
Another argument I've seen a lot is that you are often just unlocking different weapons, not really better ones. But I think that depending on the game having different weapons is also an advantage, in Battlefield I tend to change my loadout depending on the map, so I might use one weapon in maps that have a lot of close quarter encounters and another in maps with wide open spaces.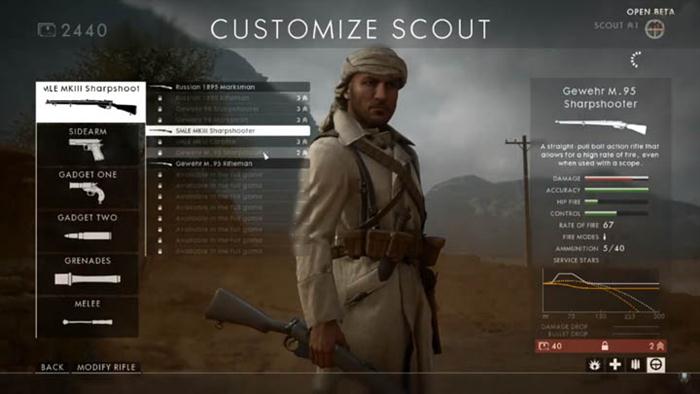 Are you really going to tell me that someone who has all of those weapons with all of their attachments doesn't have an advantage over someone who has 2?
I guess it's probably true that games need their "carrot on a stick", but does it need to be weapons and skills?
I look at some of the most popular multiplayer games out there and one thing I tend to notice is that a lot of them actually have an even ground.
-
Dota
and
LOL
are all about starting every game at lv 1 and powering up your character with items which are available to everyone
-Cars in
Rocket legue
have different hitboxes but you can't upgrade their features (outside of cosmetics). My car after 200 hours is the same as the one of someone who just got the game (provided he is using the same model)
-The new
Battle Royale
genre seems to also be all about dropping everyone naked into a big battleground. With the weapons and gear you get based on luck and skill and not simply something you have unlocked for having been playing a long time.
It seems to me that there are plenty of ways to have a "carrot on a stick" without locking away all weapons behind hours of grind.
- Having Ranked Games, with clear ranking tiers and seasons which reset the ranks and reward you for your position is one. I'm still playing Rocket Legue because on one side It's really fun and on the other I someday want to go beyond gold rank (I'm just not very good lol)
- Cosmetics. Correct me if I'm wrong since I haven't played the game but it was to my understanding that in Fortnight you can collect a sort of in game currency to unlock skins and a variety of cosmetic items. I was just listening to a Easy Allies podcast the other day where one of them was saying how he liked that system and felt like losing or winning he he was always working towards something
So. What do you say GAF.
Do you like weapons, gear and upgrades being tied to progression? Do you think that, for example, you'd enjoy the next Battlefield less if you had all weapons from the start?
Do you prefer Cosmetics or like the idea of ranks? Or do you have some other idea you'd like to see implemented in more games?