EDIT 2:
H A P P E N I N G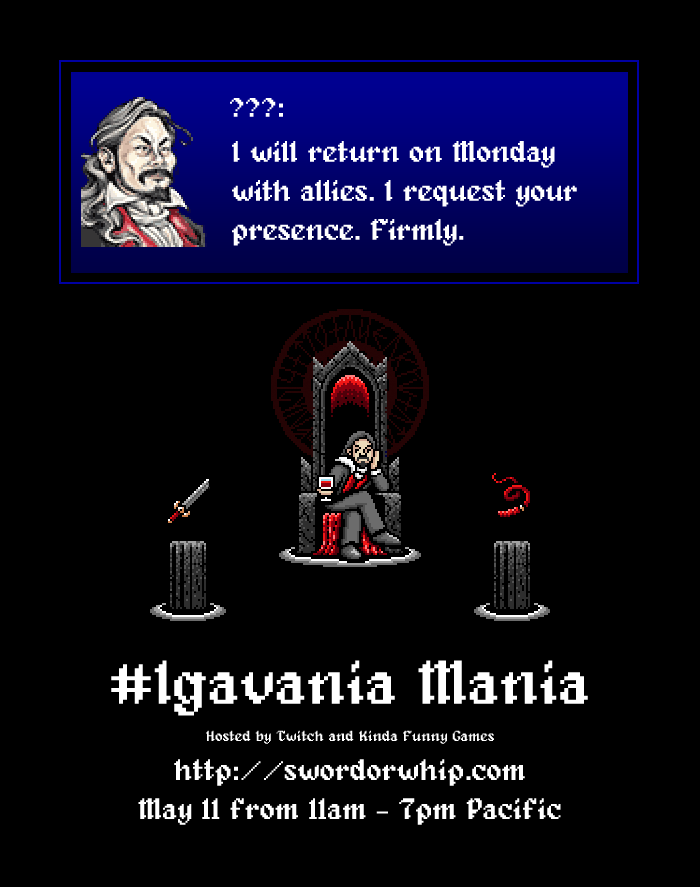 EDIT:
Teaser site is
launched
. The full reveal looks to be happening May 11th.
As per the request of the
thread
where this information started to surface, it would appear to warrant a new thread. I will do my best to explain in depth what appears to be going on regarding this entire endeavour.
Back in September, during the Mighty No 9 event at PAX, the following image was circulated, implied to be a game from Koji Igarashi, who left Konami that past March. I will be posting both the front and the back of it, as the back plays a more recent role.
his dream game would be on hold
. Seeing as this teased game did
not
get a KickStarter, it could be reasonably deduced that this project was the work of Koji Igarashi.
All seemed silent on the matter up until yesterday, and the timing for that is rather impeccable. If first started with the Twitter account
Quarterwomann
suddenly becoming active again, posting tweets that show a pentagram which also mentions 'Rune translations', while also mentioning the words 'gold' and 'lead' in such a way that seems deliberate; in the teaser image from PAX, the character of the game is apparently an alchemist, and would very easily use materials such as gold and lead in the art of alchemy.
The ride gets a little deeper as on two different Castlevania fan forums - The Castlevania Dungeon and the Chapel of Resonance - got posts from a user by the name of IGAVANIA, who also teased the earlier game. Each site was given half of an image, and both posts had the following message:
The first sign rises with the full moon.
Soon, I will return.​
The image combined below shows the pentagram from the PAX image, complete with a whip, synonymous with Castlevania. The following is the combination of the two images.
May 4th,
by the UTC timezone. If the message was about a reveal, and all of this pans out, that would fall on this Monday.
Either all of this is a considerable ruse ala Rayman in Smash 4, or we could finally be witnessing the reveal of Koji Igarashi's Castlevania successor. And I think the story would be fitting if true; like the Dark Lord Dracula and his castle, here we are, witnessing the revival and return of something once thought defeated and dead.
EDIT: Apparently the IGAVANIA and Quarterwomann accounts use the same email address, and seeing as Quarterwomann is linked to the PAX reveal, all of these teases are legitimate. Something
is
happening.