Haven't been on GAF 1 day so I may have missed this but umm..
Wtf is this?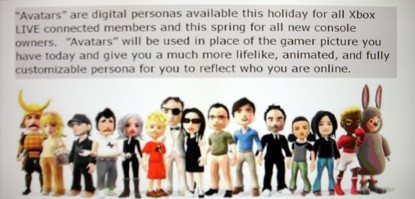 -edit0
yeah link :
http://www.xbox360fanboy.com/2008/06/15/rumor-avatars-are-microsoft-take-on-miis/
Haha forget the avatars, this thread is all about leaks now!
We got everything from this website, where the avatar pic came from :
http://management.intellisponse.com/imgfiles.nsf/0/86b99ee556fcc351852574630058e194/
just omit the ?OpenDocument&login part of the url.
Then click the MARE-7F9TL4.swf thing
-Guitar Hero 4 to cost 179.99 with instruments.

GH4 guitar:

New guitar sets you free: New touch-sensitive guitar Neck Slide opens up the entire guitar neck for unbound solos - shred how you want.

Some artists for GH4:

Jimi Hendrix, The Doors, Foo Fighters, Smashing Pumpkins, Korn, System of a Down, Ozzy Osbourne, Interpol, Muse "and dozens more".
-Lips is a music and singing game that includes 30 songs, 2 wireless interactive microphones, the ability to use and sing your own music or downloaded songs from an online service. Designed to have fun with friends, Lips scores you on your singing (pitch, rhythm, and tune) and overall performance.

Wireless mics are interactive, with lights on the shaft of the microphone that pulse to the rhythm of your voice, and motion sensors that allow you to dance, move or swing to score points.

Take songs from a CD or your ipod, and upload them into the game. The game will reduce the vocals so you can sing along and be heard, and score on whether you're in tune. Lyrics can also be added directly into the song to sing along.\

-
Tony Hawks Huck Jam uses a motion sensing board controller PS3 and 360,
Trioxide:

"Introducing the ability to play the latest console games (i.e. Xbox 360, PS3, Wii, etc.) on your PC. Many of these games are only available on consoles today and with this new feature would now be available on the PC as well. With this new feature those console games are now playable on your PC!

- Uses the same game controllers as the original console system (all games use regular console controllers, not your computer keyboard or mouse.)"
Avatars : With hundreds of clothing options to choose from your 'Avatar' can truly reflect you each and every day!

Spend a few minutes or a few hours building and outfitting your 'Avatar' to reflect the real you. The choice is yours.

Your 'Avatar' will represent you as you jump into various arcade and retail games. You'll be playing in the games!
Scene It? Pop Culture Edition - trivia challenges about movie, music and pop culture.

and some other games on that site
- Extreme Makeover: Home Edition (Wii/NDS)
- Gossip Girl (Wii/NDS)
- Ultimate Band (Wii/PS3/X360) - another band game?
Wii Yoga.

"Follow along with an inspirational yoga guru instructor matching their on-screen poses, stretches and triangular positions with the motion sensing Wii controller and balance board."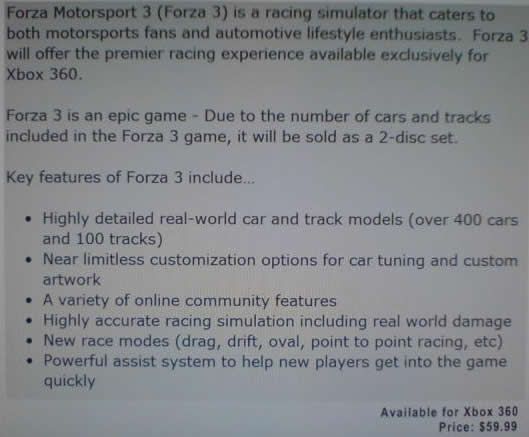 Marvel Ultimate Alliance 2:
Spider-Man VS. Marvel Zombies:
Transformers 2:
Skateboard peripheral using Tony Hawk:
Balance Board using Spider-Man game:
Call of Duty 5:
Spider-Man Web of Shadows:
Forza 3:
Ultimate Band for Wii
movie
There is a game called 'Crucible'.

There's a video, and the game looks pretty complete. It's an action adventure game
Credits to all who discovered everything