Jun 7, 2004
30,398
1
0
37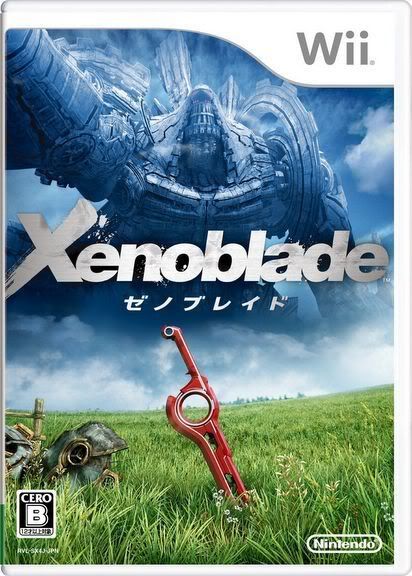 Release Date: June 10th (JPN), TBD (US), TBD (EU)
Developer: Monolith Soft
Publisher: Nintendo
Genre: RPG
Reviews: 9/9/9/9 (Famitsu)
Intro
-------
This is going to be different than your usual |OT|
This OP will not tell you about the story of the game
You won't learn anything about the characters in the game
It will not teach you anything about the gameplay beyond that it plays sort of like FFXII
If you want to know these things, this trailer covers about everything:
http://www.youtube.com/watch?v=WQppye_A7yg
The reason is simply because going into a game by any great game creator, the less you know the more you'll enjoy the experience and be pleasantly surprised.
Instead I'm going to talk about why Xenoblade is likely going to be a game worth your time.
Staff
-------
Xenoblade is a game by the talented folk at Monolith Soft who have worked on great games like Xenogears, Xenosaga, Baten Kaitos, Soma Bringer, Disaster Day of Crisis.
The Supervising Director
Tetsuya Takahashi is the man well known to rpg fans around the world. The games he has created and directed or directly overseen have been Xenogears, Xenosaga, Xenosaga Pied Piper (cellphone), and Soma Bringer.
Xenogears was one of SquareEnix's best selling PS1 games and holds a special place in the heart of many gamers. It's fantastic mix of grand scope, kung-fu, robots, and religion created an rpg that still holds up today and it's companion book Xenogears Perfect Works tells an epic story of a universe so big that it would have taken six games to eventually tell (Xenogears being the 5th game in the story).
Xenosaga was a re-envisioning of the Xenogears Perfect Works Episode 1 story that was a hit for Namco and delivered one of the most fascinating ensemble of characters and story beginnings in a jrpg. Unforunately after Episode I, there were major control development issues between Takahahi and Namco and as a result Episode II was done without him and was terrible. He reconciled somewhat with Namco and helped out for Episode III, but by then the franchise was not the franchise he had created and he did not direct or produce the game but only assisted in the scenario trying to scrape together what Ep II had destroyed into a resemblance of his original storyline.
With Soma Bringer, Takahashi didn't direct the title. But he created the story, designed the game and was the overall producer, so it was pretty much a full Takahashi game. Though it never received a western release and Nintendo failed to market it properly leading to low sales, still the game was met by positive reception by players in Japan, and through the work of a fan-translation currently available, US players as well. Soma Bringer diverged from the turn-based rpg that Xenogears & Xenosaga EpI were and instead was a Diablo-style loot game with a fantastic worldview, characters, and story that were up to the standards of Takahashi's other created worlds & characters. If you haven't had a chance to play it, I would strongly recommend purchasing the import version and then doing whatever is needed to use the fan-translation and enjoy the game in English. The gameplay is fun, the music impressive and the writing is superb.
The Director
These days it seems that while Takahashi creates the worlds and stories and overall game design from a supervising position, he lets other people handle the hands on day to day game direction. For instance Soma Bringer was directed by Shingo Kawabata. This time around, Koh Kojima is the director. Koh Kojima original started at Monolith Soft as a support writer in Xenosaga Episode 1 and Baten Kaitos, he then elevated to lead writer for Baten Kaitos Origins as the staff must have been very impressed by his material. BKO's writing was well received by players and Kojima's next stop was as lead designer and one of the level designers for Disaster: Day of Crisis. He gravitation toward design action elements in Disaster may have led to his current position of director for Xenoblade.
The Writers
While Takahashi's three main titles have arguably had the most intelligent and well-written stories and characters seen to date from Japan, giving only Tetsuya Takahashi credit for these great tales would be a mistake. Tetsuya's wife Soraya Saga (penname) has been there all along since Xenogears as a main scenario and screenplay writer. Being married, obviously the two are close and so it's difficult to separate who is responsible for what. Overall Soraya & Tetsuya are a world creating, game writing team where even if only one is credited for a title, both likely have heavy input on the scenario. For instance Tetsuya gets main writing credit for Xenogears, Soraya for Xenosaga, Soma Bringer and now Tetsuya for Xenoblade again (although Soraya's profile has been saying she's been writing for an unannounced rpg for a while now, so it's not known if she means Xenoblade and just hasn't updated her bio). Soraya is also a great character designer/artist (
http://soraya.jp/)
. Duckroll even met her in person once!
Assisting Takahashi in Xenoblade is Yuichiro Takeda. While some might wondering if having another writer means the script will lose some of that Takahashi/Soraya feel, it's worth noting that in Xenogears, Xenosaga there were always multiple writers helping out in addition to them. And Takeda should be fantastic as a co-writer. The man's credits include helping write the screenplay of the highly intelligent and well-written Banner of the Stars anime adaptation, co-writer on one of the best original anime screenplays of the 1990s "Infinite Ryvius", and co-writer of the TV adaptation of OAV GaoGaiGar Final. So having worked on scripts with great writing, characters, and robots, he should bring some good writing into the mix with Takahashi.
The Artists
This will be updated as I don't know who is doing the character designs. I am going to take a guess and say it is Tadahiro Usada who did them for Soma Bringer. Unfortunately the amazingly talented artist pair of Kunihiko Tanaka & Yasuyuki Honne who brought us the character, mechanical and world designs of Xenogears and Xenosaga seem to have diverged from Takahashi's recent projects and instead Takahashi used Tonny Waiman Koo as the general art director in Soma Bringer and possibly here as well. Koo is an ex-Squaresoft background artist who created some great visuals in FFXI and FFXII.
The Composers
When you say Tetsuya Takahashi game, the first thing many think of is Yasunori Mitsuda, one of the finest composers in Japan. This is reasonable since Takahashi and Mitsuda are good friends and Mitsuda has composed the score to all three of Takahashi's main games. This time around the musical feel will be different. While Mitsuda is still composing the main theme song to the game (similar to how Uematsu still composed the main song for FFXII), Yoko Shimomura is composing along with smaller artists new to the game music scene: ACE+ and Minami Kiyota who are part of Dog Ear Records (the record label of Nobuo Uematsu of Final Fantasy fame). Yoko Shimomura is a fantastic artist who has composed for some of the Mana franchise, the Kingdom Hearts franchise, Little King's Story, Mario RPGs, and is currently composing for FFXIII Versus & Capcom's The Last Ranker. Shimomura has good range and goes from fun adventuring music, to exciting battle themes, to highly emotional drama pieces when needed. So even without Mitsuda at the helm, it's likely that the Takahashi & Shimomura pairing will create a fantastic soundtrack that lives up to the Takahashi x Mitsuda collaborations.
Also worth noting is that while Takahashi/Mitsuda's previous games have featured 2 discs worth of music each, Xenoblade will be a full 4 disc soundtrack possibly giving a hint to how large of an adventure we gamers are in for. The soundtrack will be available on June 23rd for about $40 US.
Outro
-------
There you have it. Xenoblade's staff is a collaboration of some of the finest talent in Japan. Every 3-5 years Tetsuya Takahashi comes back and gives players a chance to explore an rich and detailed universe full of well written characters, cool robots, and breathtaking environments to explore with lovely music accompanying. In less than a week in Japan (and hopefully later this year for the US) his next adventure begins.
Have you booked your ticket?