Oct 6, 2018
3,650
8,152
700
Translation of the
official Yakuza 7 website
from
Gematsu
:
■ Introduction
The latest numbered entry in the
Yakuza
series for PlayStation 4, this is the story of new protagonist Ichiban Kasuga. In the new setting of Isezaki Ijincho in Yokohama, the story of the hot-blooded thugs stirred up by Ichiban Kasuga will begin.
If the protagonist changes, so does the gameplay. This is a new
Yakuza
experience!
New protagonist Ichiban Kasuga changes not only the story of the game, but also how you play.
■ Story
Protagonist Ichiban Kasuga makes his way up from the depths of despair. Depicted until the becoming of a new "Dragon," this is the ultimate story of overcoming the higher ranked and rising to new heights. The future is in your hands!
January 1, 2001. The yakuza Ichiban Kasuga, who belongs to third generation family of the Tojo Clan—the Arakawa Family—was asked to take the fall for the crimes of wakagashira Jo Sawashiro by his boss Masumi Arakawa, which he agreed to do. For the family that he loves, for the respect of his boss… Kasuga served 18 years in a strict penitentiary, and in 2019, was finally released.
However, there was no one there to greet him upon his release.
With no one to welcome him, Kasuga returned to his hometown of Kamurocho. But the Kamurocho was not the Kamurocho that Kasuga once knew.
Thanks to a police policy known as the "Kamurocho 3K Operation," the Tojo Clan had fallen. The police and the Omi Alliance of Kansai yakuza had completely taken over. And the one who created this new Kamurocho was none other than Masumi Arakawa.
"How could the boss do something like this!?"
In order to ascertain the truth for himself, Kasuga went to go see Masumi Arakawa.
After getting past obstacles like Omi Alliance members and his former superior Sawashiro, Kasuga manages to make his way to Masumi Arakawa.
"Boss!"
A reunion 18 years in the making with the "Boss" he loved like a father, the yakuza he admired—But what awaited him there was not the smiling face of a reunion, but rather the cold barrel of a gun.
"I'm sorry, Ichi… you need to die."
The gunshot echoed. Kasuga's vision dimmed—.
"Wha….!"
While wandering the depths of life or death, Kasuga somehow regained consciousness. But when he came to, he was at a dumpsite in homeless town lined with cardboard houses.
"…Where am I?"
Kasuga's question is answered by a homeless man.
"Ijincho… Isezaki Ijincho. This is Yokohama. Got that? Yokohama."
■ Battle
"Live command RPG battles" bring the fight of the "Dragon" to a new stage!
Yakuza 7
uses a "live command RPG battle" system that combines the series' signature action with an RPG command system. It has evolved into a system in which anyone can easily enjoy exhilarating battles. In this completely new battle system, Ichiban Kasuga and his party will fight by selecting techniques with various effects such as attack, recovery, support, and more. Enjoy immersive and dynamic battles against all sorts of enemies.
■ Adventure
A new setting: Isezaki Ijincho in Yokohama!
Yakuza 7
is set in the huge new area of Isezaki Ijincho in Yokohama, which is more than three times the size of Kamurocho in Tokyo. In Yokohama, where every place has different faces, a grand story will unfold.
■ Characters
Ichiban Kasuga (2000 version) (voiced by Kazuhiro Nakaya)
The Tojo Clan is Kanto's largest yakuza organization. Ichiban Kasuga is a wakashu of the Arakawa Family, a third generation family of the Tojo Clan. Since he was born in Kamurocho soapland Shangri-La, he is called "Soap Ichiban" by the older residents. Although he grew up without knowing his true parents, he was charmed by the manly spirit of Masumi Arakawa, who he met at age 15, and joined the Arakawa Family. Since then, he has lived with resolute loyalty to Arakawa, but since he is not good when it comes to earning money, he is shunned by the wakagashira Jo Sawashiro, who stresses the importance of money.
He takes the fall for Sawashiro, who committed murder, at the request of Arakawa Family leader Masumi Arakawa, who is like a father to him. After that, he spends 18 years in penal servitude. After he is released, the Tojo Clan has fallen, and the Kansai yakuza known as the Omi Alliance has taken control over Kamurocho. Finding out that Masumi Arakawa was behind it all, Kasuga goes to see Arakawa to asertain the truth at its source.
See here for more info: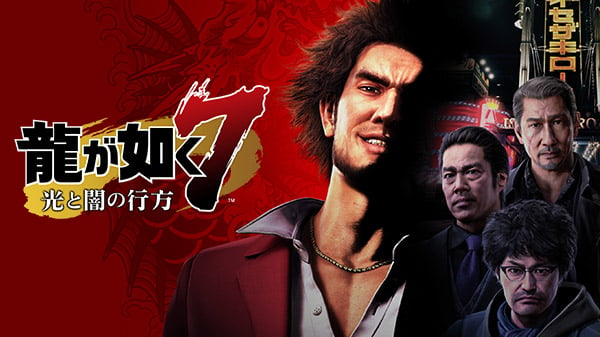 Sega officially announced Yakuza 7: Whereabouts of Light and Darkness (Ryuu Ga Gotoku 7: Hikari to Yami no Yukue) for PlayStation 4 during a press conference at UDX Theater in Akihabara, Tokyo today.
gematsu.com
Added to OP
Last edited: